Infiniti QX30 Concept - 2015 Geneva Motor Show
From The Car Connection
:
2017 Infiniti QX30: With Rugged-Lux Style, Set To Woo Young Urbanites
Infiniti is rapidly and dramatically remaking itself, and the upcoming 2017 QX30, as previewed by the QX30 Concept shown this week at the Geneva Motor Show, will be one of the harbingers of this sea change.
Auto Industry Shakeup, Part 1: Automakers Worried About Apple's Alleged Autonomous, Electric Car
Over the past couple of weeks, rumors about Apple's plan to develop an all-electric, autonomous car have taken the internet by storm. Apple hasn't confirmed the rumors, but it hasn't denied them, either, and that -- along with a lawsuit that strongly suggests Apple is, indeed, building an electric car -- is all the confirmation that many people need.
The Car Connection's Best Sedans To Buy 2015
For decades, sedans were choice family vehicles for Americans. Then that role was largely passed over to crossover utility vehicles and minivans.
Scuderia Cameron Glickenhaus SCG003S, 2015 Geneva Motor Show
From Motor Authority:
Scuderia Cameron Glickenhaus SCG003: 2015 Geneva Motor Show Live Photos And Video
The James Glickenhaus empire of custom-bodied Ferraris for the street and track has grown, now, to include a car that won't just be for his personal collection or race team: the SCG003S, a road car that will be offered to a handful of lucky, well-heeled customers, and is on show this week at the 2015 Geneva Motor Show.
Mercedes-AMG GT Is The New F1 Safety Car
Mercedes-AMG's new GT sports car will be taking over from the SLS AMG in official safety car duties for Formula One when the new season kicks off in a week's time in Melbourne, Australia. Officials have picked the slightly more potent GT S model for the task, as it's crucial the F1 safety car is a competent track performer.
Mazda Starts Production Of New MX-5 Miata
Mazda this week began production of the all-new MX-5 Miata, which is due to go on sale here later in the year as a 2016 model. The home of the MX-5 is Mazda's Ujina Plant No.1 located in Hiroshima, Japan, and it is at this plant that Fiat's version of the new MX-5, which was recently confirmed to be called the "124 Spider", will also be built.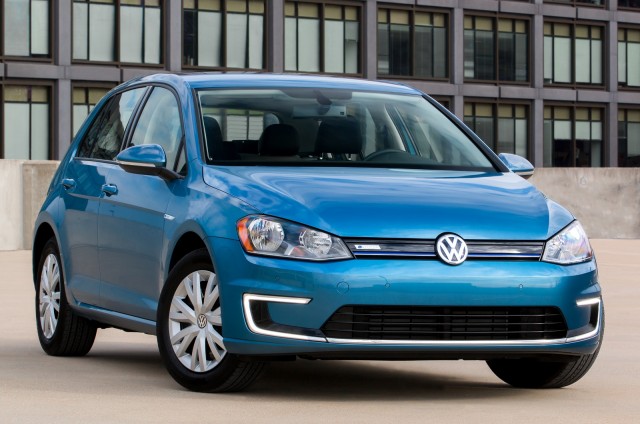 2015 Volkswagen e-Golf Limited Edition
From Green Car Reports:
2015 Volkswagen e-Golf Electric Car Gets Less Expensive Trim Level
When pricing for the 2015 Volkswagen e-Golf electric car was announced last August, only one trim level was available, a lavishly equipped top-of-the-range package. Now VW has supplemented that SEL Premium version of the e-Golf with a new, less expensive model called the Limited Edition, at a price almost $2,000 lower.
Ford May Show A 200-Mile Electric Car This Year To Counter Chevy Bolt
The announcement that the 2017 Chevrolet Bolt electric car will go into production within 18 months seemingly sent shockwaves through the auto industry. GM's crosstown rival Ford, which has sold hybrids for more than 10 years but shown little love for battery-electric cars, now seems to feel the need to respond.
Will Oil Price Collapse Because We're Out Of Room To Store It?
Oil prices have dropped precipitously over the past few months, and while that's led to lower gas prices, it's also creating a somewhat unusual problem. No matter how much or little oil the national economy is consuming, it's still pumped out of the ground in massive quantities.
___________________________________________