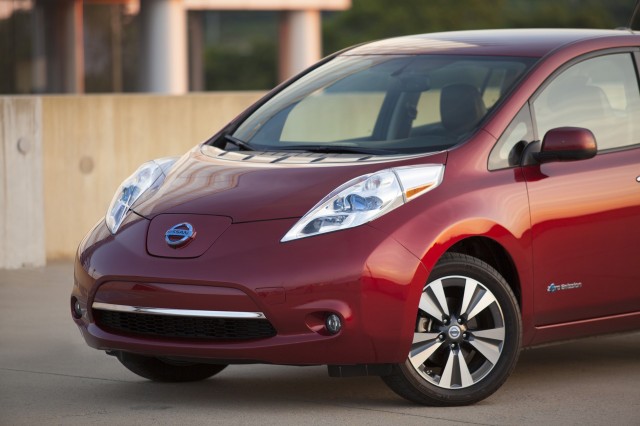 2015 Nissan Leaf
From The Car Connection
:
Pundits Predict A Silicon Valley Takeover Of The Auto Industry: Are They On To Something?
If you've been living under a rock the past couple of weeks, here is one thing you should know: Apple is almost certainly building an autonomous, electric car.
Nissan Leaf Vs. Ford Focus Electric: Compare Cars
Suppose you want to enjoy all the benefits of a battery-electric car--the smooth, quiet ride, the strong torque from a stop, and the very low cost per mile--but don't necessarily want people to point at your car because it's unusual looking.
The Car Connection's Best SUVs To Buy 2015
With dozens of nameplates in the fold, and whole car brands devoted to them, the SUV is more than just a popular vehicle type. The sport-utility vehicle is the station wagon of the modern era, and it's an ever-growing part of new-car sales.
Aston Martin DBX Concept
From Motor Authority:
Aston Martin DBX Concept Is An All-Electric, Off-Roading Sports Car
Aston Martin has missed out on the booming sales of luxury SUVs, despite being one of the first among its peers to look closely at the segment when it presented its original Lagonda SUV concept back in 2009. A lack of a suitable platform and the global financial crisis put an end to Aston Martin's SUV plans, but even these setbacks never managed to completely quell the idea of a more capable model from the British brand.
First Look At Koenigsegg Regera: 1,500 HP From Direct Drive System
Koenigsegg's second 'megacar', the Regera, has been revealed at the 2015 Geneva Motor Show. The Regera packs technologies never before seen in one of Koenigsegg's products, enabling it to develop more power than any car ever in production. And yes, the car is headed for production.
New Porsche 911 GT3 RS Finally Revealed
Having missed its original targeted launch date by more than six months, Porsche's GT3 RS based on the 991 series of the 911 has finally landed, debuting this week at the 2015 Geneva Motor Show.
Infiniti QX30 Concept
From Green Car Reports:
Infiniti QX30 Concept: Small Luxury SUV Previews 2016 Model At Geneva Show
The 2015 Geneva Motor Show will feature a concept car previewing one of the first products of the collaboration between Daimler and Nissan. The Infiniti QX30 Concept is a compact crossover that shares a platform with the Mercedes-Benz GLA-Class crossover and CLA-Class compact sedan.
Future Buyers Of Gen Z Prefer Cars To Trucks; Fuel Economy Is Key
Last year saw a significant increase in the sales of SUVs and crossover utilities, but the next generation of car buyers may be on the verge of reversing that trend. While many analysts believe today's youth are less interested in driving than previous generations, a new study indicates the youngest drivers already have preferences for the vehicles they say they want to buy.
Nickel-Metal-Hydride Batteries For Electric Cars? Energy Density Can Rise 10-Fold: Researchers
The division is pretty clear: nickel-metal-hydride batteries are for use only in hybrids--at least those from Toyota, which has used more of the batteries than any other maker by far. Lithium-ion cells, on the other hands, are the only ones with sufficient energy density to be used in the much larger packs of battery-electric and plug-in hybrid vehicles.
___________________________________________