What is a luxury car, and why should you buy one?
More to the point that brought you here, which one should you buy?
Luxury cars are simply one of the fastest-growing types of new cars--and that includes near-luxury or "premium" vehicles, as some automakers prefer to dub them. No matter what the definition, "luxury" is defined, in our terms, as any vehicle you'd gladly pay more for, to own--versus a vehicle that would provide all the same space, utility, even economy, for a much lower price.
We also use the term "car" more loosely to include any vehicle of any body style--meaning, a luxury car can be a truck or an SUV.

Buying a new luxury car can be a confusing prospect. Do I really need to pay this much for a new vehicle? What should I expect in a vehicle of this price? Couldn't I find the same features in another vehicle costing much less? It's even more difficult when you try to assign some value to more esoteric aspects like styling or prestige.
Which new luxury car should you buy? The Car Connection has some help. Finding your way to the best new luxury car can be as time-consuming as studying a few of those important factors and letting them lead you through the process.
Or you can take this shortcut. We've looked at the data, we've considered the ratings we apply to every new vehicle we review--and have come up with this buying guide, to help you find the best luxury vehicle you can buy more quickly.
To qualify as one of our Best Luxury Cars To Buy 2015, the vehicle:
must score higher than an 8.0 rating on The Car Connection's full review
must have a base price of less than $100,000--twice the amount we allow for our Best Car To Buy competition (we firmly believe vehicles costing more should come with excellence as standard equipment)
no reported score lower than four stars overall from the National Highway Traffic Safety Administration (NHTSA) or a Top Safety Pick award from the Insurance Institute for Highway Safety (IIHS).
Keep in mind, these vehicles may finish with higher scores than our annual Best Car To Buy winner. That vehicle is chosen from a shorter list of brand-new or significantly changed vehicles in a model year. These rankings pit all vehicles against each other, regardless of how many years they've been on the market, and they're open to every vehicle on sale during the current model year.
After vetting all the luxury cars offered for the 2015 model year, we've narrowed it down to the following set of vehicles, and given our insight in the bottom line from our original review. They're ranked in the order of scoring as of our latest update. Since our reviews are updated frequently for safety data, late model changes, or fuel-economy revisions, the order may change occasionally.
By these standards, these vehicles stack up as the best luxury cars on the road today:
TCC Rating: 9.4
With the addition of a beautiful, expressive new Coupe, the 2015 Mercedes-Benz S-Class is no longer just the best sedan in the world; it's now a family of flagship models. Read more »
TCC Rating: 9.2
2015 Audi R8 V10
The 2015 Audi R8 is a supercar fit for daily driving, thanks to its German precision and Italian powerplant. Read more »
2015 BMW 7-Series
The 2015 BMW 7-Series is exceptionally quick and technologically advanced, but also very luxurious and wonderfully comfortable. Read more »
2015 Jaguar F-Type R Coupe
The 2015 Jaguar F-Type piles on even more sportscar credibility with a ravishing Coupe R edition. Read more »
2015 Jaguar XKR
While the glorious new F-type sports car might have stolen some of the limelight, the 2015 Jaguar XK lineup remains one of the most gorgeous and desirable grand-touring cars on the market. Read more »
2015 Land Rover Range Rover
The 2015 Range Rover is the most advanced and luxurious model yet from Land Rover, combining modern styling and convenience with classic ruggedness and off-road prowess. Read more »
TCC Rating: 9.0
2015 Audi A8 L Security
The Audi A8 gains standard LED headlamps, a more powerful twin-turbo V-8, and a more efficient diesel engine for 2015. Read more »
2015 BMW M4
The 2015 BMW M4 loses a little bit of weight and its normally aspirated V-8, leaving a potent twin-turbo six and nearly unflappable handling in their place. Read more »
2015 Land Rover Range Rover Sport SVR
2015 Land Rover Range Rover Sport
The 2015 Land Rover Range Rover Sport takes the last part of its name very seriously, offering the best driving dynamics yet from the famed off-roading brand. Read more »
2015 Porsche Boxster GTS
The 2015 Porsche Boxster is a reltive performance bargain, combining everyday usability with a balanced chassis and sweet engines. Read more »
2015 Porsche Cayman GTS
The 2015 Porsche Cayman remains a focused 911 alternative, at an easier-to-swallow price. Read more »
TCC Rating: 8.8
2015 Audi A7
The A7 is handsome no matter how you slice it, but it's the brawn S7 and brutish RS7 that really gets our blood flowing. Read more »
2015 BMW M3
Minus the V-8 and almost a couple hundred pounds, the 2015 BMW M3 is the best performer yet to wear the vaunted badge. Read more »
2015 Cadillac ATS Coupe
The 2015 Cadillac ATS hits all the right marks in handling, performance, quality, comfort, and technology. Read more »
2015 Cadillac XTS Vsport
If you're looking for a car that offers comfort, technology, and safety as its greatest virtues, the 2015 Cadillac XTS does everything a big luxury sedan should. Read more »
2015 Chevrolet Corvette Z06
With exceptional performance, style, comfort, features, and most of all value, the 2015 Chevy Corvette Stingray is a remarkable sports car. Read more »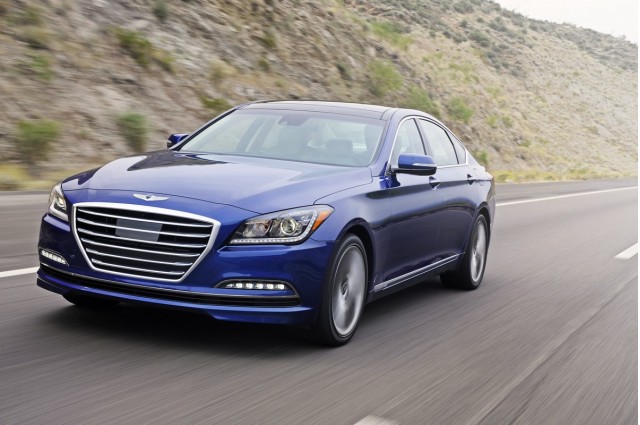 2015 Hyundai Genesis
The 2015 Hyundai Genesis is no longer just a great luxury-car value; it's a legitimate alternative to the heavyweights. Read more »
2015 Infiniti Q70
With a new long-wheelbase model, the 2015 Infiniti Q70 sedan range isn't just fast, fun to drive, and ahead of the tech curve--it's a real alternative to the German elbow-throwers. Read more »
2015 Tesla Model S
The 2015 Tesla Model S has no direct competition; the electric luxury hatchback is the benchmark among its kind in a market with more than 20 plug-in models. It's likely the most advanced car on the planet. Read more »
TCC Rating: 8.6
2015 Audi A5
The Audi A5 coupe and convertible are sleek and supple, but make the most sense in their S and RS guises. Read more »
2015 Audi S3 First Drive, Monte Carlo
The 2015 Audi S3 sticks its U.S. landing with terrific turbo pull and in-car LTE. Read more »
2015 Cadillac CTS
The 2015 Cadillac CTS sedan is a stunner–especially in V-Sport guise–and it looks great, too. Read more »
2015 Infiniti Q50 4-door Sedan RWD Side Exterior View
The 2015 Infiniti Q50 continues as a more luxurious successor to the fabled G sedan, although in some forms it loses part of the enthusiast flavor of that model. Read more »
2015 Jaguar XJ
The 2015 Jaguar XJR is an interesting alternative to the usual German large sedans, mixing old world charm with fantastic handling and powertrains. Read more »
2015 Lexus LS 600h L
You can add a welcome dose of fun to the LS chassis with the F-Sport trim, but Lexus' flagship remains a big, comfortable sedan at its core. Read more »
2015 Mercedes-Benz C-Class - First U.S. Drive, August 2014
Forget this model's recent past; the 2015 Mercedes-Benz C-Class takes a half-step up in size and a full step ahead of its peer set in sophistication -- and it's now one very charming luxury car. Read more »
2015 Mercedes-Benz GL-Class
The 2015 Mercedes-Benz GL-Class offers the most Mercedes luxury to the most people, with a pleasant ride and easy driving dynamics to boot. Read more »
2015 Mercedes-Benz M-Class (ML63 AMG)
The 2015 Mercedes-Benz ML-Class doesn't crow about off-roading: it's more concerned with things like fuel economy and in the AMG, superhero acceleration. Read more »
2015 Volvo S60 T6 Drive-E - Driven, April 2014
The 2015 Volvo S60 remains a striking shape with unbeatable safety ratings and equipment, and offers a range of models from quiet and comfortable to flamboyant and edgy. Read more »
2015 Volvo XC60
The 2015 Volvo XC60 crossover stays stylish--and now it gets much better gas mileage from a new four-cylinder engine. Read more »
TCC Rating: 8.4
2015 Acura MDX
The 2015 Acura MDX continues to offer an attractive blend of content, comfort, and entertainment for the entire family–including the driver. Read more »
2015 Audi A6
The 2016 Audi A6 builds on an already impressive set of features, abilities, and styling to yield a safe, fun, high-tech luxury sedan. Read more »
2015 Audi Allroad
The 2015 Audi Allroad isn't just the best family car in the A4 lineup; it's an altogether better driver's car than most tall crossovers. Read more »
2015 Audi Q5 Hybrid
The 2015 Audi Q5 remains one of the most elegant, truly car-like crossovers on the market. Read more »
2015 Audi Q7
Though the 2015 Audi Q7 might show a little of its age, there are so few faults here that it's hard not to love this big SUV. Read more »
2015 BMW 3-Series
The 2015 BMW 3-Series lineup is a sport sedan at heart, but with Sports Wagon and Gran Turismo (hatchback) models, it's a lot more than that. Read more »
2016 BMW 6-Series Gran Coupe
Whether chosen as a coupe, convertible, or four-door Gran Coupe, the 2015 BMW 6-Series offers dynamic driving and massive style. Read more »
2015 BMW X3
Among compact crossovers, the 2015 BMW X3 doesn't try to be rugged; instead it's one of the sportiest and most fuel-efficient in its class, and this year's new sDrive and diesel models add to that while the lineup gets even more tech and active-safety options. Read more »
2015 Mercedes-Benz CLS63 AMG
The 2015 Mercedes-Benz CLS-Class looks better than ever, offers upgraded tech and safety, and continues to post impressive performance. Read more »
2015 Mercedes-Benz E-Class (E550 4MATIC)
The 2015 Mercedes-Benz E-Class lineup is many vehicles in one, with comfort and luxury across the board and sporty manners for those who want them. Read more »
2015 Lexus RC F
The 2015 Lexus RC Coupe takes the brand in a racier—yet still sensible—direction; and it's one of the best-looking Lexus models yet. Read more »
2015 Porsche Macan S
The 2015 Porsche Macan swings for the crossover fences, with Cayenne performance in a more tidy, somewhat more cost-effective package. Read more »
2015 Porsche Panamera
The 2015 Porsche Panamera keeps delivering its phenomenal balance of utility, luxury, and performance. Read more »
TCC Rating: 8.2
2015 Acura TLX 3.5 SH-AWD
The 2015 Acura TLX offers impressive performance, ample features, and smart value. Read more »
2015 Audi A4
The 2015 Audi A4 and S4 sedans are tech-laden, trim, handsome alternatives to the other expected German cars, as well as one very good American one. Read more »
2015 BMW 2-Series Convertible
The 2015 BMW 2-Series is a well-rounded luxury sports coupe with looks, handling, features, and speed that belie its entry-level positioning. Read more »
2015 BMW 4-Series
The 2015 BMW 4-Series Coupe and Convertible build on the bones of the 3-Series sport sedan, with comparable performance but a little more flesh and flair. Read more »
2015 BMW 5-Series
Whether it's more of a classic sport sedan or a technology-packed tourer you seek, the 2015 BMW 5-Series fills both roles admirably. Read more »
2015 Buick Enclave
The 2015 Buick Enclave is one of the safest crossovers money can buy, and it impresses with its plus-sized chic styling and appointments. Read more »
2015 Buick Regal GS
The Regal GS is the best driver's car in the Buick lineup, and it makes for an interesting alternative for cars like the Volvo S60. Read more »
2015 Cadillac Escalade
The 2015 Cadillac Escalade promises--and delivers--more of everything a full-size luxury SUV buyer could want. Read more »
2015 Hyundai Equus
The 2015 Hyundai Equus is a well-priced limousine, while the German competition still has it beat for those who want to pilot their own barge. Read more »
2015 Infiniti QX80
The 2015 Infiniti QX80 is a vehicle for niche interests, but a refreshed presentation this year makes that niche appeal stronger than ever. Read more »
2015 Jaguar XF
The 2015 Jaguar XF covers a broad range of needs, from the efficient 2.0-liter turbo model, to the over-the-top XFR-S performance sedan. Read more »
2015 Land Rover Range Rover Evoque Autobiography
2015 Land Rover Range Rover Evoque
The 2015 Land Rover Range Rover Evoque tones down the off-road chops of its older siblings and turns up the design, creating a stylish carlike utility in the process. Read more »
2015 Lexus ES 300h
The 2015 Lexus ES is the one of the best luxury cars for those who still have practical considerations like back-seat space and ride comfort; and the 300h Hybrid model is quite the counterpoint to much more expensive 'green luxury' models. Read more »
2015 Lexus GS 350
The 2015 Lexus GS family offers a classic, conservative sport-sedan profile -- and enough performance to please most -- but overlays it with as much luxury and technology as you please. Read more »
2015 Lincoln MKC
The 2015 MKC doesn't go far in redefining Lincoln as a brand, but badging aside, it presents as exactly the luxury product shoppers want—a lively and lavish, yet super-refined compact crossover. Read more »
2015 Lincoln MKX
The 2015 Lincoln MKX has aged well, continuing to offer one of the nicer interiors in the class with very few gimmicks. Read more »
2015 Lincoln MKZ Hybrid
The 2015 MKZ has great potential as a contemporary sports sedan--it's the Lincoln heritage that's missing. Read more »
Maserati Ghibli
The 2015 Maserati Ghibli brings Quattroporte-like style and elegance to a smaller, more affordable segment. Read more »
2015 Mercedes-Benz CLA-Class
The 2015 CLA is a small Mercedes done right, with enough of the brand's style and refinement mixed with a dash of youthfulness. Read more »
2015 Mercedes-Benz GLA-Class
The 2015 Mercedes GLA isn't the roomiest small crossover, but it's a stylish vehicle with a double shot of urban attitude--and a dash of ruggedness--that looks fully up to Mercedes-Benz luxury standards. Read more »
2015 Mercedes-Benz SL-Class (SL63 AMG)
The 2015 Mercedes-Benz SL-Class is sportier than its predecessor, but still manages to coddle its occupants just as before. Read more »
2015 Mercedes-Benz SLK-Class (SLK250)
The 2015 Mercedes-Benz SLK-Class combines mini-SL style with a choice of efficient or potent powertrains, but it's better suited to cruising than corner-carving. Read more »
2015 Porsche Cayenne GTS
The 2015 Porsche Cayenne is no longer the only blasphemous off-roader in the Porsche family; this year, it gets improved powertrains and massaged looks in a familiar package. Read more »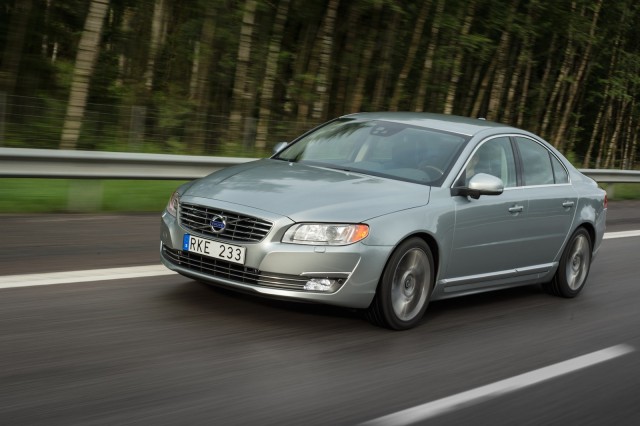 2015 Volvo S80
The 2015 Volvo S80 puts safety and comfort first, making it one of the most family-friendly full-size luxury sedans. Read more »
___________________________________________