With dozens of nameplates in the fold, and whole car brands devoted to them, the SUV is more than just a popular vehicle type. The sport-utility vehicle is the station wagon of the modern era, and it's an ever-growing part of new-car sales.
Buying a new SUV can be a confusing prospect. Do I really need this much vehicle? What's the difference between an SUV, a wagon, and a crossover vehicle? It's even more difficult when you consider the price span of new SUVs--everything from $20,000 to more than $150,000 (and soon, $300,000).
Which new SUV should you buy? The Car Connection has some help. Finding your way to the best new SUV can be as time-consuming as studying a few of those important factors and letting them lead you through the process.
Or you can take this shortcut.
We've looked at the data, we've considered the ratings we apply to every new vehicle we review--and have come up with this buying guide, to help you find the best SUV you can buy more quickly.
Two quick notes: because there are so many SUVs now on the market, we've raised the bar a bit when it comes to qualifying scores. And for simplicity, we're including all wagon-bodied vehicles with available all- or four-wheel drive. In other words, some wagons and hatchbacks may be SUVs here, even if some enthusiasts don't consider them to be for arcane technical reasons.
And so-called "crossover" vehicles? We count them as SUVs or wagons or hatchbacks, sometimes all of the above.

To qualify as one of our Best SUVs To Buy 2015, a pickup must:
must score higher than an 8.0 rating on The Car Connection's full review
must have a base price of less than $100,000--twice the amount we allow for our Best Car To Buy competition
no reported score lower than four stars overall from the National Highway Traffic Safety Administration (NHTSA) or a Top Safety Pick award from the Insurance Institute for Highway Safety (IIHS).
Keep in mind, these SUVs may finish with higher scores than our annual Best Car To Buy winner. That vehicle is chosen from a shorter list of brand-new or significantly changed vehicles in a model year. These rankings pit all vehicles against each other, regardless of how many years they've been on the market, and they're open to every vehicle on sale during the current model year.
After vetting all the SUVs offered for the 2015 model year, we've narrowed it down to the following set of vehicles, and given our insight in the bottom line from our original review. They're ranked in the order of scoring as of our latest update. Since our reviews are updated frequently for safety data, late model changes, or fuel-economy revisions, the order may change occasionally.
By these standards, these vehicles stack up as the best SUVs on the road today:
TCC Score: 9.2
The 2015 Range Rover is the most advanced and luxurious model yet from Land Rover, combining modern styling and convenience with classic ruggedness and off-road prowess. Read more »
TCC Score: 9.0
2015 Land Rover Range Rover Sport 4WD 4-door SE Side Exterior View
2015 Land Rover Range Rover Sport
The 2015 Land Rover Range Rover Sport takes the last part of its name very seriously, offering the best driving dynamics yet from the famed off-roading brand. Read more »
TCC Score: 8.8
2015 Ford Flex
If you're looking to make a statement while you shuffle the kids around, it's hard to beat the 2015 Ford Flex--though recent safety scores are missing. Read more »
TCC Score: 8.6
2014 Lincoln MKT
Not everyone loves the unique look of the MKT, and recent safety scores are missing. But if it's your style there's plenty to like, including a muscular available turbo V-6, plenty of infotainment tech, and a comfortable, spacious interior. Read more »
2015 Mercedes-Benz GL-Class
The 2015 Mercedes-Benz GL-Class offers the most Mercedes luxury to the most people, with a pleasant ride and easy driving dynamics to boot. Read more »
2015 Mercedes-Benz M-Class (ML63 AMG)
The 2015 Mercedes-Benz ML-Class doesn't crow about off-roading: it's more concerned with things like fuel economy and in the AMG, superhero acceleration. Read more »
2015 Volvo XC60
The 2015 Volvo XC60 crossover stays stylish--and now it gets much better gas mileage from a new four-cylinder engine. Read more »
TCC Score: 8.4
2015 Acura MDX
The 2015 Acura MDX continues to offer an attractive blend of content, comfort, and entertainment for the entire family–including the driver. Read more »
2015 Audi Q5 quattro 4-door 2.0T Premium Angular Front Exterior View
The 2015 Audi Q5 remains one of the most elegant, truly car-like crossovers on the market. Read more »
2015 Audi Q7 quattro 4-door 3.0L TDI Premium Angular Front Exterior View
Though the 2015 Audi Q7 might show a little of its age, there are so few faults here that it's hard not to love this big SUV. Read more »
2015 BMW X3 AWD 4-door xDrive28i Side Exterior View
Among compact crossovers, the 2015 BMW X3 doesn't try to be rugged; instead it's one of the sportiest and most fuel-efficient in its class, and this year's new sDrive and diesel models add to that while the lineup gets even more tech and active-safety options. Read more »
2015 BMW X5
The 2015 BMW X5 is a handsome, capable, tech-filled vehicle for the shopper who wants a luxury SUV. Read more »
2015 Dodge Durango
The 2015 Dodge Durango hits the sweet spot between crossover and SUV. Read more »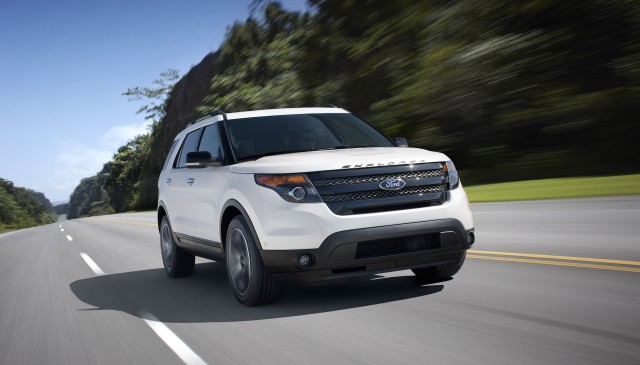 2015 Ford Explorer
The 2015 Ford Explorer may have a historic name, but it's a much more comfortable, road-worthy vehicle than it ever was in the past. Read more »
2015 Jeep Grand Cherokee SRT Red Vapor
The 2015 Jeep Grand Cherokee offers an engine for everyone, and a feature list as extensive as those found in luxury sedans. Read more »
2015 Nissan Murano
The 2015 Nissan Murano lures in empty-nesters with its flamboyant new design, then hooks them with just the right mix of confident performance—plus uncompromised comfort, quiet, and, in some trims, more than a touch of luxury. Read more »
2015 Porsche Macan S
The 2015 Porsche Macan swings for the crossover fences, with Cayenne performance in a more tidy, somewhat more cost-effective package. Read more »
2015 Subaru Forester 2.5i
The 2015 Subaru Forester remains one of the best cars you can buy, thanks to exceptional safety, versatility, and all-weather capability. Read more »
2015 Subaru Outback
The 2015 Subaru Outback is as much of a tough, safe family wagon as ever; but this year, its brawn doesn't come with as much compromise in comfort and quiet. Read more »
TCC Score: 8.2
2015 Buick Enclave
The 2015 Buick Enclave is one of the safest crossovers money can buy, and it impresses with its plus-sized chic styling and appointments. Read more »
2015 Cadillac Escalade
The 2015 Cadillac Escalade promises--and delivers--more of everything a full-size luxury SUV buyer could want. Read more »
2015 Ford Expedition
The 2015 Ford Expedition isn't totally new, but the much-needed refresh gives it heady twin-turbo power and a slick-riding adaptive suspension. Read more »
2015 Infiniti QX80
The 2015 Infiniti QX80 is a vehicle for niche interests, but a refreshed presentation this year makes that niche appeal stronger than ever. Read more »
2015 Land Rover Range Rover Evoque Autobiography
2015 Land Rover Range Rover Evoque
The 2015 Land Rover Range Rover Evoque tones down the off-road chops of its older siblings and turns up the design, creating a stylish carlike utility in the process. Read more »
2015 Lincoln MKC
The 2015 MKC doesn't go far in redefining Lincoln as a brand, but badging aside, it presents as exactly the luxury product shoppers want—a lively and lavish, yet super-refined compact crossover. Read more »
2015 Lincoln MKX
The 2015 Lincoln MKX has aged well, continuing to offer one of the nicer interiors in the class with very few gimmicks. Read more »
2015 Mazda CX-5 GT
The 2015 Mazda CX-5 is an athletic, fuel-efficient, well-designed small crossover. Read more »
2015 Mercedes-Benz GLA45 AMG
The 2015 Mercedes GLA isn't the roomiest small crossover, but it's a stylish vehicle with a double shot of urban attitude--and a dash of ruggedness--that looks fully up to Mercedes-Benz luxury standards. Read more »
2015 Porsche Cayenne Diesel
The 2015 Porsche Cayenne is no longer the only blasphemous off-roader in the Porsche family; this year, it gets improved powertrains and massaged looks in a familiar package. Read more »
2015 Toyota Highlander
The 2015 Toyota Highlander offers a versatile and stylish alternative to the minivan, with available all-wheel drive and a thoughtfully designed interior. Read more »
___________________________________________
Follow The Car Connection on Facebook, Twitter and Google+.