From The Car Connection:
Nearly 64 Million Vehicles Recalled In 2014 -- A New Record, Thanks To GM & Takata
Was 2014 really the "Year of the Recall"? You better believe it: according to Detroit News, as of December 31, 63.95 million U.S. vehicles had been recalled by automakers large and small. That sky-high figure shouldn't be surprising. In October, we reported that 52 million U.S. cars, trucks, SUVs, and motorcycles -- 20 percent of all vehicles on the road -- had been recalled. General Motors was responsible for more than half that number, with 26.5 million vehicles recalled.
Cadillac ATS Vs. BMW 3-Series: Compare Cars
The BMW 3-Series has long had its share of worship, admiration, and scorn. It's no different today: the compact lineup of sedans and wagons draws the slings and arrows of every luxury brand, fired in its general direction. Most of them glance off its tautly drawn sides, but the Cadillac ATS is one entry that's pierced almost all of the protective armor on BMW's iconic sport sedan. Yes, the 3-Series still has the whirling-propeller badge on the hood for prestige, but whether it stands as the best compact luxury sports sedan is in question. Which one's our favorite?
Self-Driving Cars Could Slash Auto Sales By Nearly 50%
America's auto market is booming right now, but a study from the University of Michigan Transportation Research Institute suggests that today's sky-high sales figures could plummet in the next decade, as autonomous cars start hitting the streets. To reach that conclusion, UMTRI's Brandon Schoettle and Michael Sivak analyzed data from the U.S. National Household Travel Survey (PDF). The survey looked at transportation habits of 150,147 households across the U.S., including when each member of each household started and ended daily trips.
Next-generation Honda Ridgeline pickup preview sketch
From Motor Authority:
Honda Teases New Ridgeline Pickup At 2015 Chicago Auto Show
A single preview sketch shown at the 2015 Chicago Auto Show today reveals Honda's plans for an all-new version of its pickup truck, the Ridgeline. Honda says the next Ridgeline offers "completely new styling that communicates unmistakably that it's a pickup, yet with a uniquely Honda flair." Based on the preview sketch, that "unmistakably a pickup" portion of the design brief includes getting rid of the cab-to-bed buttress found on the current Ridgeline—and perhaps even transitioning to a true body-on-frame pickup construction, if the cut lines at the rear of the cab are any indication. A longer, perhaps even full-sized, cargo bed is also indicated.
2016 Chevrolet Camaro Revealed In GM Presentation At 2015 Chicago Auto Show
Well, folks, this is it, the 2016 Chevy Camaro. It's a dark, profile-only view, but it does reveal the shape of the car, as well as a handful of key details. The Camaro's profile was revealed as part of a slide show during the 2016 Chevrolet Equinox presentation at the 2015 Chicago Auto Show. Of course, we've already seen the car testing in spy shots and spy video, and we've even seen the car's headlights on eBay. But this is the most clear-cut look at the car to date, and while it's certainly not revolutionary, it's inviting.
Ford's Explorer Police Interceptor Utility Gets Stealthy for 2016
There are plenty of ways to get up close and personal with Ford's new Police Interceptor Utility, but even given the famously chilly temps of the Windy City, the Chicago Auto Show will beat getting arrested. Though if you've got your heart set on getting arrested, Ford can certainly help you with that too.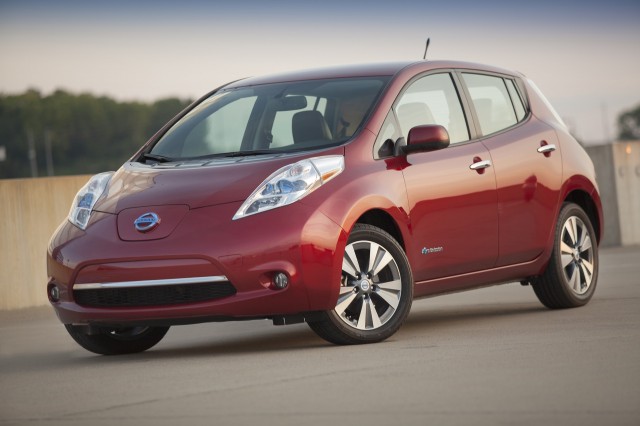 2015 Nissan Leaf
From Green Car Reports:
Tesla To Offer Batteries To Consumers For Home Energy Storage
It was just a couple of sentences during Wednesday's 2014 earnings call by Tesla Motors executives. But in it, CEO Elon Musk apparently revealed a new line of business for the company: selling or leasing lithium-ion battery packs for home energy storage. The full quote can be found in the transcript of the earnings call, as published by Seeking Alpha.
When Federal Electric-Car Tax Credit Ends, Nissan Will Be Ready, Exec Says
Both Nissan and General Motors are roughly one-third of the way toward sales of the maximum number of plug-in electric cars that qualify for a Federal income-tax credit of $7,500. But a Nissan executive says that his company has already made plans for the day when those credits end.
Oil Industry Will Begin To Vanish By 2030, Says New Book
What if electric cars and renewable energy became such common parts of our society that they made the oil industry obsolete? It's an environmentalist's dream, and it's also the thesis of a new book, which claims the oil industry will effectively vanish in large part within the next two decades.
___________________________________________