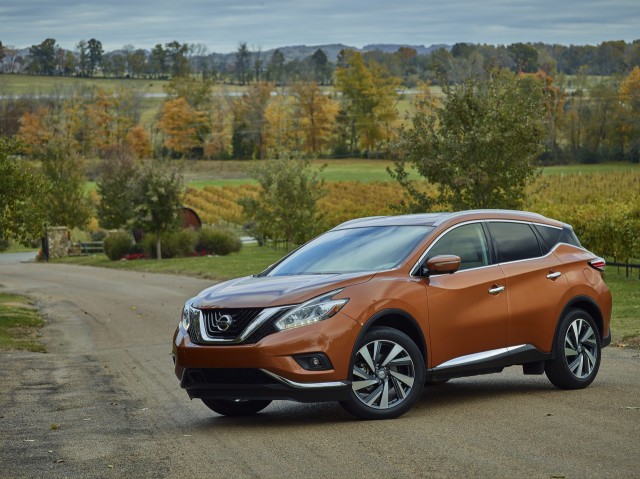 2015 Nissan Murano
From The Car Connection
:
Rumor: Volvo Developing A New Service To Eliminate Stopping At Gas Stations
Last year, Volvo unveiled a service called "Roam Delivery", which was meant to solve a problem that many of us have -- namely, the problem of receiving large packages when we're at work or on the go. With Roam Delivery, mail carriers can use a one-time code to drop those packages in a Volvo's trunk instead of delivering them to our offices or leaving them on our front porches.
2015 Nissan Murano Video Road Test
The Nissan Murano was one of the first mid-size crossovers to hit the streets, back in 2003. It's been a sales star--but so have the Ford Edge, Hyundai Santa Fe, and Chevy Equinox. Can this new 2015 Nissan Murano make you forget all about those other excellent utes?
2014-2015 Jeep Cherokee Recalled: 228,181 SUVs To Receive Airbag Software Upgrade
Fiat Chrysler Automobiles is recalling more than 228,000 Jeep Cherokee SUVs from the 2014 and 2015 model years. According to FCA, the airbag systems in some of those vehicles have deployed without warning.
2016 Porsche Cayman GT4
From Motor Authority:
2016 Porsche Cayman GT4 Revealed Ahead Of 2015 Geneva Motor Show: Video
What a week it's been for performance fans. Less than 24 hours after the covers came off Ford's Focus RS and Ferrari's 488 GTB, we now have the reveal of the Cayman GT4, a car best described as a mini-911 GT3 but with a six-speed, three-pedal manual instead of a dual-clutch job.
Ken Block Rips Around Ford's Cologne Plant In The New Focus RS: Video
Yesterday we saw the covers come off the new Ford Focus RS and now we get to see Ken Block tackle Ford's plant in Cologne, Germany in the highly-anticipated hot hatch. Block, who happens to own some classic RS Fords, including a 1978 Escort rally car and a 1980s-era RS200, helped with the development of the new Focus RS, particularly in the fine-tuning of its handling.
2016 Acura MDX Gets Nine-Speed Auto, Available Electronic Driver Aids
The current MDX has only been around since the 2014 model year but already the popular seven-seat SUV is receiving some significant updates. Although there are no changes to its styling, the 2016 Acura MDX will be coming to the market with a new nine-speed automatic transmission, a new all-wheel-drive system, and some available electronic driver aids grouped under the AcuraWatch heading.
Tesla Model S P85D, 2015 Detroit Auto Show
From Green Car Reports:
Tesla P85D Highlights Why EPA Range Ratings Are Inconsistent & Confusing For Electric Cars
There's been a lot of confusion recently about the official EPA-certified ranges of certain electric cars. That all-important number goes on the window sticker, and is typically used for advertising and marketing purposes.
White House Budget Asks For $10K Electric-Car Credit, Natural-Gas Cars Added
It appears the recently-unveiled White House budget includes a few measures to boost the adoption of green cars. President Barack Obama is once again attempting to spur sales of electric cars and alternative-fuel vehicles through increased incentives.
Hyundai Tucson Fuel Cell Price Slashed In Korea; 200 Delivered Globally So Far
The Hyundai Tucson Fuel Cell crossover may have beaten hydrogen cars from Toyota and Honda into showrooms, but having the segment to itself hasn't necessarily made things easy for Hyundai. The carmaker is taking action in its home market to make its fuel-cell vehicle more attractive in spite of a lack of infrastructure to support it.
___________________________________________