Volkswagen Cross Coupe GTE concept, 2015 Detroit Auto Show
Volkswagen is bullish on making serious sales gains in the U.S. over the next several years. There's no doubt the upcoming mid-size SUV that's slated to arrive late next year will be a part of that growth. And with its new Golf lineup especially well-received—it was named North American Car of the Year—the brand has plenty of chances to make up for a modest 2014.
At the Detroit Auto Show this past week, we caught up with Joerg Sommer, Volkswagen of America's product chief (officially VP, product marketing and strategy), to see what VW will do here in the U.S. to reach those targets. Specifically, how is it developing plans for plug-in and hybrid models, how are its products for America evolving, and what products it might have in the pipeline?
ALSO SEE: The Safest Vehicles Of 2015
Volkswagen AG chairman Martin Winterkorn is sticking to the VW Group's goal of selling one million vehicles annually in the U.S. by 2018. Much of that growth will need to be made through the VW brand. What has to happen on a product level—and the dealership level—to meet that goal?
It's like what you've seen with the Golf launch here in the U.S. We got so many awards for it because we got the product right. We set benchmarks for product execution, for safety and fuel economy, quality and design also, and then we told a big value story and got the price right in the U.S. We had a Launch Edition because we wanted to make that point. Secondly, we have a very engineering-focused, product-focused company.
If you translate that to future product, I believe we've rebuilt the company to where it should be. Worldwide we just broke through the 10 million mark, and so the recipe is there, and now we focus on making that happen with all the other car lines.
We are at 650 dealerships now, and we're gradually building the dealerships up. We see steep growth coming in 2017 [U.S. CEO Michael Horn said that it's aiming to add 100 dealerships]. To get to the volume levels we for sure need to invest in the dealer and the dealer to invest in us. But we do that very carefully to recognize the growth phase we're on.
It's not just the number of dealerships that are important and how you manage the growth, but it's also the quality of service, customer satisfaction. We rank very high in the service process now, and that's another important thing as we grow the brand—the quality of service you receive at the dealership. As you see more products coming, our dealership number, and the newness of them, will rise.
DON'T MISS: 2015 Jeep Cherokee Investigated For Engine Fire Captured On Film: Video
The current Passat was made larger in order to resonate with U.S. buyers; yet it remains at just a fraction of Camry and Accord. How will you get more Americans interested in Passat?
When the current Passat was introduced in the U.S., it was a very successful vehicle. It sold from scratch clearly into the 130,000-unit range [Ed note: peak annual Passat sales were about 117,000 units, in calendar year 2012]. We also won awards for that car. And so the genetics of that car were right. I think what we will do with Passat is that we need to be more aggressive on the model years, and watch the value story that we are telling with Golf, and bring that to Passat.
As a group we have so many features and technologies, and we will continue to bring updates on the Passat. We have a warplan to strengthen it. We had a lot of features available, but they were only at the $26k level, and you might have expected them at the entry level. We took a lot of features, just looking at customer needs, and what the standard is, recognized them and said we need to be somewhere else. So we'll bring that content to the volume sweet spot, as we call it. That is very crucial for the car.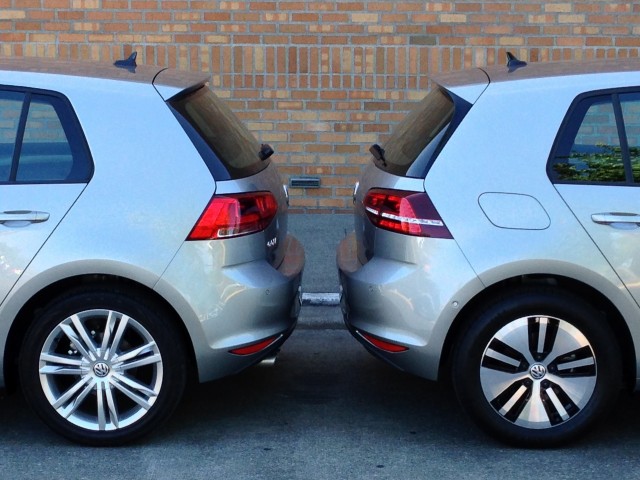 2015 Volkswagen e-Golf Vs. 2015 Volkswagen Golf TDI
U.S. gas prices have been moving steadily downward for the past seven months—well beyond the point at which American consumers' shopping habits are usually influenced and they look toward less fuel-efficient vehicles. How does that change the next year, and is it cause to reexamine any future products, like plug-ins and hybrids?
Those things you have to look at in the long term, and the strength in the VW Group is that we can play across all the piano keys. We have excellent TSI and TDI engines, and we are a turbo company if you wanted to call it this. And on the electrification of our portfolio, there's no doubt this is coming.
Also, the long-term prognosis of fuel prices is that they're not stable. I was in the U.S. in 2007, and I witnessed the overshooting of $110 a barrel—and immediately Prius was one of the best selling in the U.S. Months later when the prices fell it was the F-150 again. So it's a very short, technical reaction of the market.
Gas prices, they vary; and I think in a year we'll have a full, different picture again. I take this in personal pride, too; I was head of e-mobility in the Group, so we really try to build the brand as strong in e-mobility as we are in others. There's no doubt that we are on the right course for that. Yes, we do need to manage some models differently on a monthly basis right now. But it's wrong to be driven by headlines like, Oh it's snowing outside, no convertibles!
On that subject, you have the GTI and Golf R, which provide a lot of thrills for driving enthusiasts; but they're arguably lacking the brand halo of a sports car. With Eos on the way out, how long before we get a new VW sports coupe or convertible?
Volkswagen GTI Roadster, Vision Gran Turimso
I would argue that they [GTI and Golf R] actually do bring a halo. We get letters from customers who are crazy about the GTI and especially the R. They are, as we say in the German language, the wolf in sheepskin—although they still look very flashy. The advantage of our portfolio design in Wolfsburg is that we have many ideas. But the focus right now is growing our sales in core segments, and building on the strong brands we have, like the Golf, the R, and the GTI. I will say we showed the GTI Roadster, and in LA they were super-excited about the car. And it's truly an MQB car; they couldn't believe it was the same as Golf.
You have e-Golf already reaching customers now, and several plug-in hybrids potentially arriving in the next couple of years—all with the CCS Combo-plug standard for fast charging. Yet in strong EV-adopter markets there remains a distinct lack of Combo fast chargers. Are you doing anything to help push installations along?
Don't forget that the CHAdeMO vehicles were out there first. Once you have a vehicle and you have a volume, you can have infrastructure. No one would put the infrastructure in without the vehicles. And if you look at our competitors, all the first launches were this past year. Now it makes sense to push for Combo. Our future plug-ins will be on Combo, and you will see a strong commitment for Combo.
We at our dealerships in the U.S. are installing Combo fast chargers. So we as a company took the step to invest in the infrastructure. We're also thinking about investing in public fast charging on Combo. Instead of going to cities or communities, or for subsidies, we would think about investing private money into selected areas—hot spots—where we have our customers. It's really an important thing. With some strategic investment, you really can be very smart and intelligent by making a very useful daily usage pattern.
___________________________________________