2015 Volkswagen Golf family
From The Car Connection
:
VW Golf And Ford F-150 Take Out 2015 North American Car And Truck Of The Year Awards
The votes have been counted and the winners declared for the annual North American Car of the Year and North American Truck/Utility of the Year awards at the Detroit Auto Show this morning.
2015 Alfa Romeo 4C Spider: Top Sports-Car Pick Goes Topless
The 2015 Alfa Romeo 4C Spider, which makes its debut this week at the Detroit Auto Show, breaks convention with pretty much every other convertible and open-top car on the market, short of far more expensive exotic cars.
Volkswagen Cross Coupe GTE: VW's (American) Future Of Crossovers
Ahead of its debut at the Detroit Auto Show this week, Volkswagen has just given us a first look at the future: a future that's U.S.-built, aimed directly at America, showcasing an all-new design direction, and sized for American wants and needs.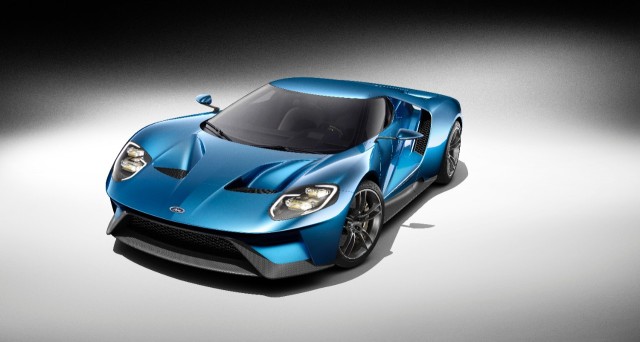 New Ford GT, 2015 Detroit Auto Show
From Motor Authority:
New Ford GT Supercar Revealed At 2015 Detroit Auto Show: Video
Ford has shocked the automotive world with the unveiling of an all-new GT supercar today at the 2015 Detroit Auto Show. As stunning as it looks, the GT on show in Detroit isn't a concept to be watered down by the time production rolls around but a preview of the car that will be hitting showrooms sometime in 2016.
Acura NSX: The Legend Returns At 2015 Detroit Auto Show
Heralded in its heyday as the "$40,000 Ferrari," the Acura NSX carved new ground for Honda in the performance enthusiast world, winning praise everywhere it went, and remaining highly sought after today. Yet, somehow, Acura and parent company Honda let the NSX flounder and eventually fade into the history books. No more.
2016 Porsche Cayenne Turbo S: 570 HP And Sub-8-Minute 'Ring Time
Porsche has introduced an updated version of its Cayenne Turbo S at the 2015 Detroit Auto Show, and the latest version is more insane than ever. It also lays claim to the title of world's fastest SUV, with Porsche confirming that the 570-horsepower beast can lap Germany's notorious Nürburgring race track in just 7:59.74.
2016 Chevrolet Volt
From Green Car Reports:
2016 Chevrolet Volt: 50-Mile Range, 41 MPG, Five Seats, All New
The 2016 Chevrolet Volt range-extended electric car, which will be unveiled this morning at the Detroit Auto Show, is sleeker, has more electric range, and is projected to get higher gas mileage when its engine is operating. The compact five-door hatchback also has a fifth "seating position," although Chevy has stressed that it's for occasional use.
2018 Chevrolet Bolt Electric Car: What It Is & Isn't, What It Means For Tesla
The great thing about the Detroit Auto Show is that it brings so many global auto industry executives together under one roof. We've spent much of three days talking to sources, most of whom would only discuss things off the record.
2016 Mercedes-Benz C350 Plug-In Hybrid: First Details From Detroit Auto Show
Mercedes-Benz already plans to sell its S550 Plug-In Hybrid in the U.S., but at the 2015 Detroit Auto Show it unveiled a plug-in luxury sedan of somewhat more compact size. The 2016 Mercedes-Benz C350 Plug-In Hybrid sedan (a wagon will also be offered in Europe) is one of three Mercedes plug-in hybrids--along with the S550 and an ML-Class plug-in crossover utility vehicle--that will go on sale in the U.S. this year.
___________________________________________