Cadillac dealership
If you stop by an auto dealership this week, it's likely you'll find it bustling.
The week between Christmas and New Year's is always one of the busiest of the year. As sales continue to reach record levels, it's a good time take stock of how far the economy and our consumer confidence has come versus just five years ago.
ALSO SEE: 2015 IIHS Safety Ratings: The Biggest Winners And Losers
For the auto industry, going from 2013 to 2014 marked the transition from what had been a long, gradual recovery period to an all-out boom.
With lenders primed and ready with low rates, and purse strings loosening, Americans plunged into 2014 with more of a hunger for new vehicles than we'd seen for years. Plenty of fresh product was in the pipeline, too, with redesigned or refreshed versions of strong sellers like the Ford F-150, Toyota Camry, Hyundai Sonata, and Ford Mustang all arriving by the end of this year.
On the business side, the level of change within the industry was impossible to ignore. Fiat bought the rest of the Chrysler Group, renaming it FCA US, and the automaker's surge in product and sales—especially at Jeep—didn't miss a beat; while General Motors and Ford Motor Company both had new CEOs take the reins. Meanwhile, Toyota announced plans to move to Texas, and Honda and Mazda opened new assembly plants in Mexico, aimed at lower-cost small cars and crossovers.
READ: As More States Get Legal Pot, Americans Hazy On Drugged Driving
But it's back to the dealership level—with you, the new-car shopper—where we returned to take a look back at some of the year's biggest stories from the automotive world, as they affect you.
We can't say we would have picked all of these stories, at the time they first broke, as some of the biggest of the year. But this is where, with the benefit of hindsight, we get to take another look at what ended up being six of the biggest automotive stories of this past year.
Click through to see what they were, and how they played out:
General Motors ignition assembly parts, packaged and shipped Thursday, April 17, 2014
Record Recalls

Why it's one of this year's big stories: At the beginning of the year, we were already shell-shocked on recalls. 2013 had been a whopper of a year for them (at around 22 million vehicles recalled, up from 16.4 in 2012). But what followed in 2014 has completely overshadowed that—with more than 60 million vehicles recalled, and two of the most scandalous recall issues we can remember since the 2001 Ford/Firestone fracas. The issue behind GM's ignition-related recall, initiated in March, as it turned out, had been known about a decade ago; and the story soured further when it was revealed that the former version of GM had taken a pass on a revised design for the flawed part, then actually ordered replacements before alerting the public. GM made lots of wrong moves, as it turned out. Meanwhile the Japanese airbag supplier Takata emerged as the second major recall blunder in 2014, as automakers have been pushed to recall millions of older vehicles with shrapnel-prone airbag inflators. It's also been alleged that Takata knew about these issues many years ago, and it's a story that's still unraveling.
What it means for you in 2015: Automakers are going to continue to play it safe, and issue recall campaigns that cover pre-emptive fixes, long before they become the sorts of issues over which the federal government has to threaten to force a recall.
2015 Ford F-150
Ford Reboots F-150
Why it's one of this year's big stories: When you radically change the powertrain lineup of what hasn't just been—for decades—America's best-selling truck, but also the best-selling vehicle in the U.S. market, it's a daring move. Just last January, at the Detroit Auto Show, details emerged on the 2015 Ford F-150, and from its aluminum body to its smaller turbocharged engines—including two turbo V-6s—these trucks give a new direction to a segment that's at the core of the American market.
What it means for you in 2015: Will the gamble work for Ford? That's a longer-term question—maybe one better answered when gasoline next spikes. But for the short term, it's no longer just a question of whether you want Chevy, Ford, GMC, or Ram badge on your V-8, full-size rig. Put aside that brand allegiance, and between the F-150's downsized, turbocharged engines, the Ram's available EcoDiesel, and the available Cummins diesel V-8 in the upcoming 2016 Nissan Titan, you should have some exciting new choices among full-size trucks in 2015.
Uber luxury sedan hiring app
Uber... Everything
Why it's one of this year's big stories: Anyone who's been grumbly about the lack of ground-transportation options in so many places will agree that Uber has a great, disruptive idea: to allow those in need of a lift to find those who want to make a little extra money with their accommodating car, and vice versa, and hone it (insurance coverage and everything) around a very slick smartphone app. Yet Uber (and to a lesser degree the upstart's ride-sharing rivals, Lyft and Sidecar) wasn't in the news only for its innovation. Rather, Uber seemed to make broad missteps all along the way. Whether being seen in ambush of local and regional transit regulators, as pushing back on hot-button controversy over the company's driver checks, or as ruthless in its 'surge pricing' for events, Uber hasn't gone over well everywhere, and it has strong opposition in parts of Europe,
What it means for you in 2015. For now, it means you probably have more options for a reliable ride; and that is indeed a good thing. But expect everyone to start asking lots of questions this next year—like whether Uber could cut into the business plans of car-sharing services like Car2Go...and whether it could cut into auto sales themselves. Does it change the way Americans see cars? While we're mulling that, it's fair to say we're going to see a lot more about Uber in 2015.
Tesla Store Los Angeles [photo: Misha Bruk / MBH Architects]
Dealerships Wage War On Tesla
Why it's one of this year's big stories: Tesla Motors never waged any kind of opposition to traditional dealership franchises; but by the beginning of the year, dealership groups had sized the electric-car maker up as a threat and were mounting organized (and increasingly effective) opposition in a number of state legislatures, to block sales from its company-owned mall stores. During 2014, dealership groups, as well as the National Automobile Dealers Association (NADA), also pushed messaging campaigns extolling the benefits of franchised auto dealers. The battles continue, and by the end of what must have been a grueling year for both sides, especially for Tesla's legal and lobbyist folks, 22 states permit direct sales of cars by Tesla to retail buyers. Yes, you can get a Tesla in many of those other states, but it might feel like a cobbled, gray-area deal with no official new-car delivery.
What it means for you in 2015: Not much this next year, but a few more years ahead, maybe some interesting new ways to buy your next new car. Tesla isn't going away, and it isn't going to budge and start selling its cars at franchises either; meanwhile all the publicity the issue has received this year on a local and state basis has plenty of legislators, regulators, and members of the public asking questions that have pushed car dealers to step up and be relevant. Volvo is going to try selling cars online—in other markets of the world, first—but even the megadealer AutoNation, in 2015, is testing out a purchase process that sounds a lot like Tesla's. So never say never...
Utility's Arkansas Dealership
Booming Sales
Why it's one of this year's big stories: 2014 came in like a lion and...went out like a lion—starting at lofty heights, surging to new post-recession levels that now make the empty showrooms and abandoned dealerships seem like distant memories. U.S. vehicle sales are anticipated to be at around 16.5 million for 2014, while they're projected to keep climbing in 2015 to a record high of 17 million. A gradual economic recovery and more easily available consumer credit for auto loans and leases were part of it, for sure, as were all of our older vehicles in need of replacement. And while we each had our own reasons, Americans bought a lot of cars this past year—depending on exactly where the total falls, likely more than any year since 2006.
What it means for you in 2015: Mostly good things. Don't expect the finance deals and low loan rates to keep quite as low, however—as the Federal Reserve is expected to raise interest rates this next year.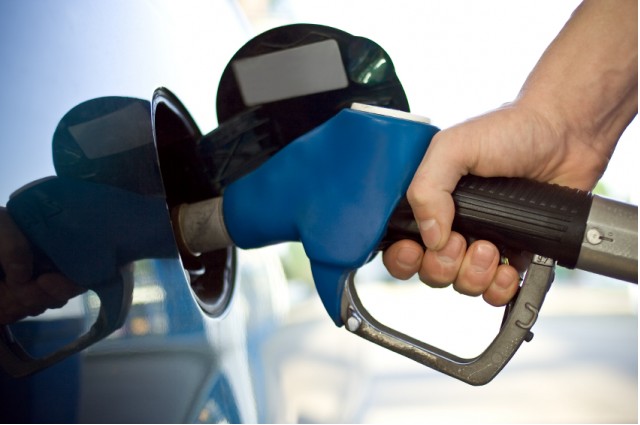 Gas pump
Cheap Gas Is Back
Why it's one of this year's big stories: And we saved one of our six top stories for last because it's going to have a very big impact on this next year—that's the falling price of gasoline. Ever since this past July it's been tumbling downward, and after three years of relative stability, at a U.S. average somewhere around $3.50 a gallon, it's projected to fall toward the $2.50 mark or below, and stay there for much of the next year.
What it means for you in 2015: Will it influence family buying decisions? You'd better believe it, and we're here to help.
___________________________________________