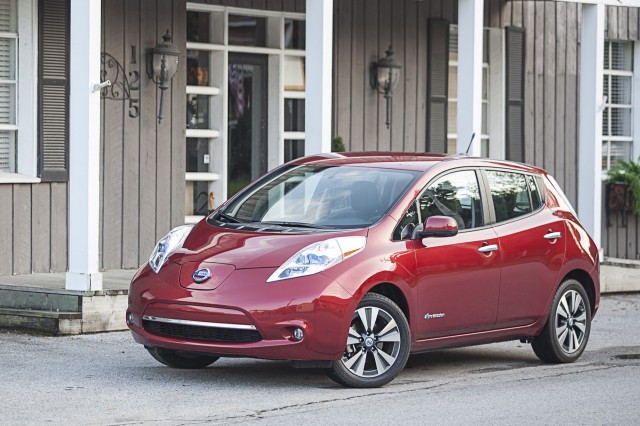 2015 Nissan Leaf
If you're buying a new gasoline vehicle, you'd best be happy with its emissions and efficiency today. Because as the vehicle ages, it's not going to get much better than this.
ALSO SEE: Six Most Affordable Vehicles With Third-Row Seating
That's actually not true with battery electric cars, like the Nissan Leaf or Tesla Model S. The EV you buy today will actually get significantly cleaner-running and more efficient (if you're willing to take a step back) with each new year you own it.
Why? Because while you don't actually have a tailpipe with an electric car, some of the impact you have on the environment is transferred upstream, to the grid and the emissions associated with power generation. And the grid has the potential to get much cleaner.
It's quite the selling point for those considering an electric vehicle (EV) for environmental concerns, as a daily driver.
Depending on where you are, there could be tremendous potential for cleaning up air emissions via your local utility—through moving to renewable electricity sources like wind farms and solar arrays, and to natural gas plants. And yes, even by replacing older coal plants with newer, cleaner coal plants.
It's already happening. According to Union of Concerned Scientists (UCS) data, in California, where nearly half of the plug-in vehicles in the U.S. are currently purchased, a gasoline car would need to get 95 mpg in order to be at the emissions level of the average electric car.
READ: Is The Ford F-150 America's Favorite Luxury Vehicle?
That's up from 78 mpg versus the group's last such analysis, done in 2012. Although the data isn't consistently sourced from the same time interval, and there are definitely other components to emissions than the CO2 used for comparison, it still goes to underscore the point that the power you use to charge an EV's battery is rapidly getting cleaner.
Find your region below to see the latest mpg-equivalent to have a gasoline vehicle as 'clean' as the average electric car. And remember that it will continue to get better.
Electric-car wells-to-wheels emission equivalencies in MPG, Sep 2014 [Union of Concerned Scientists]
___________________________________________