2015 Honda CR-V
The 2015 Honda CR-V and 2015 Toyota Prius V now rank among the safest new vehicles you could choose; yet it certainly wasn't that way with last year's models—even though they don't look all that much different.
Both models are among the 33 models to have achieved the highest 2015 Top Safety Pick Plus (TSP+) nod from the Institute for Highway Safety (IIHS), one of the two major testing agencies for new cars in the U.S. And they stand as proof that crash tests do drive improvements in occupant protection, and that those improvements don't have to come every five or six years—the typical gap in the auto industry between full vehicle redesigns.
ALSO SEE: 2015 Dodge Challenger Tested By Feds, Earns Lower Rating Than Before
Increasingly, as models and their underlying structures are completely redesigned, more cars are performing well in the IIHS small overlap test, which became a real differentiator between the safest and the rest when it was first introduced in 2012.
Real structural upgrades earn top ratings for CR-V, Prius V
But automakers have caught on quickly. The IIHS points to Honda, and its much-improved 2015 CR-V, which was given some structural changes as part of a mid-cycle refresh, boosting its small overlap rating from 'marginal' to 'good.'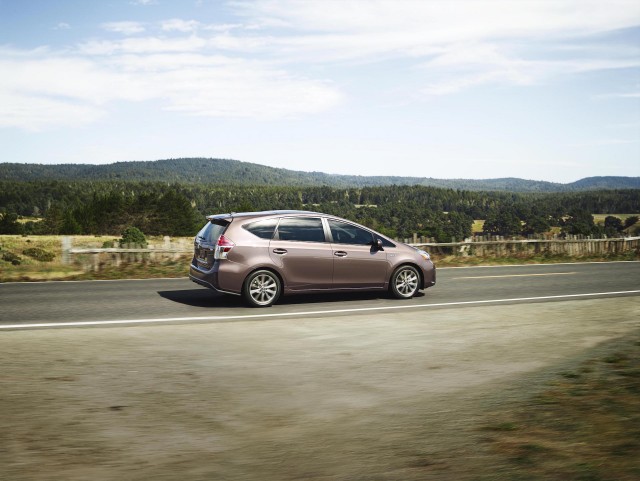 2015 Toyota Prius V
The 2015 Toyota Prius V is also one of the most improved models without a complete redesign. Toyota improved this Prius tall wagon's small overlap performance from 'poor' to 'good' with some structural changes, and by lengthening the side-curtain airbags. That model was also given some significant improvements to its optional Pre-Collision System, which the IIHS had previously panned with "doesn't meet minimum criteria."
Which leads to the second important point: The safest new vehicles today are the ones that won't just keep you and your family safe in a crash; they're also the ones that will warn you and help brake—and maybe help you avoid an accident altogether.
The IIHS understands that, and the group now requires an even more effective front crash prevention system for a model to make its annual list of Top Safety Pick Plus (TSP+) winners for 2015.
'Basic' front crash avoidance no longer good enough
While last year the IIHS required Top Safety Pick+ models to have a collision warning system that met its minimum standards—denoted by the 'basic' grade—this year automatic-braking capability is required, with a score of 'advanced' or 'superior.'
Vehicles that meet the 'advanced' or 'superior' standards for front crash prevention—and that of course includes the Prius V and CR-V—can be equipped with a system that stops or slows the vehicle, to help lessen the severity of an accident or avoid it completely.
Despite this key tightening of the rules for 2015, there's currently a total of 33 TSP+ vehicles; that's eleven more this year than last year.
2015 Volkswagen GTI IIHS small overlap frontal crash test
This year there are a total of 71 vehicle to meet Top Safety Pick requirements—corresponding to top 'good' ratings in moderate overlap front, side, roof strength, and head restraint (rear) tests—as well as either 'acceptable' or 'good' in the IIHS small overlap front test. The latter test, which simulates some of the forces of a collision with a tree or utility pole, still proves a challenge for some automakers.
It's also worth noting that these front crash prevention features aren't included in most of the top TSP+ models. You'll have to option up to the right trim—and in some cases, a particular option package—to get the full package worthy of TSP+ status. Only Volvo, Mercedes-Benz, and Acura have models that offer such systems standard.
All the Top Safety Picks are good choices
And the IIHS doesn't caution away from those vehicles that no longer carry the top nod. "Systems that don't require a driver response to avoid or mitigate a crash have the most potential for reducing crashes," said IIHS president Adrian Lund. "Nevertheless, the models that are losing their plus signs are still great choices for safety, as are all the Top Safety Pick winners."
Head over to the IIHS site for the full list of Top Safety Pick models, as well as to our full reviews on all of these vehicles, where you'll find a roundup of safety features and information on crash-test ratings from the IIHS and the federal government. But first, here's the full list of the highest achievers, the 2015 IIHS Top Safety Pick Vehicles:
Minicars
Chevrolet Spark
Honda Fit
Small cars
Lexus CT 200h (TSP+)
Mazda 3 (TSP+)
Subaru Impreza (TSP+)
Subaru XV Crosstrek (TSP+)
Toyota Prius (TSP+)
Chevrolet Volt
Dodge Dart
Ford C-Max Hybrid
Ford Focus
Honda Civic Coupe
Honda Civic Sedan
Hyundai Elantra sedan
Kia Soul
Mini Cooper Countryman
Mitsubishi Lancer
Scion FR-S
Scion tC
Subaru BRZ
Subaru WRX
Volkswagen Golf (4-dr)
Volkswagen GTI (4-dr)
Midsize moderately priced cars
Chrysler 200 (TSP+)
Mazda 6 (TSP+)
Subaru Legacy (TSP+)
Subaru Outback (TSP+)
Toyota Camry (TSP+)
Toyota Prius V (TSP+)
Chevrolet Malibu
Ford Fusion
Honda Accord Coupe
Honda Accord Sedan
Hyundai Sonata
Kia Optima
Nissan Altima
Volkswagen Jetta
Volkswagen Passat
Midsize luxury cars
Lincoln MKZ
Large family cars
Toyota Avalon (TSP+)
Large luxury cars
Acura RLX (TSP+)
Hyundai Genesis (TSP+)
Infiniti Q70 (except V-8 AWD) (TSP+)
Lexus RC (TSP+)
Mercedes-Benz E-Class (TSP+)
Volvo S80 (TSP+)

Small SUVs
Honda CR-V (TSP+)
Mazda CX-5 (TSP+)
Mitsubishi Outlander (TSP+)
Subaru Forester (TSP+)
Mitsubishi Outlander Sport
Nissan Rogue
Toyota RAV4
Midsize SUVs
Toyota Highlander (TSP+)
Chevrolet Equinox
GMC Terrain
Nissan Pathfinder
Midsize luxury SUVs
Acura MDX (TSP+)
Lexus NX (TSP+)
Mercedes-Benz M-Class (TSP+)
Volvo XC60 (TSP+)
Infiniti QX60
Minivans
Toyota Sienna (TSP+)
Honda Odyssey
Kia Sedona
___________________________________________