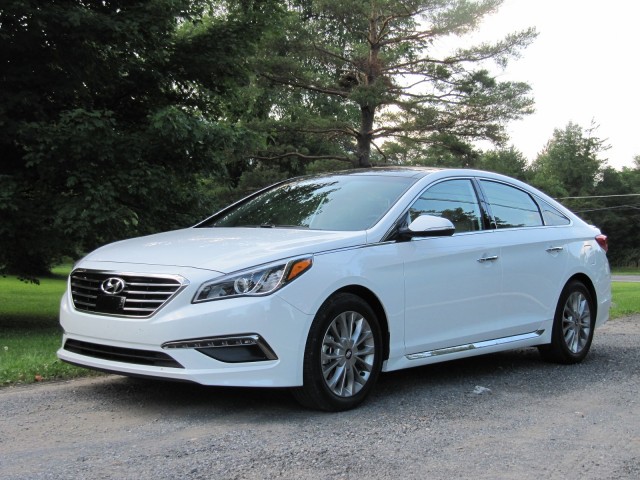 2015 Hyundai Sonata Limited, test drive, Hudson Valley, NY, Aug 2014
From
The Car Connection:
2015 Hyundai Sonata Video Road Test
Bold styling paid off with the last Sonata--but now Hyundai's changing course with a new sedan that's more practical, more refined, and less daring. Is that enough to keep up its strong challenge to the Camry, Accord, Fusion, and Altima?
MapQuest Is Still A Thing, And It Wants To Rescue Stranded Drivers
Remember AOL? Remember its subsidiary, MapQuest? One of the two wants to become relevant again by helping stranded drivers.
GM Scrambled To Get Ignition Switches Two Months Before Official Recall Announcement
If we've learned nothing else from the investigation of General Motors' botched handling of its massive -- and massively delayed -- ignition switch recall, we've learned that the automaker's internal, highly bureaucratic structure is largely to blame.
2016 Audi A6 (European spec)
From Motor Authority:
2016 Audi A6 And A7 U.S. Specs Revealed
Audi's A6 and A7 have just received their respective mid-cycle updates, with the updated cars shown for the first time at the recent 2014 Paris Auto Show. They're set to make their U.S. debut next week at the 2014 Los Angeles Auto Show but we've already got all the details.
Toyota Supra Successor To Cost More Than Corvette: Report
Toyota is working with BMW on a new sports car platform that will eventually be used by the Japanese automaker for a Supra successor, which has been previewed by the series of FT-1 concept cars. BMW has been quiet on its plans for the platform but is currently thought to be using it for a replacement for its Z4.
First 2015 Chevy Corvette Z06 Convertible Crashed
The 2015 Chevrolet Corvette Z06 is yet to go on sale but has already suffered its second crash, this time in its convertible bodystyle. This makes the latest crash, which took place on a wet highway near Jackson, Michigan, the first for the 2015 Corvette Z06 Convertible.
2016 Chevrolet Volt - first teaser image, Aug 2014
From Green Car Reports:
Why New 2016 Chevy Volt Might Sell 50,000 Units Its First Year
Launching entirely new types of cars is expensive, time-consuming, and challenging--as Toyota could have told Chevrolet and Nissan during 2010. Toyota's sales of its early Prius hybrid-electric cars, however, may offer hope to electric-car fans disappointed at modest sales of the two affordable electric cars sold in high volumes thus far.
Self-Driving Porsche Not Only More Fuel-Efficient, But Faster Than Humans Too
Self-driving cars are expected to increase road safety, and free up at least some time for their occupants during the morning commute. Machines will never get distracted--eliminating the cause of many crashes--and it appears they have other talents as well.
U.S. And China Agree To Curb Greenhouse Gas Emissions, Presidents Say
For the first time ever, China has agreed to limit its greenhouse-gas emissions, under a deal announced this morning between Chinese president Xi Jinping and U.S. president Barack Obama.
___________________________________________