From The Car Connection
:
Infiniti is holding on to the old, by keeping the outgoing version of its mid-size sport sedan, formerly called the G37 Sedan. It's a rather unconventional move, especially for a luxury brand; but it functions as an entry model that will likely be popular for lease deals.
40+ Ways That Autonomous Cars Will Improve (Or Ruin) The World
We've all heard the theories: Autonomous cars will prevent accidents. Autonomous cars will reduce traffic. Autonomous cars will revolt and eat us for dinner. (We made up that last one, but we're sure someone has said it.)
Toyota Corolla, Matrix, Sequoia, Tundra; Lexus SC; Pontiac Vibe Recalled To Replace Takata Airbags
The number of vehicles affected by faulty Takata-brand airbags has just grown by 247,000, thanks to a new recall from Toyota. The recall affects five Toyota and Lexus models, and even one from Pontiac.
2014 SRT Viper Time Attack Anodized Carbon Special Edition Package
From Motor Authority:
Is The Dodge Viper A Snake That Needs A Bit More Charm?: Video
I have to assume that Dodge expected the world to kneel at the feet of the all-new Viper when it was launched in 2013. That hasn't happened, and sales have been rather sluggish.
2016 Mercedes-Benz GLK63 AMG (GLC63 AMG) Spy Shots
This might look like one of the many prototypes for the next-generation Mercedes-Benz GLK-Class, a vehicle tipped to be called a GLC under a new naming strategy Mercedes may introduce for its SUVs, but it's actually a prototype for a high-performance variant to be built by Mercedes-AMG.
Lotus Appoints New Design Chief
Lotus has appointed Russell Carr its new head of design, a man who has been with the firm since 1990 and whose most notable design is probably that of the Evora sports car. Carr replaces Donato Coco, a former Ferrari designer that has been running the studio in Hethel since 2009.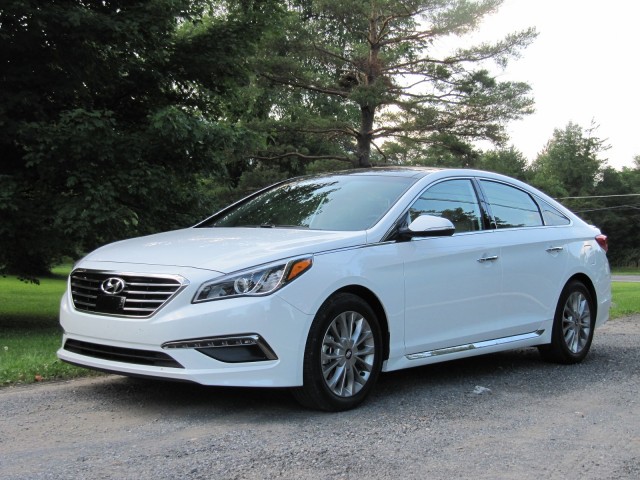 2015 Hyundai Sonata Limited, test drive, Hudson Valley, NY, Aug 2014
From Green Car Reports:
Hyundai Sonata Plug-In Hybrid Coming Next Year, Kia Optima Too
While the 2015 Hyundai Sonata is a completely redesigned vehicle for the new model year, the Sonata Hybrid for 2015 continues to use the previous-generation body. This has led to a certain amount of speculation about what direction Hyundai plans to take with its hybrid program.
Plug-In Hybrids Are The Best Competitors To Fuel-Cell Vehicles: Here's Why
With the imminent unveiling of the Toyota Fuel Cell Vehicle, and the Hyundai Tucson Fuel Cell already on sale, you can expect to hear a lot more about hydrogen fuel-cell vehicles in the coming months.
The Ferrari LaFerrari Hybrid Can Run Only On Electricity: Video Proves It
The Ferrari LaFerrari supercar may be a hybrid, but Ferrari claims it isn't meant to be particularly green. The hybrid powertain was primarily designed to improve performance, which is why the Italian carmaker has been adamant that the LaFerrari doesn't have an all-electric mode.
___________________________________________