It's been another frantic new year in the auto industry--record recalls haven't slowed down a record number of introductions this year, with automakers rolling out redesigned versions of familiar nameplates, as well as plenty of all-new entries.
From that pool of new and restyled vehicles, it's our time to pick our favorite—The Car Connection's Best Car To Buy 2015.
This year, The Car Connection's team of editors have reviewed and rated more than 275 new vehicles, giving each a score for styling, performance, utility and comfort, safety, and features. We also score each vehicle on its fuel efficiency--even those that use only plug-in fuel.
Our Best Car To Buy award highlights the leader of the pack--the single new vehicle that earns the highest total score of all. It's the vehicle we think all car shoppers should at least consider before getting their next new vehicle.
In the past, winners have been a varied lot: the 2014 Subaru Forester, 2013 Ford Fusion, 2012 Ford Focus, and the 2011 Hyundai Sonata.
The nominations, please
The nominees for The Car Connection's Best Car To Buy 2015 are:
2015 Acura TLX 3.5 SH-AWD
Acura TLX: Replacing the TL and TSX, the Acura TLX is the brand's sedan comeback, with great handling and innovative drivetrains.
2015 Ford F-150
Ford F-150: The most important new vehicle in a generation, the F-150 goes with aluminum to lose weight and post big fuel-economy gains.
2015 Ford Mustang electronic line lock
Ford Mustang: America's first pony car, the Mustang's brand-new design and independent rear suspension are winners, especially in GT Performance Pack trim.
2015 Honda Fit - First Drive
Honda Fit: The smartest small hatchback money can buy, the Fit is the essence of what Honda does best.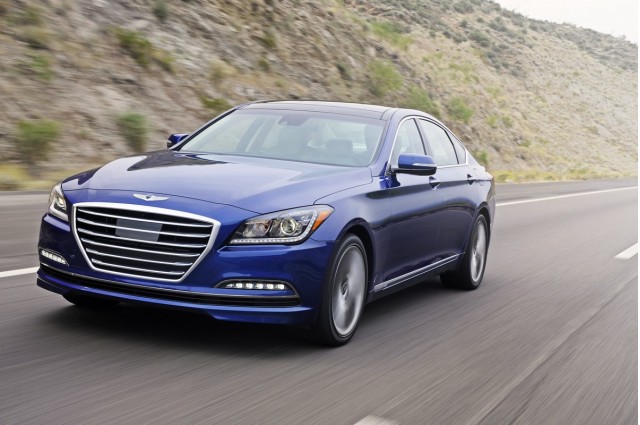 2015 Hyundai Genesis
Hyundai Genesis: In its second star turn, the Genesis eradicates the few flaws of the first-generation car, and dazzles with style and safety.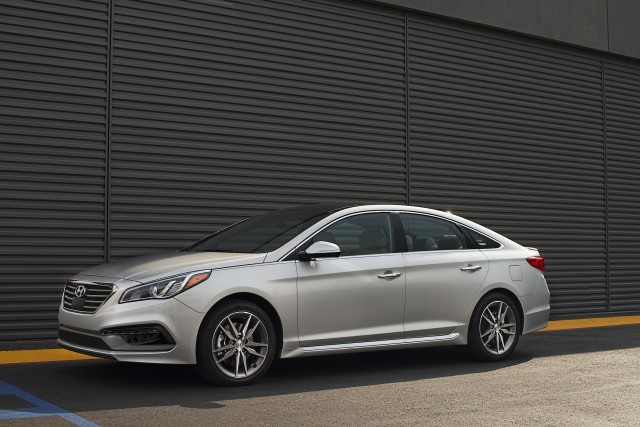 2015 Hyundai Sonata 2.0T
Hyundai Sonata: The mainstay for Hyundai's lineup is reshaped and toned down, with refinement a key word inside and out.
2015 Lincoln MKC
Lincoln MKC: Lincoln's first new vehicle in five years, the compact MKC is delightfully restrained, and sets high expectations for future new Lincolns.
2015 Mercedes-Benz C-Class - First U.S. Drive, August 2014
Mercedes-Benz C-Class: Now built in America, the C-Class has finally hit its luxury-car stride, with a constellation of safety technology riding shotgun.
2015 Mercedes-Benz GLA45 AMG
Mercedes-Benz GLA-Class: The high-roofed companion to the home-run CLA, the GLA adds much-needed headroom and delivers yet another tasty AMG to the Mercedes lineup.
2015 Subaru Legacy 3.6R
Subaru Legacy: The most mainstream Subaru you can buy is one of its best: the Legacy has expansive space, spot-on refinement, and standard all-wheel drive.
2015 Subaru Outback introduction at 2014 New York Auto Show
Subaru Outback: A multi-talented wagon, the Outback continues to be a weekend-cabin mainstay, but it's better than ever at the basics of space, safety, and comfort.
How we choose our Best Car To Buy

We've limited consideration to models that are either brand-new, or those that are significantly updated for the new model year.
Then, in order to narrow the field, and home in on the mainstream value and accessible vehicles, we've placed a base-price limit of $50,000—a move that knocks out a few very strong luxury contenders that we otherwise might find irresistible.
One other important requirement is that the vehicles be made available to our editors for a full road test before November 1, 2014, and be available for purchase by April 30, 2015. This year, that unfortunately excludes a handful of new entries: the 2015 Nissan Murano, Jeep Renegade, Honda HR-V, and the Chevrolet Trax.
The vehicles that remain on the list are then compiled into a list based on their overall numeric score, and the highest-ranked wins. Ties are broken by a consensus of our editors.
Among all of these, there can be only one, and we'll announce that—our Best Car To Buy—in two weeks, on Monday, November 10. On the same day, we'll have separate winners (from separate sets of nominated vehicles) from our luxury and performance destination, Motor Authority, and our green-car source, Green Car Reports.
This year there are 11 nominees ranging from family sedans, crossovers, a pickup truck, and even ...
in The Car Connection Polls on LockerDome
___________________________________________