2010 Ford Ranger
Could compact trucks be on the verge of catching a second wind in the U.S.?
After several years of saying that the Ranger wouldn't be replaced in the U.S. by a new compact truck, Ford appears to be having a change of heart—and at the very least is investigating the possibility of a new small pickup.
MUST READ: 10 Cars Most Likely To Get Ticketed
Ford marketing manager Dave Scott recently revealed to USA Today that Ford is now giving serious consideration to an entry-level compact pickup for the U.S. market. But in order to succeed in the market—and not cannibalize sales from the highly profitable F-Series lineup—such a truck would need to be smaller than GM's new Chevrolet Colorado and GMC Canyon mid-size pickups.
Smaller, cheaper, more fuel-efficient—a potential opportunity
"We're looking at it. We think we could sell a compact truck that's more like the size of the old Ranger, that gets six or eight more miles per gallon (than a full-size truck), is $5,000 or $6,000 less, and that we could build in the U.S. to avoid the tariff on imported trucks," said Scott to the paper.
The current Ranger that Ford sells overseas is simply too close in size to the F-Series. At about six inches narrower, or just a few inches to a foot shorter than a comparable F-150 style, it's surprisingly closely aligned in size, yet less capable. The same is perhaps true for those GM mid-size trucks, which are quite close both in size and price to their full-size brandmates—although it'll be some months before sales figures on those new trucks can be judged.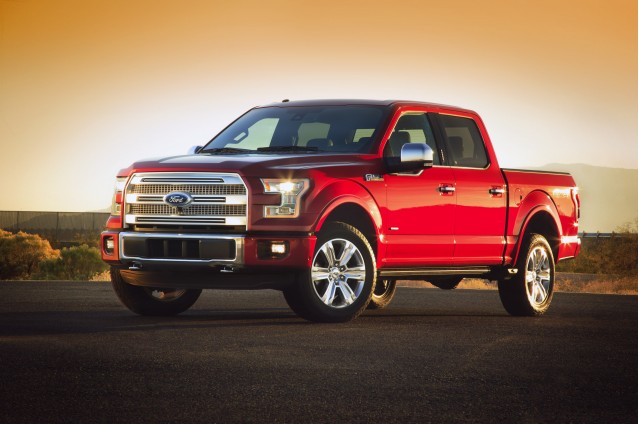 2015 Ford F-150
Such a rival could potentially be designed off a uni-body platform, like that of the Ford Transit Connect. That would make it a front/all-wheel-drive platform, but the Honda Ridgeline has done well with that layout—and a new 2016 Ridgeline is due next year. It's also possible that the model could borrow pieces from both the Transit Connect and the new full-size Transit vans. And with a move to an aluminum-intensive body for 2015, the F-150 is arguably more expensive to build, which leaves more room for a pickup price leader. 
READ: Peugeot Citroen Could Return To The U.S. In Early 2020s
Tough to gauge the market at this point
The Ranger fell from more than 200,000 annual U.S. sales in the early 2000s—when it was a very popular fleet vehicle as well—down to less than 75,000 annually for the last five years of its run (production ended in 2011). Critically, that plunge in sales may have been due more to Ford's failure to keep the Ranger lineup updated than to a sharp decline in demand, as sales of the Nissan Frontier or the Toyota Tacoma (the segment's recent top-seller) didn't fall by nearly the same amount in that period.
Does that support the idea that there's still a market for the Ranger, from those who want a less cumbersome truck? Sounds like, for Ford, it's a matter of getting the numbers to work out—and we hope they do.
___________________________________________