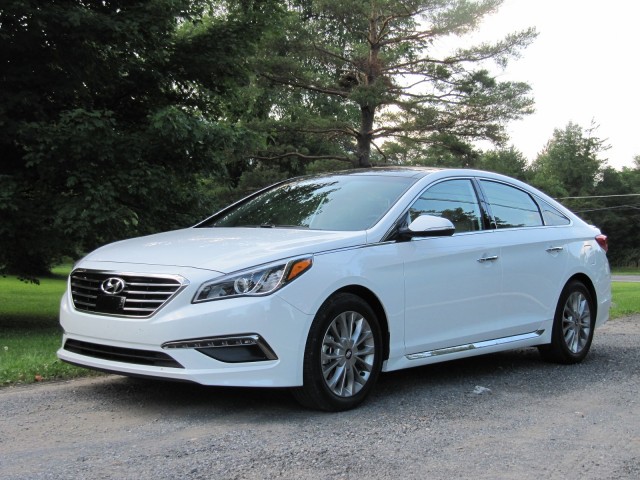 2015 Hyundai Sonata Limited, test drive, Hudson Valley, NY, Aug 2014
From The Car Connection:
2015 Hyundai Sonata Review
The previous Hyundai Sonata was an especially bold move—one that's paid off, drawing attention to Hyundai with its daring yet practical design, strong yet efficient engines, and good overall value.
Peugeot Citroen Could Return To The U.S. In The Early 2020s
Younger readers may not remember it, but just over 20 years ago, you could buy a Peugeot in the U.S.A. Even older folks could be forgiven for forgetting that 40 years ago, Citroens were sold here, too.
GM Recalls Cadillac SRX, Chevrolet Spark, Saab 9-4X, Stops Sales Of Chevrolet Colorado, GMC Canyon
Over the past few days, General Motors has issued new recalls and clarified details about existing recalls that affect more than 500,000 vehicles around the globe. The company also issued a stop-sale for two pickups due to airbag flaws.
McLaren P1
From Motor Authority:
Deadmau5 Buys McLaren P1
Having given up his famous Nyan Cat-themed Ferrari 458 Italia because of a dispute with Ferrari over the use of his own "Purrari" badges on the car, Canadian DJ Deadmau5 recently switched over to a McLaren.
Volvo Reveals 450-HP Four-Cylinder With Electrically-Driven Turbo: Video
Audi recently unveiled a high-performance diesel engine that featured a pair of turbochargers and an electric motor that spools the smaller of the turbos at low revs to help it produce almost instantaneous boost. Now Volvo has revealed a similar concept, based on a gasoline engine.
2017 Mercedes-Benz E-Class Spy Shots
Mercedes-Benz's current E-Class has been on sale since the 2010 model year, and for 2014 it was given a major update. In Mercedes tradition, we'll see the next generation of the popular luxury sedan introduced for the 2017 model year.
2014 Tesla Model S
From Green Car Reports:
Used Tesla Electric Cars: Certified Previously Owned (CPO) Program Coming, Company Confirms
Historically, auto dealerships have made as much or more money selling used cars as new ones. Since electric-car maker Tesla Motors doesn't have dealerships, but sells cars online directly to buyers, that has left the supply of used Teslas solely to individual owners who may want to sell.
Volkswagen XL Sport At Paris Motor Show: The Details (Video)
They brought together stunning concept cars, more prosaic production models under pin spots, and speeches laying out how important every single model actually was to the future of the automotive world.
Ghosn: Nissan Not Tied To Its Own Electric-Car Batteries, Will Seek Other Suppliers Pragmatically
Batteries are the key component in building practical electric cars. And for its first all-electric Leaf in 2011, Nissan developed its own proprietary lithium-ion battery pack--even planning and setting up its own assembly facilities to build them.
___________________________________________