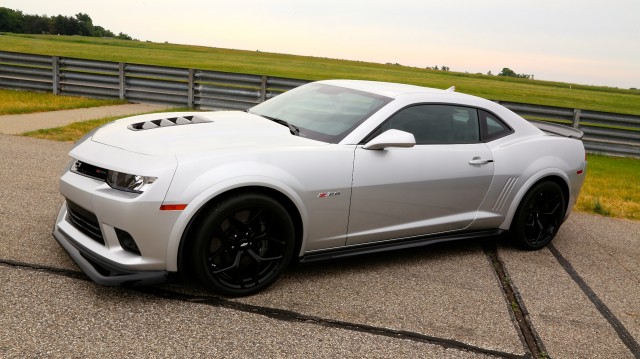 2015 Chevrolet Camaro Z/28 first drive, South Haven, Michigan
From The Car Connection:
2015 Chevrolet Camaro Review
The Chevrolet Camaro lives on as a bold expression of America's passion for muscle cars, even as the world shifts its attention toward fuel-sippers and environmentally-friendly sports cars. This year, the Camaro can be had in a variety of flavors, ranging from the cost-effective V-6 and potent V-8 SS, to the track-ready Z/28 and lightning-quick ZL1, to the well-rounded 1LE V-8.
Deathwatch: Saab's Parent Company Lays Off 200 As Another Bankruptcy Looms
Winter is coming, and it may be a brutal one for Saab employees. As our colleagues at Motor Authority report, the struggling automaker is laying off up to 200 workers while it attempts to restructure and secure funding to resume production.
2013 Audi Q7 Recalled For Oil Leak
Volkswagen Group of America, Inc. has issued a recall for select 2013 models of the Audi Q7 crossover. According to a bulletin from the National Highway Traffic Safety Administration, some of those vehicles may suffer from an oil leak, which could set off a series of unfortunate events that might increase the risk of an accident.
Mercedes-AMG GT Edition 1 leaked images
From Motor Authority:
Mercedes-AMG GT Edition 1 Leaked: 2014 Paris Auto Show
Primed to take on the Porsche 911, Jaguar F-Type, and Chevy Corvette—among others—the Mercedes-AMG GT just recently made its web debut. At the 2014 Paris Auto Show, a special Edition 1 version of the car is expected.
Mid-Engine Corvette ZR1 To Bow In 2017, Cost $150k: Report
Work has commenced on the next-generation Chevrolet Corvette, the C8, and word on the street is that the car will ride on a new mid-engine platform under development at General Motors. While the C8 isn't due until the end of the decade, a car riding on its platform may appear much sooner than that.
LaFerrari, McLaren P1 And Porsche 918 Spyder Compared: Video
The new generation of hybrid hypercars, the Ferrari LaFerrari, McLaren P1 and Porsche 918 Spyder, have been with us for almost a year but we're yet to see anyone who's compared and contrasted all three.
2014 Tesla Model S
From Green Car Reports:
Tesla A 'Fringe Brand': Former GM Product Czar Bob Lutz (Video)
When an unknown automotive startup from Silicon Valley unveiled an all-electric sports car with supercar performance back in 2006, the shock was enough to make industry giant GM sit up and pay attention.
2014 BMW i3 Lease Deals Appear: $369/Month For Electric Car
It's a pretty standard part of the car-launch cycle: The earliest buyers pay sticker price or more, and then the discounting starts to set in. Accordingly, with the BMW i3 electric car on the market for five months now, we're starting to see more aggressive marketing on the part of dealers.
Southwest Airlines Will Use Renewable Jet Fuel From Forest Waste
In the U.S., there isn't a lot of enthusiasm for automotive biofuels these days. Concerns over the potential impact on food supplies, the growing sales of practical electric cars, and other factors seem to be keeping most biofuels out of the mainstream.
___________________________________________