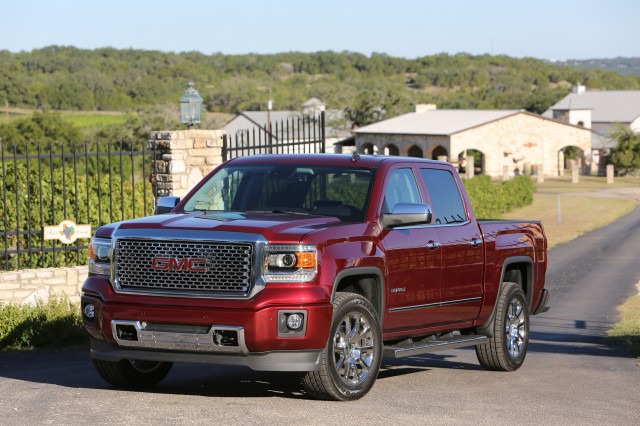 2015 GMC Sierra 1500 Denali Crew Cab
From The Car Connection:
2015 GMC Sierra 1500 Review
The recently overhauled 2015 GMC Sierra 1500 delivers some of the best hauling and towing numbers of any light-duty full-size truck while returning better fuel economy and performance. And it boasts enough ports and connections to turn almost any Sierra into a mobile workplace.
Ford Recalls: 2013-14 Ford Escape & Focus ST; 2015 Ford Transit; 2015 Lincoln MKC
Ford has issued a series of recalls for several late-model Ford and Lincoln vehicles. According to Detroit News, the recalls affect nearly 165,000 Ford owners across North America, with most of the vehicles registered in the U.S. 
5 Car Brands That Customers Don't Buy Twice
In today's auto market, competition is stiff. Every car seems built to last, which makes it difficult for automakers to tout reliability as their sole selling point. Consumers can shop nearly any brand, confident that they'll drive home in something that will hold up for years. That's led to the demise of brand loyalty -- especially among younger buyers.
2015 Ford Mustang RTR teaser
From Motor Authority:
2015 Ford Mustang RTR Launches In January
Drifter Vaughn Gittin Jr. is hard at work developing the first RTR package for the all-new 2015 Ford Mustang. The dealer-installed performance and appearance package will be available in January 2015, and this time Mustang fans from around the globe will have access to it.
2016 Mercedes-Benz AMG GT Teased Further: Video
Mercedes-Benz's newest sports car, the Mercedes-AMG GT, is almost here, and now, just a few weeks out from the car's reveal, we have a series of tasty videos to ogle. In the videos, the engineers working on the car hint at its performance, with one even boasting the new GT will have go-kart-like handling.
2017 Lincoln Navigator Getting Redesign, Aluminum Body: Report
The Lincoln Navigator has just undergone a major update, but there's no hiding the fact that the once popular SUV is getting on in years, with the current model having been on the market since the 2007 model year. A replacement is planned, and according to a new report we'll see it introduced in the second half of 2016, as a 2017 model.
2014 Chevrolet Volt
From Green Car Reports:
Could Less-Pricey 2016 Chevy Volt Undercut Plug-In Hybrids?
The average new vehicle transaction price in the U.S. today is around $32,000. Now it appears that the upcoming 2016 Chevrolet Volt may possibly have two model variants, one of them targeting a base price of $30,000.
Next-Generation VW Golf Looks To XL1 Eco Car For Better MPG
The Volkswagen XL1 is a high-technology, high-cost plug-in hybrid that, while intriguing, will do very little do directly change the automotive landscape. Like many such projects though, lessons learned from its development and status as a rolling economy experiment could help production vehicles--the next-generation Volkswagen Golf, for one.
GM's 200-Mile Electric Car For 2017: What We Know So Far
The arrival of a moderately-priced battery electric car with a rated range of 200 miles will change the entire market for plug-in vehicles. When that will happen, and from which maker, remains open--though the likely suspects are Nissan, Tesla, and General Motors, with BMW as a long-shot outsider.
___________________________________________