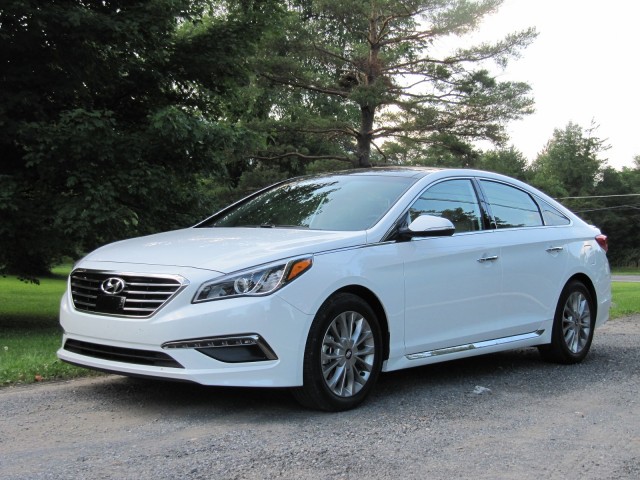 2015 Hyundai Sonata Limited, test drive, Hudson Valley, NY, Aug 2014
From The Car Connection:
One Of The Safest: 2015 Hyundai Sonata Earns Five-Star Rating
The redesigned 2015 Hyundai Sonata has now secured a place in the top tier of affordable mid-size sedans for safety-conscious shoppers. It's been tested by the federal government, and in ratings recently released has earned an excellent five stars both overall and in frontal and side-impact categories.
Early Data Suggests That Traffic Fatalities Have Fallen In 2014
After years of declines, the U.S. saw an uptick in traffic fatalities in 2012. People freaked out. Thankfully, figures suggest that 2012 was an aberration, and that numbers for 2013 will be a bit lower.
J.D. Power: Third-Row Seats Shouldn't Be So Terrible
If you're a busy parent expected to run the occasional carpool duty, or you need somewhere to fit everyone when heading out with the in-laws for dinner, you definitely understand the usefulness of having a vehicle with three rows of seating.
1962 Ferrari 250 GTO with chassis #3851 GT
From Motor Authority:
1962 Ferrari 250 GTO Sells For $38M, Highest Price Paid For A Car At Auction
The 1962 Ferrari 250 GTO that went up for auction yesterday during the Bonhams sale at The Quail, A Motorsports Gathering finally sold for $38,115,000, setting a new record for the highest price paid for a car at auction. The previous record was $29,650,000, paid last year for a 1954 Mercedes-Benz W196 Formula One car raced by Juan Manual Fangio.
Mid-Engine Corvette Rumors Rise Again, This Time For Next ZR1 And C8
The idea of a mid-engined Corvette is nothing new. In fact, it seems that with each generation there's always talk of the 'next' one adopting a mid-engine layout. It hasn't helped that Chevrolet has revealed a number of Corvette concepts over the years featuring a mid-engine layout, the most recent being the CERV III unveiled at the 1990 Detroit Auto Show.
The BMW X1 only reached U.S. shores in 2012 but overseas it's been on sale since 2009. The vehicle received a host of updates for the 2015 model year, but these will be the last such updates before an entirely new model goes on sale in the next 12-18 months, a prototype for which has been spotted once again.
2014 Cadillac ELR
From Green Car Reports:
Cadillac ELR Not A Tesla Competitor, GM Exec Acknowledges
Mark Reuss, the head of global product development for General Motors, has acknowledged that GM may not have a vehicle that competes directly with the Tesla Model S electric luxury sedan. Speaking yesterday at a business breakfast associated with the weekend's Dream Cruise event in Detroit, Reuss called Tesla "completely serious competitor in every way."
Electric Boats: As In Cars, Battery Power Offers Advantages On The Water
The world now has something around half a million plug-in electric cars on the roads, and electric propulsion is slowly spreading into other types of transportation. One of them is electric boats, which have been around for more than a century but are now seeing renewed interest.
Smart Electric Drive Ad: Where Winning Drag Races Really Counts
Whatever you think of the diminutive city cars produced by Daimler's Smart brand, the company certainly has a talent for marketing. The latest ad from Smart Canada has the same sort of self-deprecating humor that Volkswagen used for years when advertising its Beetle--another rear-engined small car loved and hated in equal measure.
___________________________________________