2014 Mercedes-Benz M-Class - small overlap IIHS crash test
From The Car Connection:
The Safest Cars Of 2014
If you're reading this, chances are the next time you shop for a new vehicle, safety is going to be one of your top priorities. Once you're aware of the potentially life-saving differences between a three-star rating and a five-star rating, or the range from 'poor' to 'good' (these all correspond to forces, or likelihoods of injury), it's tough to settle for anything but the best.
More GM Recalls: Buick Encore; Cadillac ATS; Chevrolet Aveo, Impala, Spark; Pontiac G3; Saturn VUE
General Motors has issued yet another round of safety recalls affecting cars both new and old. The five recalls summarized in a statement from the automaker include 310,189 Buick, Cadillac, Chevrolet, Pontiac, and Saturn vehicles from model years 2002 to 2015.
Breathe Easy: Feds Say There's No Subprime Bubble In Auto Loans
Car sales are booming, and banks are doing brisk business in auto loans, especially subprime loans for borrowers with poor credit or no credit at all. That has many analysts worried that we're seeing a bubble in the subprime market -- that same sort of bubble that burst in 2007/2008 and helped hurl us into the Great Recession.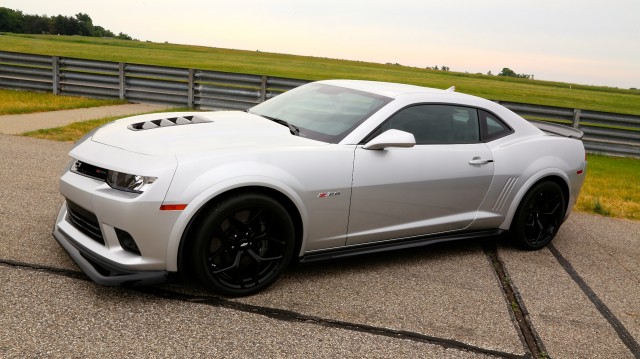 2015 Chevrolet Camaro Z/28 first drive, South Haven, Michigan

From Motor Authority: 2015 Cadillac Escalade Platinum Revealed, Priced From $90,270
The range-topping Platinum version of the latest Cadillac Escalade has been revealed, and will join the rest of the 2015 Escalade range in showrooms in the fourth quarter of the year, priced from $90,270 with a $995 destination charge tacked on. The regular Escalade starts at $73,965, including the same destination charge.
2016 Chevrolet Camaro Spy Shots
These are our first spy shots of prototypes for the all-new, sixth-generation Chevrolet Camaro. As the prototypes confirm, the new Camaro won't look very different from the current model, but there are some big changes taking place beneath the skin.
2016 Mazda MX-5 Miata Spy Video
Mazda's all-new, fourth-generation MX-5 Miata is set for a reveal on September 3, and while the Japanese automaker has done a good job of keeping its prototypes hidden, one has finally been spotted. This particular prototype was spotted in Japan.
Boeing 787 Dreamliner
From Green Car Reports:
Jet Fuel From Tobacco Plants To Be Tested By Boeing, South African Airlines
Corn-based ethanol is, to say the least, a controversial topic. While it's shown promise as a viable renewable fuel, there are concerns that large-scale ethanol production of corn-based ethanol could affect prices for food and animal feed.
Tesla Gigafactory: CA Could Waive Environmental Rules To Get It: Report
When Tesla Motors announced the short list of possible locations for its lithium-ion cell "Gigafactory," California wasn't on it. The Silicon Valley electric-car maker is headquartered in Palo Alto and builds the Model S in Fremont, about 30 miles away.
Income Cap Coming For CA Electric-Car Rebate, Tesla Most Vulnerable?
California buyers of battery-electric cars currently get a major perk: a $2,500 purchase-rebate check from their state government. The rebate, as well as a lower $1,500 check for purchase of a plug-in hybrid, has helped spur the adoption of electric cars in the state.
___________________________________________