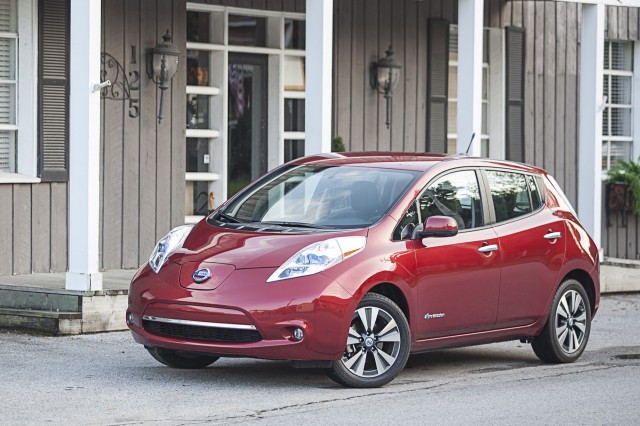 2015 Nissan Leaf
From The Car Connection
:
Entering its fifth model year, the 2015 Nissan Leaf is by far the world's best-selling electric car. It still looks the same as it did when the first 2011 model was launched, but there are dozens of incremental improvements under the skin.
It's Official: Honda Kills The Insight & Fit EV
Rumors began circulating back in February, and now they've been confirmed by the automaker: America's first hybrid, the Honda Insight, is dead.
NHTSA: 628 Children Have Died In Hot Cars Since 1998; Technology To Protect Kids "Isn't There Yet"
Senior officials from the Department of Transportation held a press conference yesterday in Washington, D.C., and the news they shared wasn't much comfort to parents and guardians of small children.
2015 Mercedes-Benz C-Class AMG Line
From Motor Authority
:
2015 Mercedes-Benz C-Class Priced From $39,325
Mercedes-Benz's stunning new C-Class goes on sale this fall, priced from $39,325 including $925 in shipping charges. That may seem a little steep but the entry-level model at present is the C300, which comes with a turbocharged 2.0-liter four-cylinder engine good for 241 horsepower and 273 pound-feet of torque.
Dodge Viper To Get A Minor Power Bump For 2015
It's no secret that the Dodge Viper isn't exactly selling like gangbusters. Chrysler has even had to halt production on the car in order to keep existing stock moving along. Still, there's a new model year on the horizon, and it will see some changes in the Viper. No, the Viper won't be getting the 707-horsepower 6.2-liter V-8 from the new Dodge Challenger Hellcat. It will continue on with the familiar 8.4-liter V-10.
2016 XE Will Be The Most Fuel-Efficient Jaguar Ever Thanks To Aluminum Construction
Jaguar's all-new 3-Series and C-Class fighter, the XE, is set for a reveal on September 8 but the British automaker simply can't help itself from releasing a few details early. In addition to a teaser photo showing the car's face, we've been given a look at its new aluminum internals, Ingenium range of four-cylinder engines and its suspension.
Tesla Motors CEO Elon Musk at Tesla Store opening in Westfield Mall, London, Oct 2013
From Green Car Reports
:
Tesla CEO Elon Musk Makes It Big: Will Appear On 'The Simpsons' As Himself
Wealth? Success? Power? All of these fade to insignificance as ways to show you've "made it" in life, compared to a guest appearance on The Simpsons. Tesla Motors CEO Elon Musk has certainly made it, and to prove it he'll be guest-starring in the 26th season of the popular cartoon comedy.
1.2 Billion Vehicles On World's Roads Now, 2 Billion By 2035: Report
Calculating the total number of motor vehicles on the planet is an inexact science, but the number is growing rapidly. Reports estimate that the total crossed 1 billion vehicles sometime during 2010.
BMW i3 Electric Car Owners To Get Free DC Fast Charging Through 2015
Buyers of the 2014 BMW i3 electric car will soon get more charging options. At least, they will if they live in California. The German carmaker is partnering with the NRG eVgo charging network to offer free DC fast charging through 2015 at NRG's "Freedom Station" public charging sites in the Golden State.
___________________________________________