The 2015 Hyundai Sonata has been redesigned, and the company is brimming with confidence about the new mid-size sedan.
The automaker's U.S. chief, Dave Zuchowski, says the company expects the 2015 Sonata to reach the record sales levels of the 2011 and 2012 models. The mid-size Sonata is currently the automaker's number-two seller by volume, behind the compact Hyundai Elantra lineup.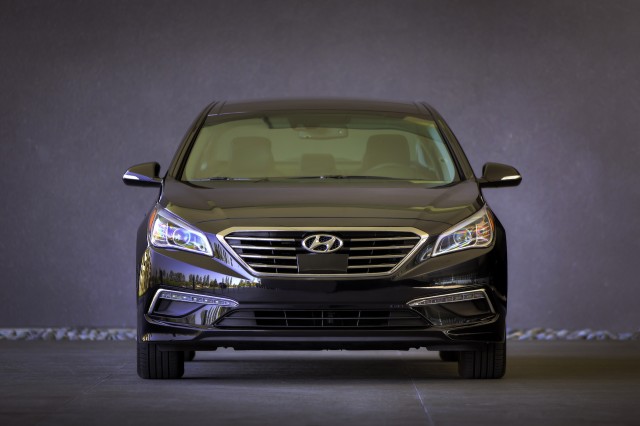 2015 Hyundai Sonata 2.4 Limited
For this, the seventh-generation Sonata, the automaker looked to refine its midsize offering.
DON'T MISS: 2015 Hyundai Sonata - Review
Boasting the newest design language--which Hyundai dubs "Fluidic Sculpture 2.0"--the new Sonata opted for a more mature look, doing away with some of the swoopiness that garnered the previous generation much praise. The 2015 Hyundai Sonata is built using a stiffer body structure, which reduces vibration and in-cabin noise. The interior design is closer to the more upscale Hyundai Genesis, and is a little roomier than the car it replaces, too.
Hyundai expects about 80 percent of buyers will opt for models powered by the 185-horsepower 2.5-liter, four-cylinder engine, though the carmaker also offers a 245-hp 2.0-liter turbo engine for buyers seeking a sportier ride.
2015 Hyundai Sonata 2.4 Limited
Zuchowski expects the 2015 Sonata to surpass the Elantra as the automaker's top-seller. "As Sonata aged, we took the production volumes down a little bit at the Montgomery plant, and tweaked Elantra up," he explained. "We're going to produce more Sonatas now in Montgomery, and hopefully pick up more Elantras from Korea."
Hyundai currently produces all Sonatas--save for the Sonata Hybrid, exclusively built in Korea--at its plant in Mongomery, Alabama, alongside the Elantra. But Hyundai can also import Elantras from its Korean plants, which it will need to do if projections for Sonata are correct.
ALSO SEE: 2015 Hyundai Sonata Gets New Look, Lower Price
"We're not looking to set new high watermarks, we're looking to get back to 2011, 2012 volume levels," Zuchowski said, adding that he could see the newest-gen Sonata reaching 210,000 to 220,000 models sold annually. While the Toyota Camry, Honda Accord, and Nissan Altima may still be out of reach, Zuchowski believes the new Sonata will be "Top 5, alongside the Ford Fusion."  
2015 Hyundai Sonata Eco
Hyundai made a conscious decision three years ago to not invest in mature markets, as part of its overall, long-term growth strategy. The automaker opted to boost production in emerging markets such as the Czech Republic, Brazil, and China.
Zuchowski says that decision allowed Hyundai to "optimize our production cycles and facilities in America and Korea." The Montgomery facility is currently at capacity, operating three shifts per day, he said.
___________________________________________