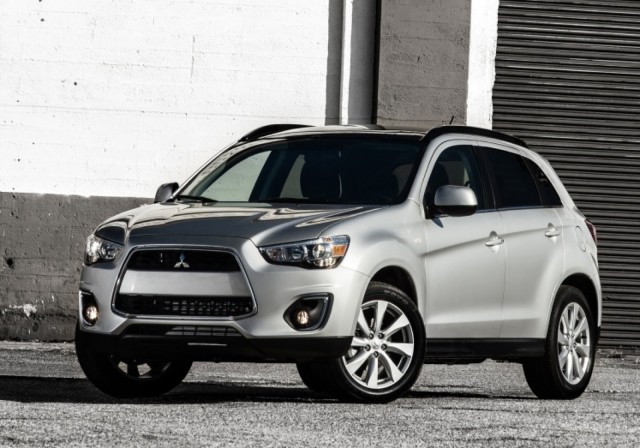 2014 Mitsubishi Outlander Sport
Some Mitsubishi Outlander Sport models for 2014 achieve four stars in side impact, while other Outlander Sport models, seemingly identical otherwise, achieve five stars.
ALSO SEE: 2015 Hyundai Genesis: Five-Star Scores, The Safest Car On The Market?
The reason is simply that Mitsubishi has subbed in some updated safety hardware—a new side-curtain airbag design—and it makes a difference in this model's safety ratings.
It's unusual, but not completely unheard of, for a vehicle to get an upgrade in its safety equipment mid-year. Especially with safety, it makes sense to push out improvements as they arrive, rather than wait for the new model year.
That appears to be what Mitsubishi did with the Outlander Sport for models that the federal government, on its SaferCar.gov safety site, is designating 'Later Release,' versus 'Early Release' for the others. For the 'Later Release' models, the Outlander Sport's new five-star side safety rating was achieved through updated side-curtain airbags, according to Mitsubishi spokesman Alex Fedorak.
Those new side bags are apparently perfect for the task, as they raise the Outlander Sport's side rating not just to five stars, but to five stars in all subcategories—even the side pole rating, which simulates a 20-mph sideways crash into a tree or utility pole. Early Release models got a four-star rating in the side barrier category, and rear-seat protection in particular brought their score down to four stars.
The same improvements will apply to 2015 Mitsubishi Outlander Sport models as well; those models get another round of improvements to quell noise and vibration, among other minor trim and equipment improvements.
READ: 2015 Subaru Outback: First Drive
While the improvements to the Outlander Sport do raise its side rating to the top of the scale, its overall rating from the federal government and its frontal crash rating remain at four stars.
If safety is a top priority and you want to choose an Outlander with the improved performance, Fedorak pointed out that the newer-build vehicles would have a modified window sticker showing their five-star side safety.
___________________________________________