2015 Hyundai Genesis - First Drive, April 2014
From The Car Connection:
2015 Hyundai Genesis Video Road Test
The Hyundai Genesis has created a lot of skeptics. When it was new in 2009, shoppers weren't sure if Hyundai could really build a luxury sedan—one that could compete with four-doors from Acura and Infiniti.
Honda Pilot Soldiers On For 2015 With New Special Edition Model
The 2015 model year marks the sixth for the current Honda Pilot, and while there is no word on an expected redesign, Honda is hoping a new trim level will pacify buyers. The 2015 Honda Pilot Special Edition expands the mid-size crossover's vast trim level lineup by adding some new wheels and a few standard features.
2015 Alfa Romeo 4C: How Much It Costs & Where To Buy It
We've spent a lot of time wondering when the Alfa Romeo 4C will arrive in the U.S., marking the brand's return to these shores. We've also wondered where the semi-supercars will be sold and how much they'll cost.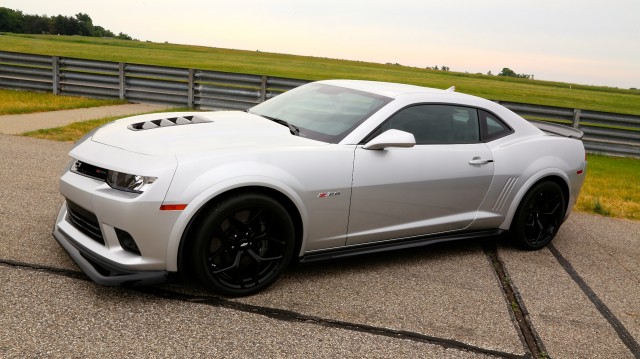 2015 Chevrolet Camaro Z/28 first drive, South Haven, Michigan
From Motor Authority
:
2015 Chevrolet Camaro Z/28: First Drive Video
Al Oppenheiser can rattle off from memory the Chevy Camaro's many brushes with doom. Let's not even count the one that threatens overhead--a blanket of thick, low clouds intensifying from light to dark. 
2015 Ford Mustang's First Safety Car Duty Will Be At 2014 Quicken Loans 400 At Michigan
The 2015 Ford Mustang is about to take part in what we bet will be the first of many official safety car outings for the sixth-generation car. The first will be at the Quicken Loans 400 NASCAR Sprint Cup race at Michigan International Speedway on June 15, 2014, and behind the wheel will be Joe Hinrichs, Ford Motor Company's [NYSE:F] head of its Americas unit.
Meet The Green Ferrari LaFerrari Of Jamiroquai's Jay Kay
It's safe to say that the bulk of LaFerraris destined for production will be painted various shades of red, but at least one of the cars has received a bright green finish nicknamed, for obvious reasons, 'Kermit Green'. This particular LaFerrari belongs to Jamiroquai lead singer Jay Kay, an avid car nut and owner of various exotics including previous special series Ferraris like the F40, F50 and Enzo.
2014 Ford Fiesta EcoBoost SFE, Catskill Mountains, NY, Jun 2014
From Green Car Reports
:
2014 Ford Fiesta EcoBoost: Gas Mileage Test Returns 40 MPG
As a general rule, we like small cars, and small cars with small engines. Eighteen months ago, when we first drove prototype versions of the 2014 Ford Fiesta EcoBoost, we knew we'd be eager to get our hands on the little subcompact with the turbocharged three-cylinder engine for a longer drive.
How Long Do Hybrid Cars Last: Which Will Make 150,000 Miles?
Which hybrid cars accumulate the most mileage over time? According to a new data analysis, there's one hybrid that stands head and shoulders above the rest--and it's not the Toyota Prius.
2014 Chevrolet Cruze Clean Turbo Diesel: Ultimate Guide
Joining the Chevrolet Cruze Eco in the carmaker's greener, less consumptive vehicle lineup, the 2014 Chevrolet Cruze Diesel has been one of Chevy's most eagerly-awaited models.
___________________________________________