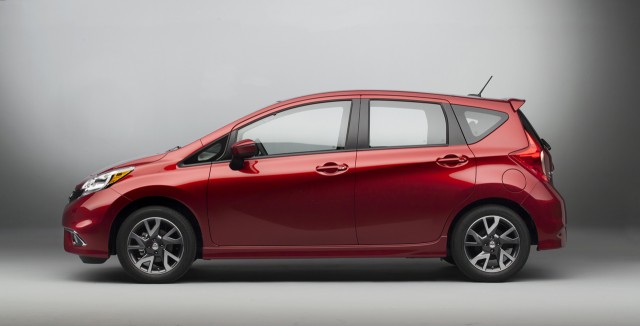 2015 Nissan Versa Note SR
From The Car Connection:
2015 Nissan Versa Note Priced At $14,990, New SR At $18,340
After being introduced as an all-new model last year, the Nissan Versa Note is getting a couple minor changes for the 2015 model year. As announced at the Chicago Auto Show, the 2015 Nissan Versa Note will be adding two trim levels to go along with some minor pricing changes, which were just announced.
2015 Volvo XC90 Gets Slow-Drip Release This Year
Volvo has a new XC90 waiting in the wings, but you'll have to wait a few more weeks until it casts a brighter light on the crossover SUV's new skin.
Crash Prevention Systems In Vehicles Improving Rapidly, IIHS Finds
It's probably fair to say that your next car likely won't be a Google car that can completely drive itself; but it might be one that could smartly brake itself that one time your attention lapses in traffic.
2015 Chevrolet Corvette Performance Data Recorder (PDR)
From Motor Authority
:
2015 Chevrolet Corvette Stingray Order Guide Leaked
The Chevrolet Corvette Stingray will enter its second model year with some minor changes, according to a leaked order guide.
Lexus Trademarks 'IS 200t' Name
At the 2014 Beijing Auto Show last month, Lexus unveiled its new NX compact crossover and confirmed that the base model for the U.S. would be a NX 200t powered by a turbocharged 2.0-liter four-cylinder engine.
Volkswagen GTI Roadster, Vision Gran Turismo Revealed: Video
Building cars for Gran Turismo 6 has become almost as popular with carmakers as building actual cars. The latest to join the fray is a futuristic concept of the venerable Volkswagen Golf GTI, called the GTI Roadster, Vision Gran Turismo.
2014 Honda Accord Hybrid
From Green Car Reports
:
2014 Honda Accord Hybrid: Video Road Test
Honda was the first car company to sell a hybrid in the U.S. by a few months, but it hasn't done nearly as well with its hybrids as Toyota has done with its Prius. Its first two-seat Insight wasn't close enough to the mainstream—and the first Honda Accord Hybrid in 2004 didn't post gas-mileage numbers that were all that great.
Aerodynamic Tesla Model S Electric Car Wins The Wind-Tunnel Wars
Aerodynamics are a vital component of automotive efficiency. The more air you have to push out of the way to reach or maintain a certain speed, the more energy you're using. And the more energy you use, the less efficient your journey will be.
BMW: China Biggest Electric Car Market By 2019, i3 On Sale Soon
BMW has become the latest in a growing list of automakers to put its faith in the Chinese electric car market. The Chinese automobile market is huge: 18 million passenger cars alone were sold in 2013. That's ten times that of similarly-populated India, and around 2.4 million more than were sold in the U.S.
___________________________________________