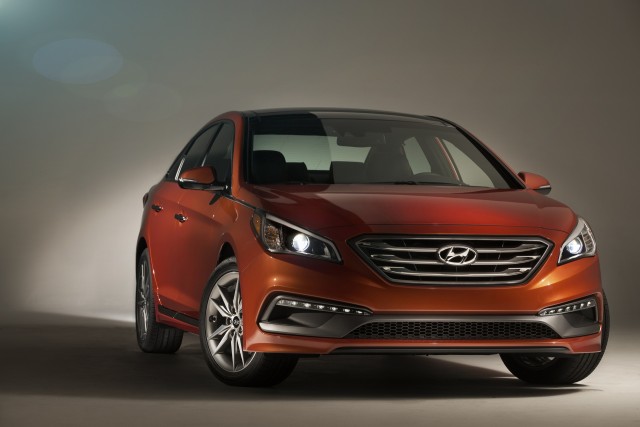 2015 Hyundai Sonata
Welcome to The Week In Reverse, our roundup of the week's automotive-news headlines. Here, we'll be looking at some of the big stories, the major product announcements, the special features, and the underlying themes and news of the week—all presented not necessarily in reverse, but looking at the week with the knowledge of a few extra days gone by.
Without further ado, here's The Week in Reverse, for Saturday, May 24:
It's been quite the week for product announcements. Among the big ones: Hyundai priced its fully redesigned 2015 Sonata; Lincoln detailed pricing and options for the 2015 Navigator; and we saw some noteworthy changes detailed for the Chevrolet Impala, Fiat 500, and Kia Optima lineups.
2015 Hyundai Sonata Gets New Look, Lower Price
2015 Chevy Impala Drops Mild Hybrid, Adds Stop/Start
Lincoln Prices 2015 Navigator, Undercuts Escalade By $10k
2015 Fiat 500 Adds Tech, Optional Automatic for Abarth
2015 Kia Optima Gets Updated Cabin Tech, Refinement
We also drove the all-new 2015 Subaru Legacy, and wondered if Honda and Toyota are worried yet. And checked in with the Honda Civic as it goes 'gearless' with a CVT and rehabs its in-dash infotainment.
2015 Subaru Legacy First Drive
2014 Honda Civic EX CVT: Quick Drive
Recalls continued to grab the headlines this week, too. But the whopper was what led off the week, as GM confirmed the recall of another 2.42 million vehicles. And oh, there's this list of 69 words that really shouldn't be said...
GM Recalls 2.42M Vehicles For Four More Safety Issues
General Motors' List Of 69 Dirty Words Employees Shouldn't Say
Is your commute a grind? Is it on this list of the ten most congested highways (or cities)? If so, we're sorry.
10 Most-Congested Highways & Cities In The U.S.
And get ready for congestion everywhere this weekend. Did you hear it's predicted to be a record (post-Recession) high for Memorial Day travel? Be careful out there.
Fasten Your Seatbelts, AAA Says It's Going To Be A Bumpy Weekend For Memorial Day Traffic
___________________________________________