From The Car Connection:
2014 Cadillac XTS Review
The 2014 Cadillac XTS is quite a different car than the ATS and CTS sport sedans. Yet for those who might just prefer to rock the Hush Puppies instead of flaunt the Fratelli Rossettis—and opt for comfort and technology just as much as performance—there's the XTS.
Ford Drops Microsoft, Will Build Next Infotainment Systems Using Blackberry. Wait, What?
If you love your Ford but hate Ford Sync, listen up: according to new reports, Ford may soon ditch the Microsoft platform that underlies Sync and migrate to a new, more stable system.  
Alfa Romeo 4C Going To Maserati Dealers After All (And A Few Fiat Showrooms, Too)
Among Chrysler CEO Sergion Marchionne's greatest ambitions is bringing Alfa Romeo back to the U.S. after a two-decade hiatus. The brand's first 21st-century assault on North American shores will be led by the highly anticipated Alfa Romeo 4C.
2015 Bentley Continental GT Speed
From Motor Authority
:
2015 Bentley Continental GT Speed Gets More Power And Torque
Updates to the Bentley Continental GT Speed for the 2015 model year see the big bruiser earn the title of the fastest production Bentley ever. Yes, Bentley engineers have endowed the GT Speed and the GT Speed Convertible with even more power and torque, boosting the performance of both cars.
The Stress Of Loading A $4.1 Million Lamborghini Veneno Onto A Truck Will Kill You: Video
Precision driving takes many forms. Sometimes it involves clipping an apex at 140 mph, sometimes it means dancing a car sideways inches from another while blowing giant clouds of smoke from the rear wheel arches, and sometimes it means putting a very wide, very expensive car in a not-much-wider trailer at 1 mph. Guess which one this Lamborghini Veneno driver is doing?
Australian Motor Show Set To Return In 2015?
They may not have an auto industry in a couple of years, but at least the Aussies may once again have their own auto show to attend. At one point Australia had major auto shows taking place annually in state capitals Sydney and Melbourne but in 2010 the separate events merged into the combined Australian Motor Show, which was to alternate between Sydney and Melbourne each year.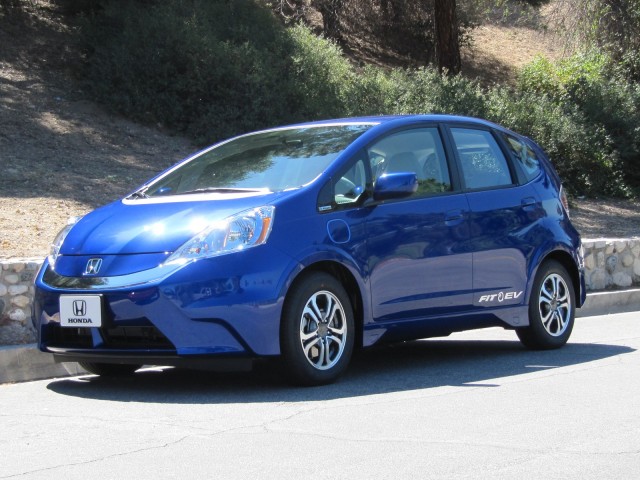 2013 Honda Fit EV drive event, Pasadena, CA, June 2012

From Green Car Reports:
2014 Honda Fit EV: Model Year Ends Early As Last Cars Are Built
Honda has announced through its EV sales division that Fit EV production will end early, with production of the last of the 2014 Fit EVs this fall. Posted by a member of the Honda Fit EV Drivers Facebook group, Honda confirms that deliveries of the Fit EV will continue at around 40 units per month until early this fall.
Most Popular Car Line In California? The Toyota Prius Hybrid—Again
The car business is a cauldron of change, but certain things remain consistent. One of those things is Californians' appetite for Toyota Prius hybrids. The Prius range was the most popular vehicle line in the Golden State for 2013, the second year in a row it came out on top.
Fuelshark Gadget To Boost Gas Mileage Does Nothing Of The Sort
Dozens of companies around the world will sell you devices claiming to improve your gas mileage. For what seems like a nominal amount, the magic devices can apparently increase your fuel economy by double-digit percentage figures.
___________________________________________