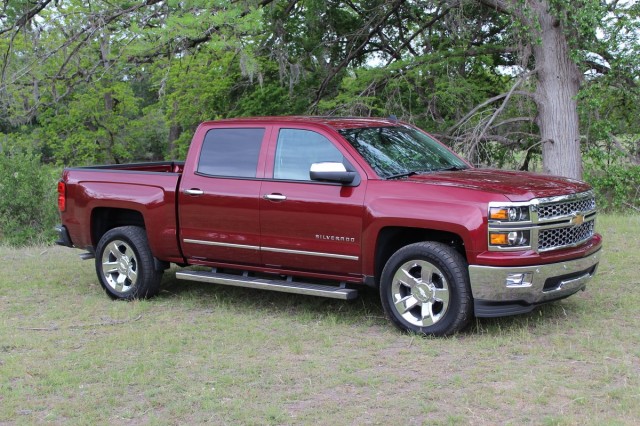 2014 Chevrolet Silverado 1500 LTZ

From The Car Connection:
2014 Chevrolet Silverado 1500
The 2014 Chevrolet Silverado 1500 sets a new, no-compromise direction for serious work or play, it's been completely refreshed this year. The Silverado gets an upright, chiseled look inside and out; strong yet more fuel-efficient lineup of engines; quieter, more refined cabins; and noteworthy set of safety and infotainment technology—and it all simultaneously nods to the looks of buff Chevy HD trucks while adding a luxury-car feature set to the top of the lineup.
J.D. Power: Vehicle Dependability Drops For The First Time In Over 15 Years
America's auto industry has been on a roll recently, boasting stronger sales, better-built cars, and higher approval ratings from customers. That makes J.D. Power's latest Dependability Study all the more surprising, since it shows that vehicle dependability has dropped for the first time in more than 15 years.
2014 Subaru Forester XT: Six-Month Road Test
We may sound like a broken CD here, but the 2014 Subaru Forester is one of the most versatile, safest vehicles you can buy--which is why we named it The Car Connection's Best Car To Buy 2014.
2014 BMW 2-Series Active Tourer
From Motor Authority
:
2014 BMW 2-Series Active Tourer Revealed: Video
The first front-wheel-drive model to wear the BMW roundel is finally here, in the form of the new 2-Series Active Tourer, which debuts early next month at the 2014 Geneva Motor Show. BMW first confirmed it was working on a FWD model as far back as 2010 and in between we were treated with a couple of thinly veiled concept versions of the car.
2015 Subaru WRX, STI Models Priced: WRX Gets Big Value Boost
Subaru has at last put a price tag—well a series of price tags—on its redesigned 2015 Subaru WRX lineup. And at the same time, it's rolled out all the numbers for the 2015 Subaru WRX STI.
Renault Reveals Rear-Engine, Rear-Drive Twingo
French automaker Renault will unveil its brand new Twingo minicar at this year's Geneva Motor Show in March. That may not seem like exciting news, but the new Twingo actually marks a radical departure for cars in the segment, as it utilizes a rear-engined, rear-wheel-drive layout.
Volvo S60 Drive-e diesel driven
From Green Car Reports
:
Volvo's Efficient 180-Horsepower Drive-E Diesels Driven
Volvo may be best known for its emphasis on safety, but the marque is keen to cultivate an image of efficiency, too. As such, the Swedish automaker has overhauled its engine range with a new lineup of four-cylinder powerplants, in both gasoline and diesel formats.
Tesla Model S Electric Car Versus ... Ford Model T? A History Lesson
Well, give Car and Driver points for high concept: In picking a car to test against a 2013 Tesla Model S luxury electric sedan, the magazine chose...a 1915 Ford Model T.
2014 Nissan Leaf Has Lowest Lifetime Carbon Footprint: Report
Which new vehicle sold today has the lowest overall carbon footprint over its lifetime? The answer, according to Automotive Science Group, turns out to be the Nissan Leaf battery-electric car.
___________________________________________