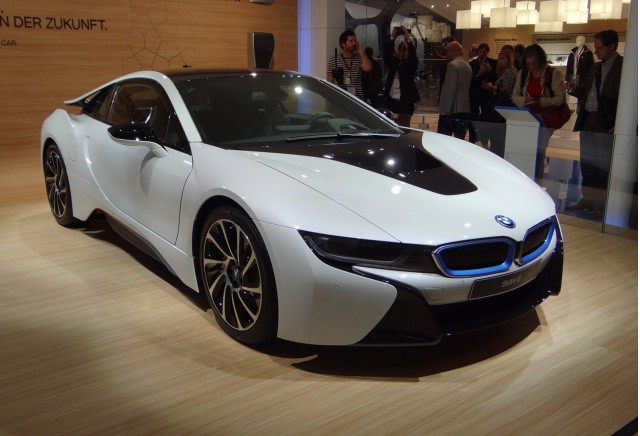 2015 BMW i8, 2013 Frankfurt Auto Show
From The Car Connection:
The 10 Most Fascinating Cars Of 2015
Cars have become so seemingly identical, so reliable, and so regulated that they're boring. You might find some who'll argue that. Toyota Zips Past GM To Remain World's Biggest Automaker, Setting New Goal
For the second year in a row, Toyota has driven to the top of the auto industry heap. The Japanese car company sold a record-setting 9.98 million vehicles in calendar year 2013, which, in sales terms, makes Toyota the world's biggest automaker.
2014 Mercedes-Benz CLS-Class Review
Uniquely styled and impressive in its performance versions, the 2014 Mercedes-Benz CLS-Class hasn't changed much since its 2012 updates--but that's fine by us, as it's a very well-rounded luxury four-door coupe.
2014 Jeep Wrangler Willys Wheeler Edition
From Motor Authority
:
2015 Jeep Jeepster Spy Shots (With Interior)
Jeep's long-awaited subcompact crossover has been spotted again, but this time as an actual prototype instead of the Fiat 500L-based test mules we saw earlier. The prototype gives us a much better idea as to what the final version will look like when it makes its debut at the 2014 Geneva Motor Show in March.
BMW 2-Series 'Active Tourer' Starts U.S. Sales In 2015
In the early part of 2010, BMW confirmed it was working on a new front-wheel-drive model designed to compete with the likes of the Mercedes-Benz B-Class and, to a lesser extent, mainstream models like the Ford B-Max and Volkswagen Golf Plus. Numerous prototypes of the car have been spotted since then, including a completed version which revealed the car would be badged a 2-Series and not a 1-Series as widely expected.
How A Lamborghini Veneno Gets Delivered To Its New Owner: Video
There are only three Lamborghini Venenos that will ever reach private hands--Lamborghini is hanging onto the fourth example of the 740-horspeower, 220-mph hypercar for its own purposes. So what you're about to see is a very rare sight: the delivery of a fresh Veneno to its lucky owner.
Tesla Model S
From Green Car Reports:
Tesla & China: Priced At $121,000, Country Could Be Biggest Market, Musk Says
$121,000 sounds like a lot of money for the Tesla Model S, considering you can pick up the 85 kWh car in the U.S. from $80,000 or so, before incentives. And it is a lot of money, but in China, where that price tag will be attached, Tesla promises it represents good value for buyers.
Nissan Leaf Electric Car: Ultimate Guide, What You Need To Know
Back in December 2010, an unassuming compact hatchback hit the Japanese and American markets. A new small Nissan isn't normally the cause for fanfares and celebration, but the LEAF is one of the most significant cars of recent years--as it's a competitive, usable electric car.
Electric Cars & Solar: Will They Make Gasoline & Utilities Obsolete?
These are interesting times in the automotive and electric-utility businesses. While the reasons are different, it turns out they may intersect. It's been quietly discussed among electric utilities that increasing amounts of distributed solar power and other renewable energy may destroy their business model.
___________________________________________