Google Glass

From The Car Connection:
Google Glass Driver Cleared Of Wrongdoing: This Is Why Distracted Driving Laws Won't Work
In November of 2013, Cecilia Abadie was ticketed for wearing Google Glass while driving. However, Abadie insisted that she wasn't using Glass at the time, even though the device was turned on. She fought the ticket in court, and yesterday she won.
VW Beetle Dune Concept: A Bug For The Desert Rat In You
Is there a place in the world for a Bug outfitted for a cross-Sahara trek? At this year's Detroit Auto Show there was, at least in concept-car form.
J.D. Power: Shoppers Think Of Chrysler, Ford, GM As High-Tech Innovators
Good news, Detroit fans: according to J.D. Power, America's new-car shoppers are turning increasingly to the Big Three for high-tech innovation. That revelation comes courtesy of Power's 2014 Avoider study, which surveyed approximately 29,000 new-car owners between July and September of 2013.
2015 Chevrolet Corvette Z06 - 2014 Detroit Auto Show live photos
From Motor Authority:
GM 8-Speed In Corvette Z06 Shifts Faster Than Porsche PDK; Here's How
With the new 2015 Chevrolet Corvette Z06 that was introduced this past week at the Detroit Auto Show, GM raises the threat level to the bragging rights of virtually every other supercar in the world. And while performance numbers are still months away, there were plenty of interesting details released with GM's Z06 announcement.
Audi's third-generation TT sports car is on track for a debut at the 2014 Geneva Motor Show in March, with the car to arrive in showrooms by the end of the year as a 2015 model. But we already have a fairly good idea as to how it will look.
Wrecked Ferrari F40 Restored On Fast N' Loud Sells For $740k
A 1991 Ferrari F40 that was restored by the gearheads at Gas Monkey Garage was sold at the Barrett-Jackson auctions in Scottsdale, Arizona over the weekend for $742,500. That may seem like a relatively good deal, considering this particular F40 had just 7,148 miles on the clock and one previous owner, but there's much more to this story.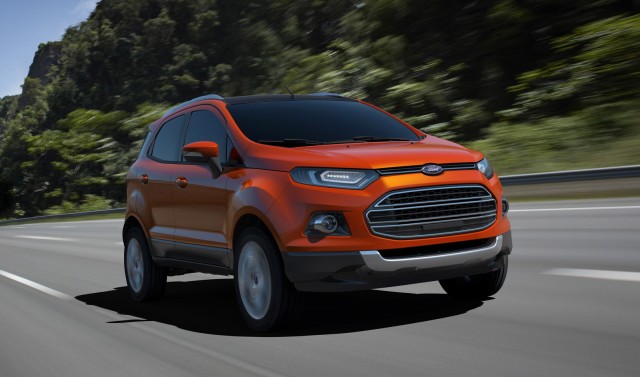 2013 Ford EcoSport unveiled at Delhi Auto Expo, Jan 2012
From Green Car Reports:
Ford EcoSport Subcompact Crossover Coming To U.S., CEO Says
Ford has taken a little while to get to the subcompact crossover party. Its EcoSport, launched at the end of 2013, is hitting the European market a full three to four years after rivals like the Nissan Juke, and drops into a now highly-competitive market segment.
BMW i3 Lease Terms Emerge, Cadillac ELR Too, Both Pricey
We've got used to seeing electric cars with temptingly low lease prices, in a generally successful effort to draw in buyers otherwise deterred by high purchase costs. For two of the newest kids on the block, the 2014 BMW i3 and 2014 Cadillac ELR, those price-gouging tactics haven't arrived just yet.
Five Big Myths About Green Cars And Gas Mileage, Debunked
Every now and then we get a reader question that reminds us how many myths about green cars are out there. In the interests of helping you actually save money by using less gasoline, here are five of our favorites--with explanations as to why they're myths.

___________________________________________