Tesla Motors stand at 2014 Detroit Auto Show
While the public days at the North American International Auto Show (NAIAS)—or the Detroit Auto Show as most of us know it—don't start until this weekend, the press conferences are over, and as usual there was plenty of news about products, concept cars, and technology from the show floor.
We've also taken a day or so to process what we saw, and separate the hits from the also-rans. And now, in addition to summing up some trends we've seen out of this important show, we're naming names.
Among the four of us attending the show from High Gear Media, we each singled out a best production model as well as a best concept car. Each of us were also to name a second choice, which was used to help settle ties. We've named the vehicles that received multiple votes winners and those that had at least one vote runners up.
Follow to the next page to see each pick. You'll find some supporting quotes, excerpts, and insights on each model, direct from those on our editorial team, on why they're the most important, noteworthy, or exciting models from the show. And be sure to click the links to read all about these models in our Detroit Auto Show coverage here at The Car Connection and over at our show hub at Motor Authority.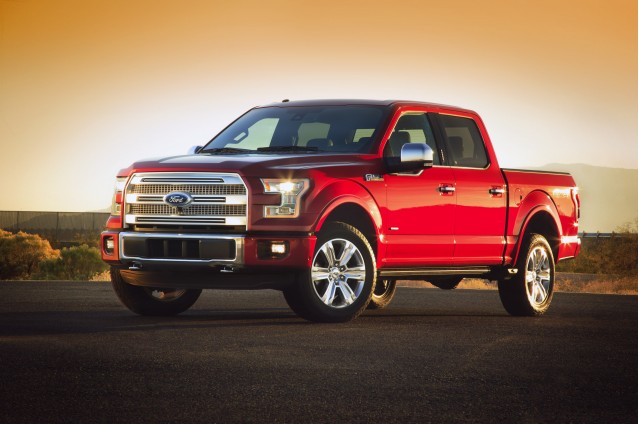 2015 Ford F-150
Best Production Model, Winner: 2015 Ford F-150
The 2015 F-150 is a gutsy move by Ford in a very conservative segment that will radically change the industry, by boosting global aluminum-vehicle production many times. A 700-pound weight reduction may translate to "only" a 2-to-4-mpg improvement in fuel efficiency, but at the low gas mileage levels of full-size pickup trucks, that seemingly small savings saves a very large number of gallons of gasoline each year. -John Voelcker
We openly mock automakers for using the phrase "gamechanger," but how else do you describe a truck that shoots the moon with aluminum body parts like the ones on a Range Rover? The F-150 already sells more strongly than any other big pickup; this new one could tip the full-size scales with 30-mpg highway ratings, even though there are many questions remaining about serviceability and repair. -Marty Padgett
With lightweight aluminum, a new set of smaller, more efficient engine options, and more capability than ever, the new Ford F-150 is a promising package for the suburban pickup commuter and the weekend warrior alike. Of course, the F-150 still offers the power and capability required for serious work, too, and its updated interior and high-tech features will please the whole family. -Nelson Ireson
The Ford F-150 has been the best-selling model in the U.S. for well over three decades. And Ford is making the brave (and praiseworthy) move of shedding 700 pounds in this heavy truck and moving to more downsized turbocharged engines—all in a vehicle that's sold to hundreds of thousands of owners with high expectations for performance and longevity. Although the fuel economy numbers won't be out for many months, it's no stretch to venture that these trucks will save billions of gallons of gasoline over their service lives. -Bengt Halvorson
2015 Chrysler 200
Best Production Model, Winner: 2015 Chrysler 200
Though it has a few odd angles, and perhaps a bit too much overhang at each end, the overall look of the new 200 is leaps and bounds beyond the previous model. The 200's interior is, hands-down, among the best in the entire market at this price point, and Chrysler's powertrain selection ranges from green to sporty. There's no better mainstream value at the 2014 Detroit Auto Show. -NI
The exterior of the new 2015 Chrysler 200 is definitely easy on the eyes, but it's the interior that's absolutely stunning. Just as in the new Jeep Cherokee, and in recent refreshes like the Dodge Durango and larger Chrysler 300 sedans, this automaker is now shaming the cabin look and feel of vehicles that cost thousands more. -BH
The 2015 Chrysler 200C is a striking and modern mid-size sedan that has to be a success for Chrysler to have any chance of remaining a viable carmaker. The lines were widely lauded, and the interior and specifications look good. Now we have to wait and see how it actually drives. -JV
Nissan Sport Sedan Concept - 2014 Detroit Auto Show live photos

Best Concept Car, Winner: Nissan Sport Sedan Concept
This concept had me returning to the Nissan stand, and it's perhaps the most visually interesting of the show. The sculpted body is pulse-quickening—as a sport sedan should be. It pulls off a curved hood like no other; and the proportions are so 'just right' that some enthusiasts are calling it a shame that the 2015 Maxima will (likely) remain front-wheel drive. Nissan's global design chief Shiro Nakamura says that its 'floating' roof—with blacked-out pillars that, to our eyes, give the whole car both more width, and more attitude—will trickle down to all of Nissan's sedans. To a lineup that's too homely and appliance-like, to be blunt (yes, Versa and Sentra), the new look can't come soon enough. -BH
Our favorite concept car was the Nissan Sport Sedan, just for jaw-dropping effect. If the production Maxima looks anything like it—and Nissan keeps hinting it will—people are likely to be walking into streetlamps all over the world looking at it. -JV
As a concept car, the Nissan Sport Sedan is what we expect and so rarely get: bold, dramatic, and futuristic. Even more interesting, however, is that Nissan says the concept's looks are very close to what we can expect of the next Maxima. If that's the case, it's a double win for the brand. -NI
Toyota FT-1
Best Concept, Winner: Toyota FT-1 Concept
This Supra—ehem—FT-1 has the gravitas and sex appeal that was always lacking from the Lexus LFA. The FT-1 was California-penned as part of CEO Toyoda's drive for more passion; it's headed to Gran Turismo 6; and Toyota needs a performance cheerleader for its hybrid technology. I'm waving a green flag. -BH
This concept is cool looking, sleek, and sporty. No powertrain details were given, and it really came across as a pure design exercise, not just another [hint, hint] lightly disguised production car coming within the year. If it does come, though, we bet it'll have a hybrid somewhere in the lineup. -JV
Mercedes-Benz Concept S-Class Coupe, 2013 Frankfurt Auto Show
Best Concept Car, Runner-Up: Mercedes-Benz S-Class
It's nowhere near as remarkable as the F-150, but the new two-door Mercedes S-Class is worth a long, loving look. There's a much sharper division between the S-Class coupe and sedan now, and the Coupe is evolving in a beautiful direction. It looks forceful from the rear quarters, elegant and spare from behind the wheel, and seems like a perfect place for a big V-12 to reside. -MP
Kia GT4 Stinger Concept
Best Concept Car, Runner-Up: Kia GT4 Stinger Concept
No other concept drew as many gapes or kudos as this two-door Kia. It's ten times the reach that the Hyundai Genesis Coupe was when it launched. The nose is on loan from the '67 Thunderbird, the roofline's a little GT-R, the overall stance, Storm Trooper. It's a mashup that works as singularly well as the Kia Soul, only with 315 horsepower on tap here the performance bar is set so much higher. -MP
Volkswagen Beetle Dune concept, 2014 Detroit Auto Show

Best Concept Car, Runner-Up: Beetle Dune Concept
Crossovers have been the hot replacement for the lumbering SUV for years now—but what will replace the crossover? We hope it might be something like the Beetle Dune concept, which marries the tall-riding and light off-roading capabilities of a crossover in the greener, more city-friendly package of a smartly sized car. It's pretty fun to look at, too. -NI
___________________________________________