It's hard to believe, but we are about to close the book on 2013. It's been a banner year for new cars. From storied nameplates such as the Chevrolet Suburban and Ford Mustang, to updated family vehicles such as the Hyundai Santa Fe and Kia Optima, we've kept you up to date on all the latest news.
As we sip our hot coffee and lounge by the fire, we took a moment to look back at the 10 most researched vehicles on The Car Connection. We are sure you won't find any surprises on this list, as we made sure the team checked it twice:
2013 Hyundai Santa Fe
The 2013 Hyundai Santa Fe splits its identity in two: the three-row ute goes V-6 only, while the five-passenger Sport leans on turbo power, a flexible second-row seat and a cushy ride to make its best case ever.
2013 Ford Focus
Whether or not you consider the exciting new ST performance model, the 2013 Ford Focus lineup is evidence that small cars don't have to feel so appliance-like.
2013 Honda CR-V
The 2013 Honda CR-V hits all the right marks for cost-conscious families—with its interior layout and safety ratings both best-in-class—although it doesn't feel as sprightly as former CR-V models.
2013 Ford Escape EcoBoost 2.0-liter, Pennsylvania, April 2013
After eleven years, a change-up: the 2013 Ford Escape drops the faux-SUV pitch and reels off authentically athletic looks and performance.
2013 Toyota RAV4
The 2013 Toyota RAV4 excels at mass-market talents like gas mileage and interior room--but for turbocharged fun in a crossover, you'll have to look elsewhere.
2014 Mercedes-Benz CLA 250
A scaled-down CLS with turbocharged performance, the 2014 Mercedes-Benz CLA proves the car world is shrinking--even at the luxury level.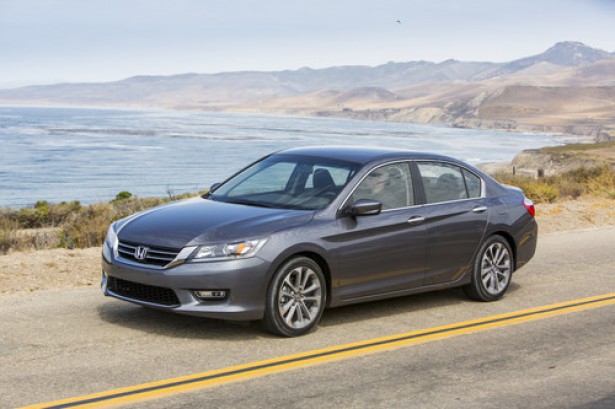 2013 Honda Accord Sport sedan
The 2013 Honda Accord is one of America's best, most sensible sedans, even if it hasn't changed radically.
2013 Ford Fusion Hybrid, test drive, Catskill Mountains, NY, Mar 2013
The 2013 Ford Fusion's more than a rock-star body: it handles better than any other family sedan we've driven, and doesn't cheat on interior room to deliver it.
2013 Kia Optima SXL
The 2013 Kia Optima adds generous dashes of style and sophistication to what's otherwise a sensible, frugal, and spacious mid-size sedan.
2013 Hyundai Elantra sedan
Civic who? Corolla what? The Hyundai Elantra's one of the new standard bearers in the compact class, with 38-mpg fuel economy, better safety, and class-leading standard features.
___________________________________________