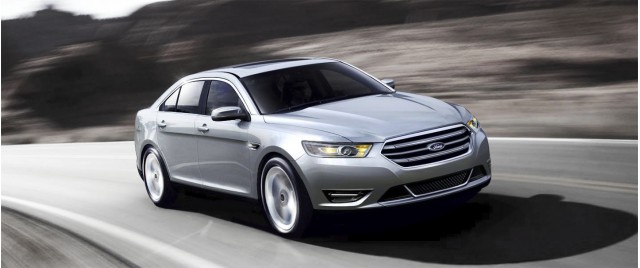 2014 Ford Taurus
From The Car Connection:
2014 Ford Taurus Review
The 2014 Ford Taurus is the company's largest sedan, and it continues to resonate with buyers who want a heavy, comfortable, slightly staid sedan. The Taurus, received a mild update last year; and that's kept it mostly up-to-date--with revised styling, more modern infotainment features, and a new and more fuel-efficient engine.
IIHS Lists The 39 Safest Cars For 2014 (Video)
By now, most of the auto world's 2014 models have rolled into showrooms. They've also made appearances on test tracks and crash sets so that various entities can evaluate their reliability and safety features.
KBB Projects 15.6 Million New-Car Sales In 2013 & 16.3 Million For 2014
It's been a rip-roaring year for auto sales, and Kelley Blue Book thinks that the current trend will continue through at least 2014. The firm predicts a total of 15.63 million U.S. new-car sales in calendar year 2013, and even higher figures for next year.
Lamborghini Huracán LP 610-4
From Motor Authority:
Lamborghini Huracán LP 610-4: Geneva Motor Show Preview
The Lamborghini Gallardo has soldiered valiantly for the last several years of its decade-long run, with special edition upon special edition making the very most out of its now aged platform. But the Gallardo's time has come. A new Lamborghini has arrived. The Huracán.
Claudia Schiffer Is The New Face Of Opel
Claudia Schiffer has been recruited by Opel as its new brand ambassador. The German model, television host and businesswoman will feature in a new marketing campaign for the struggling brand that will highlight its German roots, although in most markets where Opels are sold it's a well-known fact that the brand is owned by General Motors.
Lexus Teases F Performance Coupe For 2014 Detroit Auto Show
What has two doors, a hood scoop, and a Lexus badge? Lexus will unveil the latest model in its F line of performance cars at the 2014 Detroit Auto Show. It will have two doors, but that's all Toyota's luxury brand will confirm, for now.
2015 Honda Fit
From Green Car Reports:
2015 Honda Fit To Make 2014 Detroit Auto Show Debut
The Honda Fit has always been a little different from other small cars. A little more zing, a dash more space inside and a much smarter interior layout than most. The new 2015 model looks set to continue those trends, but we'll know for sure from January as that's when the car will make its U.S. debut, at the 2014 Detroit Auto Show.
Toyota Prius C: Hybrid Subcompact Ultimate Guide
Toyota's Prius has become such a significant figurehead for hybrids that Toyota has turned the Prius name into a burgeoning range of models. First to join the regular Prius was the Toyota Prius V, a hybrid wagon, and most recently we've got to know the 2014 Toyota Prius C, a Yaris-sized hybrid subcompact offering some impressive economy and emissions figures.
Life With Tesla Model S: Battery Upgrade From 60 kWh To 85 kWh
A recent 1,200-mile East Coast road trip in my 2013 Tesla Model S electric car proved to be something of a turning point in my view of the car. Fitted with the smaller 60-kilowatt-hour battery pack, my car's EPA range of 208 miles was not quite enough to make it between Superchargers--Tesla's proprietary ultra-fast DC charging stations--at normal Interstate speeds in cold weather.
___________________________________________