From The Car Connection:
2014 MINI Cooper Preview
The 2014 MINI Cooper, the third generation of BMW's modern take on the classic Issigonis design, has been revealed today ahead of its Los Angeles Auto Show debut on Wednesday and market launch in March 2014. But only the three-door 'Hardtop' variant is new for the 2014 model year.
Jaguar, MINI Top J.D. Power's 2013 Sales Satisfaction Study, Chrysler Brings Up The Rear
It's that time again: time for J.D. Power's annual Sales Satisfaction Index Study, which measures customer satisfaction at dealerships across the U.S. Last year, Lexus and MINI dealers came out on top. Did they fare as well as 2013?
2013-2014 Chevrolet Malibu Recalled For A/C Software & Electrical Problems
General Motors has issued two recalls for the Chevrolet Malibu -- one for the 2013 model, another for the 2014 model. Together, the unrelated actions affect over 60,000 vehicles in the U.S., Canada, and Mexico.
2015 Nissan GT-R NISMO Leaked
From Motor Authority
:
2015 Nissan GT-R NISMO Leaked: 595 HP And 7:08.69 'Ring Time
Nissan's highly anticipated GT-R NISMO model isn't scheduled for a reveal until the 2013 Tokyo Motor Show on Wednesday, but preliminary information and photos of the car have leaked.
2015 Mercedes-Benz C-Class Completely Revealed In New Spy Shots
A completely undisguised version of the next-generation Mercedes-Benz C-Class has been spotted, this time without any camouflage whatsoever. Photographers managed to snap shots of the car during what appears to be an official photo shoot for the upcoming C-Class.
Porsche 918 Spyder With Weissach Package Does 0-60 MPH In 2.5 Seconds
Porsche's 918 Spyder is already the fastest production car to ever lap the Nürburgring, having managed the feat in an incredible 6:57, and now we have a better understanding as to why such a blistering time is possible for the car. It turns out the 918 Spyder is considerably quicker than Porsche had first let on.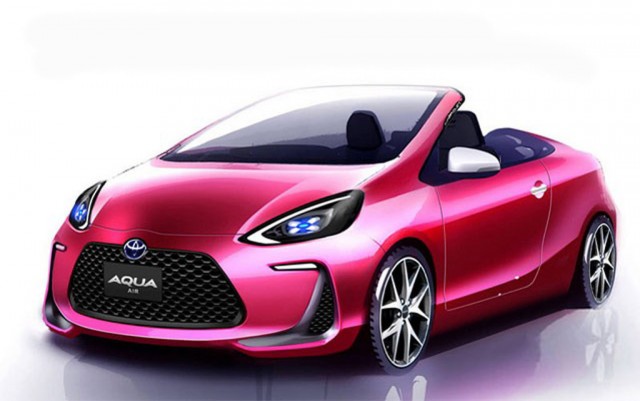 Toyota Aqua Air concept, 2013 Tokyo Motor Show
From Green Car Reports:
Toyota Prius C Hybrid To Get Convertible Model In Japan?
From the current Toyota lineup, the Prius C compact hybrid probably wouldn't be your first choice for turning into a sports car. Toyota itself might disagree though, and will display just such a vehicle at the upcoming 2013 Tokyo Motor Show.
2014 Mazda 3: How Does It Drive With i-ELOOP?
Mazda's most recently redesigned models all feature the SkyActiv badge—corresponding to a suite of engines, transmissions, body structures, and other core components engineered around the idea of maintaining a responsive, sporty driving feel while making major improvements in fuel efficiency.
2013 Tokyo Motor Show: Green Car Preview
The 2013 Tokyo Motor Show is almost upon us. And while the Los Angeles Auto Show might hold more relevance for the U.S. market, Tokyo's offerings can never be discounted entirely. Weird and wonderful some may seem but many feature the kind of technology we'll soon be seeing in our road cars.

___________________________________________