From The Car Connection:
2015 Lincoln MKC Revealed
Lincoln becomes the next big brand to take a step toward small premium vehicles--think Audi A3 and Mercedes CLA--with the introduction of the 2015 MKC crossover. The new all-weather wagon makes its world debut at the 2013 Los Angeles auto show and goes on sale in the summer of 2014, after making its concept-car debut earlier this year in Detroit.
Kia Soul Electric Car: More Details Emerge
Last month, we told you about the all-electric Kia Soul, which is set to arrive in the U.S. during the 2014 calendar year. At the time, that was about all we knew. We'd been given no details about the car's battery, range, pricing, on-sale date, or any other important stats.
The 2014 Subaru Forester, as other compact crossovers, serve an incredibly wide range of purposes in the U.S. market. For some it's the substitute for a mid-size family sedan; for others it's the proper platform for all-weather commuting; and for others it's a tool for active, weekend-warrior types.
Teaser for 2014 Mercedes-Benz V-Class
From Motor Authority
:
Mercedes V-Class MPV May Land In U.S. Showrooms: Report
Mercedes-Benz may introduce a new MPV to the U.S. market to help fill the--somewhat small--gap left by the R-Class, which bowed out of the market last year. The German automaker is set to replace its Viano line of vans overseas with a new model, and an upmarket version aimed at families looking for a luxurious people mover is planned.
First Look At W Motors' Next Model, The Lykan Supersport
Having just wrapped up the debut of the first fully-working, pre-production version of its upcoming Lykan Hypersport supercar, W Motors has now released the first images and details for its second model, the Lykan Supersport. Previously thought to be the lesser of the two cars, the Lykan Supersport will in fact be the more extreme, boasting an output of more than 1,000 horsepower and a curb weight of less than 2,650 pounds.
Four-Cylinder Jaguar F-Type Spy Shots
Jaguar's stunning F-Type convertible will soon be joined by a coupe variant, with both cars set to continue with two engine options offering up three different power outputs. Further down the track, we'll see the F-Type's engine lineup expanded--in both directions.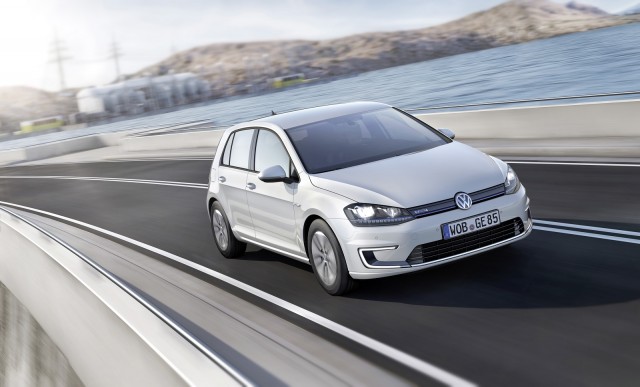 Volkswagen e-Golf (German version)
From Green Car Reports:
2015 Volkswagen E-Golf Electric Car Shown Before LA Auto Show
This morning, we got all the details on the new Volkswagen e-Golf electric car, ahead of its debut next week at the Los Angeles Auto Show. The E-Golf is a battery-electric version of the all-new seventh-generation VW Golf, which will go on sale in the U.S. next spring as a 2015 model.
Tesla's Elon Musk: Model S Fires Overhyped, Car Is Safe
Recent fires of Tesla Model S electric cars aren't worrying the company's CEO, Elon Musk--at least publicly. In a recent CNBC interview, the Tesla Motors [NSDQ:TSLA] founder said reports of the fires were little more than an overreaction by the press--and that Tesla's cars are still the safest vehicles on the road.
What's Next For Chinese-Owned Battery Maker A123?
When battery maker A123 Systems went bankrupt, it seemed to be just one in a long line of failed energy startups--albeit one with some high-profile customers. Stalled battery production after A123's bankruptcy is considered one of the main catalyst's for Fisker's litany of struggles, while electric-car enthusiasts wondered what would happen to cars like the Chevrolet Spark EV, powered by A123 batteries.
___________________________________________