2014 Alfa Romeo 4C
From The Car Connection:
NHTSA: Traffic Fatalities Down 4.2% In The First Half Of 2013
Highway fatalities have been on the decline in the U.S., reaching an all-time low in 2011. Unfortunately, that trend reversed course last year: when all the dust from 2012 has settled, analysts expect to see an increase in roadway deaths of 8.2 percent, which is significantly higher than initial estimates (though not quite the nine percent first feared).
2014 Alfa Romeo 4C May Come To Maserati Dealers After All
It's no secret that Sergio Marchionne -- the man who brought Fiat back to America -- has also been plotting Alfa Romeo's return to the U.S. The question is: where will the Alfa be sold?
The Toyota Avalon is entering its second model year since a redesign so thorough and transformation that it could very well have been cause for a name change. As the top-rung model in Toyota's lineup, it's lagged in relative anonymity above the Camry, with pillowy, geriatric accommodations and a ride as billowy as that of a yacht. But that's all history.
LaFerrari supercar
From Motor Authority
:
Ferrari LaFerrari Attacks The Nürburgring: Video
No matter which of the hot new trio of hybrid hypercars you're most infatuated with, the Ferrari LaFerrari, McLaren P1 or Porsche 918 Spyder, you have to admit they're all massively impressive machines. And unlike most hybrids, this group sounds pretty great--especially the LaFerrari. This video shows a prototype being put through its paces at Germany's Nürburgring circuit, where the car has been testing on and off for the past couple of months.
BMW And Toyota Alliance To Spawn High-End Coupe, Most Likely Production LF-LC
In late 2011, BMW and Toyota signed a memorandum of understanding for collaboration on a number of projects ranging from the development of a new sports car platform to research into next-generation battery technology and even hydrogen fuel cell powertrains. Of most interest to performance car fans is the sports car platform, which last we heard would be for a mid-size sports car that leveraged the best technology and knowledge of each automaker.
2015 Rolls-Royce Ghost Spy Shots
Rolls-Royce is preparing a minor facelift for its Ghost sedan and we now have some new spy shots of a prototype for the updated car. It is expected to go on sale in the middle of next year, as a 2015 model.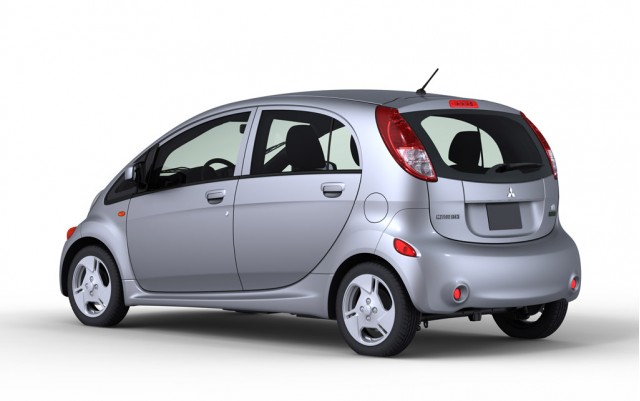 U.S.-spec Mitsubishi i-MiEV
From Green Car Reports:
Will Next Mitsubishi i-MiEV Be Shared By Nissan Too?
Six degrees of separation: The theory that every person on the planet is connected to every other person in six steps or fewer--Elon Musk perhaps, or his polar opposite, Jeremy Clarkson. The automotive world is similar.
Yet Another Green Fuel: Landfill Methane On Sale In California
If you're looking for an alternative fuel, why not try garbage? Or, rather, the methane produced by landfills. Clean Energy Fuels--a developer of natural gas refueling infrastructure--has now been selling a methane-based fuel at its network of filling stations in California for about a month.
Ford Outsells Toyota In Plug-In Hybrids For First Time (Volt Too)
Last month's plug-in hybrid sales charts are have acquired a blue tinge: In October's sales of plug-in hybrids, Ford overtook Toyota for the first time ever in overall deliveries. October sales for the Ford C-Max Energi and Fusion Energi plug-in hybrid models added up to 2,179 vehicles, compared to 2,095 Toyota Prius Plug-In Hybrids sold.

___________________________________________