We're down to our final ten days with the 2014 Mercedes-Benz CLA 250, as we spend this month sorting out whether it's a true luxury car, how it's changed on its way to the U.S., and how we'd order one.
So far, we've spent more than 2,500 miles in it, lapping the East Coast from I-95 to I-85 and back in our $36,320 Cirrus White test car, watching as it draws attention from other drivers--and sometimes, how passers-by have to do a double-take before they figure out which logo actually sits on the grille.
The CLA's styling is one of its big selling points, we think. It plays off the coupelike lines that its sibling CLS-Class wears so well, scaling them down to a size class also occupied by the Honda Civic. The frameless windows are a timeless touch, and the aerodynamically styled body has one of the slipperiest silhouettes ever.
Inside the cabin? It's a sporty aesthetic, with the round vents that are becoming Mercedes standard issue, a palette of wood or aluminum trim, and a big LCD screen that admittedly, now looks less awkwardly attached than it once did. We've gotten used to that particular concession to the reality of global markets and local content.
MORE: Read our 2014 Mercedes CLA review
What's your take? Today, we're going to let you meditate on the 2014 CLA-Class' looks, by rounding up all 325 photos of the CLA that we've posted to date. Reversing our reverse chronological order here, we've followed the CLA from teaser shots and sketches released by Mercedes, through its Detroit Auto Show debut this past January, then on to our first drive just prior to the Geneva Motor Show.
Taking up the story in New York, we brought you the first photos of the CLA45 AMG, followed by Mercedes' own shots and by ours from the first drive at Germany's Bilster Berg track. Finally, there's a set of photos from our 30 Days car, cooling its jets in Maryland farm country.
The large photos below are individual frames from those sets; scroll below them to find the associated galleries. Then tell us what you like--and what you'd change--about the CLA's styling in the comments below.
Stay tuned this week for more on the 2014 CLA 250. We'll describe its powertrain in-depth, tell you what we like (and don't like) about its connectivity, and then we're spiriting it away for some off-the-record driving this weekend before giving it a suitable send-off.
________________________________________________________
Follow along with our Mercedes CLA coverage, and let us know what you'd like to see by posting to The Car Connection's Facebook, Twitter and Google+ pages.
2014 Mercedes-Benz CLA 45 AMG, First Drive, Bilster Berg
2014 Mercedes-Benz CLA 45 AMG, First Drive, Bilster Berg
2014 Mercedes-Benz CLA45 AMG, 2013 New York Auto Show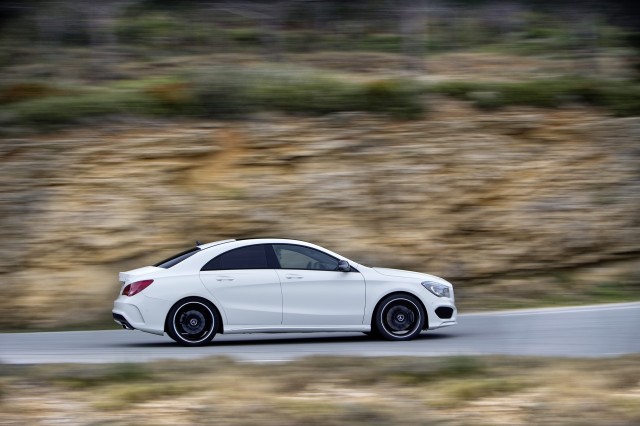 2014 Mercedes-Benz CLA 250
2014 Mercedes-Benz CLA 250
2014 Mercedes-Benz CLA 250
2014 Mercedes-Benz CLA
2014 Mercedes-Benz CLA 200 (Euro-spec car)
2014 Mercedes-Benz CLA and Karmin
2014 Mercedes-Benz CLA Class leaked
2014 Mercedes-Benz CLA Class teaser