Chevy's mild-hybrid version of the 2014 Malibu
has been quietly canceled
.
Confusingly, while last year's 2013 Chevrolet Malibu Eco was the first of a new-generation Malibu and included eAssist, the GM [NYSE: GM] mild-hybrid system, the 2014 Chevrolet Malibu lineup won't include it now at all.
Why? Simply because the system makes the Eco hybrid model irrelevant. The eAssist system still costs several hundred dollars extra per vehicle, and its mileage gains aren't significant enough to justify the cost. Now that Chevrolet is offering engine stop-start as a standard feature on the base Malibu LT—which is also lighter versus the former Eco, and has the new-generation 2.5-liter engine—its mileage numbers are just as high.
Eco or not, the same mpg
Technically, the 2014 Malibu, with the 2.5-liter engine and stop-start, gets the same EPA Combined rating—of 29 mpg—as the eAssist model.
The stop-start system includes two smaller lead-acid batteries, whereas the eAssist system requires a larger lithium-ion battery that cuts into trunk space, along with a heavier electric-motor system.
This past year, sales had already been failing to meet the modest expectations that the Malibu Eco would add up to about ten percent of Malibu sales. A $26,670 sticker price was surely part of it—that's $2,335 higher than the base 2014 Malibu LT (again, with the same mileage).
A muddled message about what buyers were getting?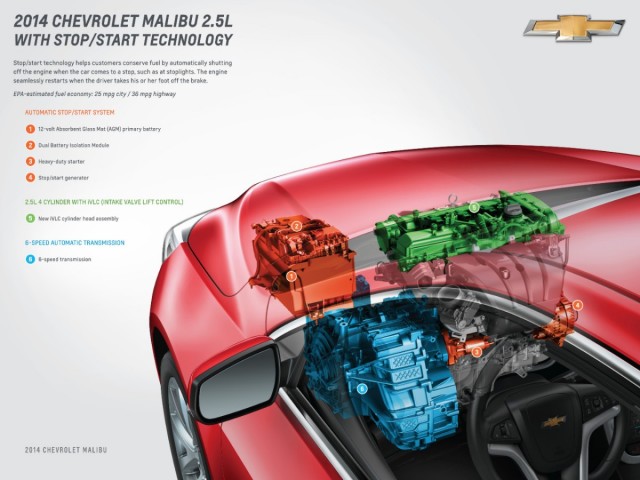 2014 Chevrolet Malibu
Further complicating the matter is that GM hasn't consistently branded its mild-hybrid hardware, which it's sometimes referred to as BAS+ (belt-alternator-starter) systems. Over the years, vehicles with it have been badged Hybrid, Green Line, and eAssist.
In a sense, all of the new base-model 2014 Chevrolet Malibu LT models are 'Eco'—because it includes standard stop-start.
This mirrors what we've observed in real-world driving in vehicles like the Buick LaCrosse eHybrid, where when we weren't reaping the benefits of stop-start (in creeping commuter traffic, for instance) we didn't observe the mileage gains that we'd expect to see from a hybrid system.
Even Honda looking beyond mild hybrids
So far Honda has been the only company to sell a large volume of vehicles with a mild-hybrid system—the automaker's Integrated Motor Assist (IMA) system, which has been installed in vehicles as wide ranging as the original 2000 Honda Insight, the 2005 Honda Accord Hybrid (V-6), and the 2013 Acura ILX Hybrid. Honda is, however, moving away from the technology toward several hybrid systems with larger real-world efficiency gains—like the new i-MMD full hybrid system in the 2014 Honda Accord Hybrid.
As of last year, GM had planned to focus on its eAssist mild hybrids—and sell at least 100,000 of them per year.
Tell us how you think GM should raise the mileage on some of its other models? Should it double down on eAssist; look to full hybrids that run with electric motors only at some speeds; or add more clean-diesel models to the lineup?
___________________________________________