From The Car Connection:
2014 Hyundai Sonata Gets Facelift, Steering Modes, Updated Navigation
With its more daring design and turbocharged engines, the current generation of the Hyundai Sonata broke through from anonymity the instant it was introduced for the 2010 model year. Now that face—along with the Sonata's feature set—is getting a lift for 2014.
GM Recalls 2014 Chevrolet Silverado, GMC Sierra
General Motors is recalling certain 2014 model year Chevrolet Silverado 1500 and GMC Sierra 1500 full-size pickups to address a problem involving manual reclining seatbacks that may fail to perform adequately in a rear collision.
UAW-Automaker War Heats Up Down South, With Nissan On Defense
In Detroit, the Big Three car companies maintain an uneasy truce with the United Automobile Workers union. For foreign automakers doing business in the U.S., the situation is very different, and at Nissan's manufacturing facility in Canton, Mississippi, the pot is about to boil over -- again.
2015 Porsche Macan teaser

From Motor Authority:
Porsche Teases Macan Crossover Via New Microsite
Porsche's new Macan is set for a debut at the 2013 Los Angeles Auto Show next month, and in the lead up the sports car manufacturer from Stuttgart has launched a microsite offering some new details on the crossover as well as some teaser shots.
The BMW X1 only reached U.S. shores last year but overseas it's been on sale since 2009. That means a successor is due in the next couple of years and today Motor Authority has the first spy shots of a prototype for just that car.
2015 Ferrari California Replacement Patent Drawings Leaked?
This very well may be our first look at the completed design for Ferrari's replacement for its California convertible sports car. The images are alleged to be official patent drawings filed by Ferrari with a registry for trademarks and patents in Europe.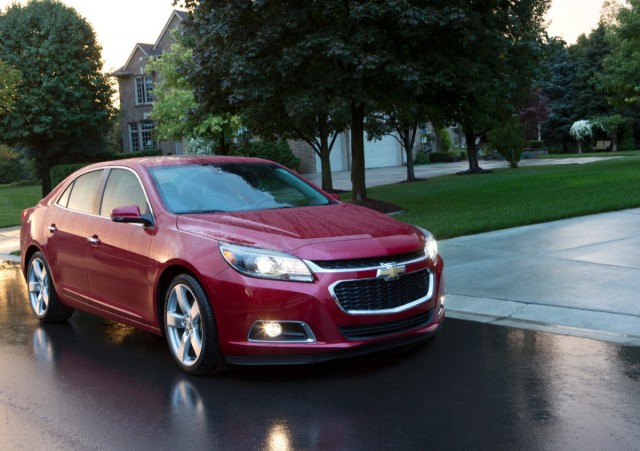 2014 Chevrolet Malibu

From Green Car Reports:
2014 Chevrolet Malibu Start-Stop System: How It Works (And Why It Has 2 Batteries)
Sometimes, two really is better than one. Many new cars feature engine start-stop systems, but few have a special feature found on the one used for the 2014 Chevrolet Malibu. That's because the Malibu's system uses two batteries.
2014 Toyota Prius Plug-In Hybrid Price Cut By $2,000 To $4,600
Buyers of the 2014 Toyota Prius Plug-In Hybrid will will have a little more cash left in their wallets from now on. Toyota is cutting the price of the plug-in Prius by $2,010 for the base model and $4,620 for the upscale Advanced model.
Tiny Smart Cars Lose $5 Billion For Mercedes-Benz: Report
The very small Smart cars have apparently lost a very large amount of money for Mercedes-Benz. A new report from London's Bernstein Research names the Smart the biggest European money-loser of all time.
___________________________________________