2013 Toyota Avalon
For better or worse, automakers and suppliers are getting inventive, pushing some innovative features into new vehicles. Some of them hit the mark, making our time in vehicles easier, safer, or more efficient, while other features leave us asking, "Seriously, why?"
Today, convenience items like air conditioning and power windows are almost a given in the market—even on the most inexpensive models. Even in the miserly 2014 Mirage DE, which costs $13,790, Mitsubishi plans to offer automatic climate control.
While singling out features as the 'worst' might be a semantic stretch, it serves to point out that not every feature is a positive, in our opinion. Some are frustrating, distracting, or redundant—and what we've done here is merely separate out five features that at least some of our editors think have missed the mark for usefulness.
We've tried to include a mix of general and specific features, and as you click through our list—or are out on a test drive—ask yourself this: If a feature feels more like a novelty, you have trouble understanding its net benefit, or it doesn't necessarily make your driving experience simpler, easier, or better, why bother? [Hint: Yes, we have trouble saying that capacitive 'buttons' are any better than the real thing.]
These are just a few. And of course, let us know which new-car feature you'd rank at the bottom in your comments below.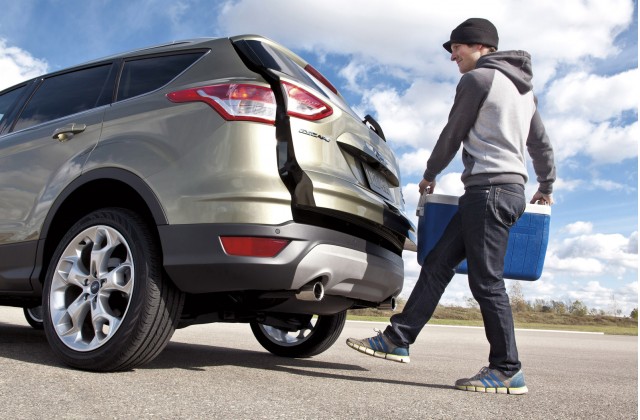 2013 Ford Escape
Foot-operated tailgate releases.
Fundamentally, the idea here is great: that you use one of your legs to activate the hatch while you teeter on the other leg. But the reality is that, while loaded up with groceries, you balance on one leg to activate it, then shuffle backward so that the hatch doesn't hit you as it's opening. Even after trying this feature in a number of new vehicles that have it, we don't see it as fully fleshed out. We'd love to see it return, in a way that doesn't make us feel like we're courting disaster.
New Tires
Low-rolling-resistance tires.
A number of so-called 'eco' or 'green' models eke out an extra mile or two per gallon through some focused efficiency improvements. While aerodynamic tweaks and things like grille shutters are effective, impressive solutions, low-rolling resistance tires are often also part of the package. And we've found a number of these tires to be noticeably inferior in the wet. Is their seemingly negligible gain in mileage worth the potential loss in safety for an emergency maneuver? These are the kind of face-value tradeoffs that make any safety-conscious shopper shake.
2013 Lincoln MKS
Capacitive 'button' replacing buttons.
Driven in part by the whims of designers, who want more cleanly styled interiors, automakers have been subbing in smooth capacitive 'buttons'—essentially special sensitized areas along the smooth surface of the instrument panel. Yet based on our experience with these types of controls, they're simply too unreliable. They don't work in the cold; they get laggy at times; and they inexplicably work better with some people's fingers than with others. The ones in the Toyota Avalon are the best we've used so far, but why not rotary knobs? Likewise, capacitive sliders aren't doing a great job yet in replacing dials and knobs. In the words of one of our other editors, "What's the point of losing buttons if you lose total control of the vehicle while trying to mute Mariah Carey?"
2013 Hyundai Santa Fe
Hello and goodbye chimes.
Over the past several model years, a number of vehicles (yes, Hyundai and Kia, we're especially looking at you) have started to include special chimes, or even what sounds like song bits, when you start up and/or shut off the ignition. It's kind charming the first few times you start up the vehicle, we'll give them that; but it could get unbearable for years of vehicle ownership. Yes, you can turn down the volume of the jingle, how about having this one default off?
USB port
Oddly located USB ports.
Too many new vehicles offer USB ports for connecting smarphones or charging devices, yet position them in odd, barely useful places such as just ahead of the cupholders. Will you spill your coffee first when your passenger uses their iPhone? Check with Siri on that one, but we think USB ports belong near where you might safely put phones—like in a tray, or inside the center console.