The Car Connection is here to help. Not with your taxes, not with cleaning your garage either, sadly. But car shopping? We've got that.
We review more than 250 vehicles a year, providing you with the most comprehensive reviews on the Internet. From quick takes to simple likes and dislikes, to in-depth coverage of fuel economy, performance, and features, you'll have all the information you need to make a great decision.
Whether you're researching a new vehicle, connecting with a dealership, or locating a used vehicle, The Car Connection also has the tools to help you find your next new vehicle.
But it all starts with research--and our reviews. Each week, we bring you a wrap-up of the most popular reviews here at TCC. This week, the list shapes up like a who's-who in family sedans, with a luxury four-door or two thrown in the mix.
According to our stats, here are the top sedan reviews of the week:
The 2013 Chevrolet Cruze is one of the smartest picks for anyone wanting practicality, comfort, and safety in a compact sedan—although it's missing the fun-to-drive edge of some other models.
2013 Ford Focus
Whether or not you consider the exciting new ST performance model, the 2013 Ford Focus lineup is evidence that small cars don't have to feel so appliance-like.
2013 Ford Fusion
The 2013 Ford Fusion's more than a rock-star body: it handles better than any other family sedan we've driven, and doesn't cheat on interior room to deliver it.
2013 Honda Accord EX-L
The 2013 Honda Accord is one of America's best, most sensible sedans, even if it hasn't changed radically.
2013 Hyundai Elantra Coupe
Civic who? Corolla what? The Hyundai Elantra's one of the new standard bearers in the compact class, with 38-mpg fuel economy, better safety, and class-leading standard features.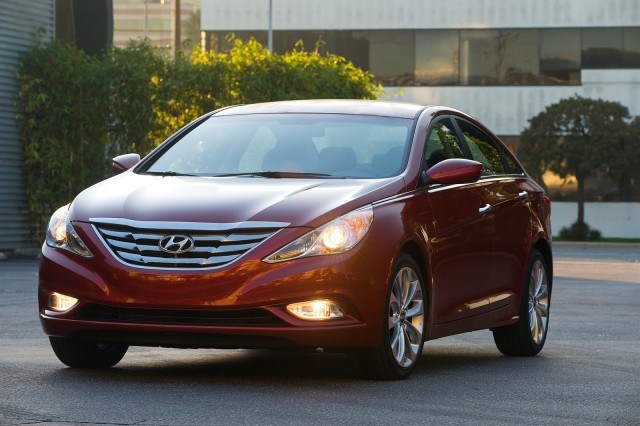 2013 Hyundai Sonata
With a standout design; perky performance; great gas mileage; and exceptional value for the money, the 2013 Hyundai Sonata is one of the best buys among mid-size sedans.
2014 Infiniti Q50 Hybrid Sport
With a hot new look, a Hybrid, some world-first technology, and much-improved cabin refinement--combined with a sharp, eager driving character--the 2014 Infiniti Q50 seeks new sport-sedan believers.
2014 Mercedes-Benz CLA 45 AMG, First Drive, Bilster Berg
A scaled-down CLS with turbocharged performance, the 2014 Mercedes-Benz CLA proves the car world is shrinking--even at the luxury level.
2013 Toyota Camry
The 2013 Toyota Camry is no standout for design, but it's more than ever the sensible pick for those who value comfort, value, and frugality above all else.
2014 Toyota Corolla
The 2014 Toyota Corolla remains a good choice for those looking for basic transportation with a solid reliability reputation. But if it's excitement you seek, you'll still have to look elsewhere.
___________________________________________