It may not look any different on the outside, but the 2014 Chevrolet Cruze Diesel is a pioneering vehicle: It's the first passenger car with a diesel engine sold by General Motors for 28 years.
Now reaching Chevy dealers in initial launch areas--those where the Volkswagen Jetta TDI diesel already sells well--the diesel Cruze adds a new dimension to the hunt for fuel-efficient cars.
The EPA rates it at 33 mpg combined (27 mpg city, 46 mpg highway). And while that's the same combined rating as the Cruze Eco with its 1.4-liter turbocharged gasoline engine with six-speed manual gearbox, the new diesel compact sedan is a remarkably different car.
Like many diesel cars, it overdelivers on fuel efficiency in real-world use. During a pair of 45-mile test drives last month, Green Car Reports achieved 39.2 mpg and 39.4 mpg respectively.
This weekend, we put 300-plus miles on another Cruze Diesel, whose dashboard indicator showed 39 to 42 mpg for the trip--lower ratings in city and suburban use, higher numbers on the highway, where diesel efficiency really shines through.
From the outside, the Cruze Diesel looks just like a relatively plain Cruze. The sole badge on the car says "2.0 TD," hardly a tipoff that there's a 140-hp 2.0-liter turbodiesel engine under the hood, putting out 258 lb-ft of torque.
(Chevy seems to have some internal confusion over what the car is called; it's variously referred to as the Cruze Clean Diesel, Cruze Clean Turbo Diesel, and per the badge, Cruze 2.0 TD. We're just calling it "Cruze Diesel," which we suspect is what buyers will say.)
Inside, the black interiors of both our test cars used a kind of woven cloth as an accent on the dash and door panels. It's not particularly luxe, but it's distinctive.
Behind the wheel, the familiar Cruze instrument panel gives little indication that the engine isn't conventional, aside from a few different warning lights that illuminate when the car starts.
But standing outside, the familiar diesel clatter pegs the car immediately. Inside with the windows rolled up, the Cruze's characteristically quiet cabin muffles the sound.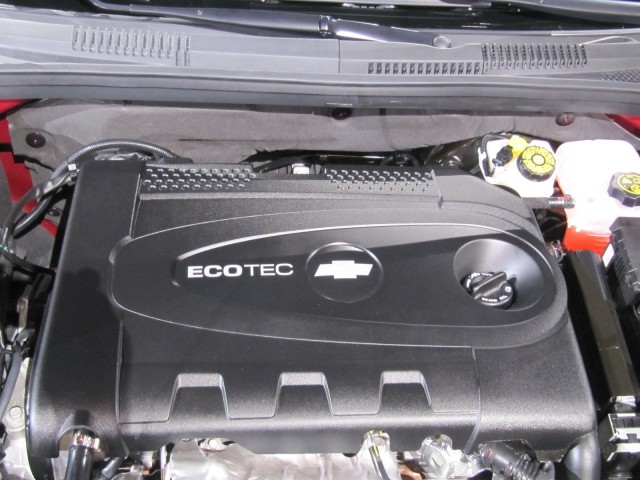 2014 Chevrolet Cruze Clean Turbo Diesel, 2013 Chicago Auto Show
Instead, the difference reveals itself in two ways: a second and a half of typical turbo lag on acceleration before the power kicks in, and some unusual throttle behavior and mild surging when the engine is cold.
Unlike the VW Jetta TDI, the Cruze Diesel comes only with a six-speed automatic transmission (a beefier model than that used in gasoline Cruzes).
That means even drivers who are used to the lag in diesel power delivery can't rev the engine before dropping the clutch, so there's a pause before the torque kicks in and the car surges forward.
Once underway, the transmission snaps off crisp upshifts and the car moves forward smartly. Highway cruising is peaceful, and economical.
Payback depends on how you drive, and how much. If you're considering the diesel Cruze, you'll pay a premium of up to $4,000 over comparably equipped gasoline Cruze models.
2014 Chevrolet Cruze Clean Turbo Diesel, 2013 Chicago Auto Show
The base price of the 2014 Chevrolet Cruze Diesel is $24,885, and options like navigation add to that number as well.
Then there's the fuel-price difference, which varies widely from state to state. In our case, regular gasoline cost $3.72 per gallon against diesel at $3.94--meaning that a 40-mpg Cruze Diesel equated to a 37.8-mpg gasoline car on a dollar-for-dollar basis.
Around the city, the Cruze Diesel might not be our first choice. After most of a day running errands in suburban mall traffic and the stop-and-go of small towns, the power lag had become a slight annoyance.
In the end, we decided the Cruze Diesel (like Volkswagen's diesel Jetta) is the ideal car for a traveling salesman who spends long hours at highway speeds.
There, its efficiency is pretty much unrivaled, and it's got far more power than a Toyota Prius hybrid that might come close to its highway rating in real-world use.
If nothing else, Chevy has brought out a very viable competitor for the VW Jetta TDI compact diesel sedan.
And that alone is progress in our book.
____________________________________

See more videos on our YouTube sites: The Car Connection, Motor Authority, and Green Car Reports.