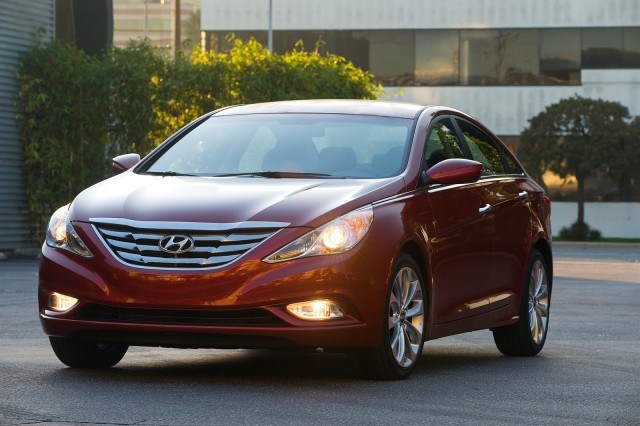 2013 Hyundai Sonata

Enlarge Photo

Hyundai
: May sales for Hyundai Motor America were up two percent versus last May, to 68,358 units. Hyundai noted that its two Alabama-built vehicles, the Sonata and Elantra, added up to an all-time record sales total (20,000 for Sonata, 25,000 for Elantra).
Kia: Kia reported its best-ever May sales, of 52,327 units. Highlights included the Optima mid-size sedan, at 15,368, and the Soul, at 11,420. Together, the Optima and Sorento (crossover), which are both built in West Point, Georgia, accounted for about 40 percent of the brand's May sales.
Volkswagen: Volkswagen sales were down 1.7 percent versus last May, to 38,013, although it had its best-ever May for Passat, Jetta, and TDI (diesel) vehicles. Jetta sales totaled 15,910, up 4.8 percent from last May, while Beetle sales added up to 3,718, up 23.9 percent.
Subaru: Subaru reported yet another historic high, with the May 2013 sales the company's best-ever month. Subaru sold 39,892 vehicles in May, up 34 percent from May 2012. And year-to-date, sales are 21 percent over 2012. Forester sales topped the 10,000 mark and finished 37.5 percent above last year's level, while Outback sales were up 33.5 percent, to 12,270 for the month.
Mercedes-Benz: Mercedes-Benz USA total sales were up to 27,359, which is an 8.3 percent boost over last May. Mercedes-Benz brand sales were at 24,713, up 9.8 percent, while Sprinter Van and Smart sales also posted gains. The C-Class was particularly strong--up 20.5, to 8,013, while GL-Class sales were up 41 percent over last year.

BMW / MINI: BMW-brand sales led the way for BMW Group in May, with sales up 13.8 percent over last May, to 25,230. MINI brand sales were down 3.4 percent, but as a whole, BMW Group sales were up 10.1 percent, to 28,321. BMW reported a strong month for the 3-Series, while sales were also up for the Z4, 6-Series, and X6.
Mazda: After a dip in sales for April, Mazda sales surged in May, with the brand reporting its best May since 2008--up 5.4 percent from last may, to 8,935 vehicles. The CX-5 crossover was up 79.4 percent year-over-year, and the new 2014 Mazda6 started to reach dealerships. Meanwhile the CX-9 had its best May since 2010 and was up 14.4 percent year-over-year.

Audi

: Audi sales were up 15 percent over last May, to a total of 13,228 vehicles in the U.S. That's a new May record, and the 29th consecutive monthly record for the brand. The trend was led by substantial gains, over last May, of the A5 (up 48 percent), the Q5 (up 45 percent), and the Q7 (up 42 percent).
Jaguar / Land Rover:  Jaguar Land Rover sold 4,513 vehicles in May, up 11 percent from last year. As Jaguar F-Type deliveries began, Jaguar sales were up 33 percent from the May 2012 total; meanwhile Land Rover sales were at 3,554 units, up three percent from last year's level.
Volvo
: U.S. sales were up 1.3 percent, to 6,329 units in May, although year-to-date sales remained down 5.9 percent for the first five months of the year.
Mitsubishi: The Outlander Sport had a strong sales month, with sales of that model up to a near-record 2,226 units; that and a boost in sales of the Lancer small-car family contributed to overall gains for the brand of 79 percent in May, versus May 2012.
Porsche: Not yet available at time of posting.
___________________________________________