2013 Ford F-150 Limited
Consider the improving economic indicators and an upswing in home construction; factor in relatively stable, affordable gas prices, that are expected to stay that way through the summer; and altogether, it's no surprise that during May truck sales surged with new market muscle--and that auto sales blossomed.
Sales of the Ford F-Series finished the month 31 percent higher than those of May 2012, while both GM's sales of large pickups and monthly totals at Chrysler's Ram truck brand were up 23 percent versus the same period last year.
Full-size trucks tow the market upward
Trucks have been in an oversupply situation for some time, and the high inventory levels have resulted in strong rebates for full-size trucks like the Ford F-150, Chevrolet Silverado 1500, and Dodge Ram 1500.
2013 Toyota RAV4
Shoppers were springing for trucks, as well as larger utility vehicles, in May, while compact crossovers have remained on an upward trend, and the additional deal factors look to be what helped push several of these models to record levels for the month. The Toyota RAV4, Honda CR-V, Subaru Forester, and Nissan Rogue all had best-ever May results, while the Rogue had its best-ever month.
Memorial Day weekend sales likely contributed to the strong performance, with more families reaching the decision point on long-deferred purchases.
Low loan rates, the real affordability factor
But before you think it was the deep discounts that brought buyers into dealerships in droves, consider that according to J.D. Power and Associates, the average transaction price for vehicles in May was at its highest-ever level--of $28,921 as of 5/23.
Power pointed to low interest rates and extended-term vehicle loans, which keep monthly payments low, as well as strengthening used-car residual values, which in turn help keep lease prices low.
Indeed, although rates have risen in recent days, according to Bankrate.com the national-average 72-month new-car loan was below 2.5 percent for much of this past month.
In recent years there's been a spring slowdown. Yet with strong May sales showing no sign of that--and continued good indicators--dealerships could continue to be very busy through the summer.
These sales figures have been reported by the automakers:
General Motors: GM [NYSE:GM] sold 252,894 vehicles in May 2013, which is a three-percent gain over May of 2012. Those numbers are buoyed by Cadillac, which posted nearly a 40-percent year-over-year gain in total sales (to 13,808). GMC was also up significantly (7.0 percent) year over year, to 41,594. Chevrolet, by far the company's strongest-selling brand, was up 0.9 percent versus last year, to 179,510 units for the month--with sales of large pickups up 23 percent and large SUVs up 30 percent. The Chevrolet Cruze and Sonic had another best-ever month, while sales of GM's full-size crossovers, the Chevy Traverse, GMC Acadia, and Buick Enclave were all up (14, 15, and 19 percent, respectively).
Ford: Ford Motor Co. [NYSE: F] sales were up 14 percent in May (to 246,585), versus the same month a year ago, with utility vehicles and trucks leading the way (up 15 and 18 percent, respectively), fueled both by pent-up demand and construction growth, according to the automaker. In retail sales, it was Ford's best May since 2005. It was the Ford Fusion's best-ever May, while Escape sales were up 26 percent year over year. Separately, Ford noted that it passed its previous full-year hybrid sales record (35,496 vehicles) in the first five months of 2013.
Toyota / Lexus / Scion: Toyota says it sold 207,952 vehicles in May, up 2.5 percent from last May. The Toyota Division posted sales up 2.3 percent year-over-year, to 185,723, while Lexus gained by a higher percentage (3.6), to 22,229 sales for the month. The Toyota Prius family had its best sales month in a year, up nearly 10 percent, while the new RAV4 had its best-ever May sales, at 20,780 units. Toyota also noted that the Camry is again the best-selling car in the U.S., with 39,216 sold in May.
Chrysler: Ram Truck sales were up 24 percent in May, year over year, leading the way to Chrysler's best May sales since 2007. Chrysler Group LLC moved 166,596 units over the month, up 11 percent versus last May. Jeep sales were up one percent overall in May, versus last year, but the Jeep Wrangler and Jeep Compass both posted their best sales months ever. The Fiat brand marked a milestone, having sold 100,000 vehicles in the U.S. since the brand's 2011 reintroduction.
Honda / Acura: American Honda sold 140,013 vehicles in the U.S. in May; that's an increase of 4.5 percent compared to May 2012. That includes Honda's gains of 5.2 percent and a 1.5-percent decrease in sales for Acura. Honda pointed to record sales of the CR-V (up 8.4 percent versus last year) plus strong sales for the Pilot and Odyssey, which were both up by double digits compared to last May. Honda sold 33,218 Accord models in May, up 11.7 percent from last May. On the Acura side, RDX sales were up nearly 50 percent year over year, to 4,930 in May, but most other models showed double-digit decreases.
Nissan / Infiniti: Nissan sales surged in May, to a new May U.S. sales record of 114,457 deliveries--24.7 percent more than May of last year. That was led by Nissan-brand sales up 31.2 percent, to 106,558, while Infiniti-brand sales tumbled 25.4 percent, to 7,899. Sales of the Leaf electric car were up nearly 333 percent over May of last year, to 6,311, while Pathfinder, Altima, and Sentra all saw major sales gains with new, redesigned models hitting the market. The Rogue also had its best-ever month, with 17,333 deliveries. All Infiniti models posted sales decreases, except for the JX crossover, which was up 10.2 percent to 12,435.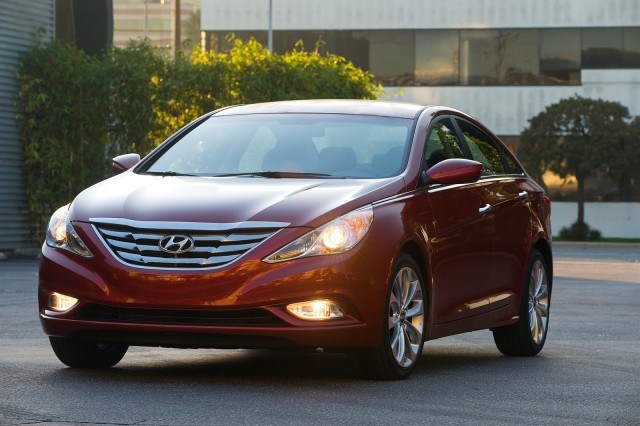 2013 Hyundai Sonata

Hyundai: May sales for Hyundai Motor America were up two percent versus last May, to 68,358 units. Hyundai noted that its two Alabama-built vehicles, the Sonata and Elantra, added up to an all-time record sales total (20,000 for Sonata, 25,000 for Elantra).
Kia: Kia reported its best-ever May sales, of 52,327 units. Highlights included the Optima mid-size sedan, at 15,368, and the Soul, at 11,420. Together, the Optima and Sorento (crossover), which are both built in West Point, Georgia, accounted for about 40 percent of the brand's May sales.
Volkswagen: Volkswagen sales were down 1.7 percent versus last May, to 38,013, although it had its best-ever May for Passat, Jetta, and TDI (diesel) vehicles. Jetta sales totaled 15,910, up 4.8 percent from last May, while Beetle sales added up to 3,718, up 23.9 percent.
Subaru: Subaru reported yet another historic high, with the May 2013 sales the company's best-ever month. Subaru sold 39,892 vehicles in May, up 34 percent from May 2012. And year-to-date, sales are 21 percent over 2012. Forester sales topped the 10,000 mark and finished 37.5 percent above last year's level, while Outback sales were up 33.5 percent, to 12,270 for the month.
Mercedes-Benz: Mercedes-Benz USA total sales were up to 27,359, which is an 8.3 percent boost over last May. Mercedes-Benz brand sales were at 24,713, up 9.8 percent, while Sprinter Van and Smart sales also posted gains. The C-Class was particularly strong--up 20.5, to 8,013, while GL-Class sales were up 41 percent over last year.

BMW / MINI: BMW-brand sales led the way for BMW Group in May, with sales up 13.8 percent over last May, to 25,230. MINI brand sales were down 3.4 percent, but as a whole, BMW Group sales were up 10.1 percent, to 28,321. BMW reported a strong month for the 3-Series, while sales were also up for the Z4, 6-Series, and X6.
Mazda: After a dip in sales for April, Mazda sales surged in May, with the brand reporting its best May since 2008--up 5.4 percent from last may, to 8,935 vehicles. The CX-5 crossover was up 79.4 percent year-over-year, and the new 2014 Mazda6 started to reach dealerships. Meanwhile the CX-9 had its best May since 2010 and was up 14.4 percent year-over-year.

Audi

: Audi sales were up 15 percent over last May, to a total of 13,228 vehicles in the U.S. That's a new May record, and the 29th consecutive monthly record for the brand. The trend was led by substantial gains, over last May, of the A5 (up 48 percent), the Q5 (up 45 percent), and the Q7 (up 42 percent).
Jaguar / Land Rover:  Jaguar Land Rover sold 4,513 vehicles in May, up 11 percent from last year. As Jaguar F-Type deliveries began, Jaguar sales were up 33 percent from the May 2012 total; meanwhile Land Rover sales were at 3,554 units, up three percent from last year's level.
Volvo
: U.S. sales were up 1.3 percent, to 6,329 units in May, although year-to-date sales remained down 5.9 percent for the first five months of the year.
Mitsubishi: The Outlander Sport had a strong sales month, with sales of that model up to a near-record 2,226 units; that and a boost in sales of the Lancer small-car family contributed to overall gains for the brand of 79 percent in May, versus May 2012.
Porsche: Not yet available at time of posting.
___________________________________________