2012 Volkswagen Passat TDI Six-Month Road Test
In the U.S., the Toyota Prius is the undeniable champ among hybrids. It's become an icon for the green-car movement, as well as a car that makes a lot of sense for those who stick mostly to city stop-and-go commuting and want to minimize their use of fossil fuels.
But for those who commute longer distances—in the exurbs, or at higher speeds—there's a green-car choice that can make even more sense: diesels. And the champs among diesels, at least if you go by sales, bear the TDI badge.
Volkswagen has been successful in marketing its TDI diesels as vehicles that aren't just fuel-efficient, but sporty. And that's added desirability to both the VW and TDI badges over the years, according to Alexander Edwards, president of the research firm Strategic Vision. "VW has done a great job, in getting people to think about diesels a little differently," said Edwards. "We are starting to see some people, like they would say they're going to go shop for a hybrid, saying that they're going to shop a TDI."
TDI badge is worth something
VW is the only automaker that continued, quite consistently, to push diesels in the U.S. market, through a time when other automakers gave up on it (only in 2007 did VW take a hiatus die to regulatory issues). Diesels now account for about 20 percent of U.S. sales for VW. The automaker has has also been selling more than a quarter of its mid-size Passat sedans with the TDI diesel, more than three quarters of Jetta Sportwagen sales have been with the TDI badge, and more than 20 percent of VW's U.S. vehicle sales have been in TDI form.
It now offers diesel options on the Jetta, Golf, Beetle, Passat, and Touareg (all but Eos and Tiguan—and the next Tiguan will have it). This year and last year, it's been selling more than 20 percent of its U.S. vehicles with diesel engines. More than three quarters of U.S. Jetta Sportwagens are being delivered in TDI form.
Now VW is no longer the lone mainstream brand with diesels. At last, the 2013 and 2014 model years are looking like they might end up being at a sort of tipping point for diesel acceptance. In 2012, sales of diesel passenger cars grew by more than 25 percent. And the number of diesel models on the market is expected to increase exponentially. Furthermore, Pike Research (now Navigant) last year projected that by 2018, annual sales of diesels will reach a rate of 928,000; that's many times what they are now.
At the leading edge of this new wave, Chevrolet and Mazda are introducing diesel passenger cars this year. They join diesel versions of the Jeep Grand Cherokee—and later this year, a diesel version of the light-duty Ram 1500.
Diesel pricing is critical for mainstream brands
Luxury brands such as Mercedes-Benz and BMW rolling out plenty of other diesel models; but pricing has been critical to the success of VW's diesels over the years, and it's going to be crucial for whether all-new models like the Chevrolet Cruze Clean Turbo Diesel and Mazda 6 Diesel find strong demand.
"Effectively, everyone out there is preaching MPG and environmental friendliness, and putting it in their ads and trying to sell it, and the truth of it is nothing is happening because the customer still has one barrier they're not willing to get over, which is the cost of doing business for an alternate powertrain vehicle," said Edwards, who notes that gas mileage might be one of the first priorities shoppers mention, but it has secondary importance next to other practical considerations, or even styling.
"Is it going to have a real impact in their purchase decision? For five or ten percent of them, it absolutely will. For the rest, it will, but it will be in a melting pot of issues that are often significantly more important."
2012 Volkswagen Passat TDI Six-Month Road Test
VW has been pricing their TDI vehicles at just about $1,500 above an equivalent gasoline model, so in addition to all the other positive attributes, and the slightly sportier image, it won't be that many years before you break even on the price premium and start saving money due to the much higher fuel economy.
What makes VW's presentation of its TDI vehicles all the more impressive, is that they haven't been decontented (with reduced features) to help compensate.
A tough road for those who want to up the price more than $1,500
Chevrolet hasn't decontented its 2013 Cruze Clean Turbo Diesel, but it's instead priced it at $25,695—both several thousand dollars higher than other Cruze models, or than the Jetta TDI—while it's emphasized the car's great 46-mpg highway rating. Meanwhile, Mazda hasn't yet priced its upcoming 2014 Mazda6 Diesel, but it has hinted that it will be offering it more as a sporty 'step-up' engine, like VW, with a choice of manual or automatic transmissions—and, of course better mileage. And on the Jeep Grand Cherokee—almost a luxury vehicle to begin with, and one in which the diesel will be welcomed by those who tow—the automaker is charging a sensible-sounding $2,300 premium over the V-8 on upper trims.
"If GM and Mazda produce a comparable vehicle, but think that they can sell it at a higher price than VW," they're going to find themselves in trouble, says Edwards, who doesn't see how the Cruze Clean Turbo Diesel can be successful, based on its sticker price.
While we've seen the TDI badge itself make a vehicle be more desirable, it's going to take some time before any other brand expects diesel in itself to add cachet—in the way that a V-6 traditionally has, for instance.
And diesel shoppers are a different profile than hybrid shoppers, in that they're typically more affluent yet want to appear as if they've made a fiscally smart purchase. Surprisingly, there isn't a lot of cross-shopping between hybrids and diesels, according to market research. Diesel buyers tend to be wealthier, more male, and less likely to be affiliated with a political party. And yes, those trends hold true even when you filter out diesel heavy-duty pickups.
Diesels don't make a lot of sense unless they also sell us on the driving experience. And that's what some of these models just might do—be worth the premium—if they don't fizzle out, priced too high out the gate.
On that uneasy note, keep reading for more details on the mainstream-brand diesel vehicles that are on the way, just this year.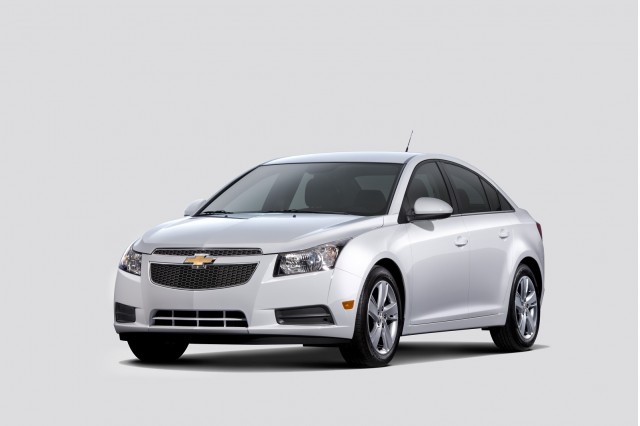 2014 Chevrolet Cruze Clean Turbo Diesel
Chevrolet Cruze Clean Turbo Diesel
The Chevrolet Cruze Clean Turbo Diesel (yes, that's the official model name) goes on sale this summer. At $25,695, or several thousand dollars higher than other Cruze models, it might not pay back all that quickly for fuel savings, although if you plan on covering most of your miles on the highway, an EPA 46-mpg highway rating sure will help. There should be plenty of charm from the strong, smooth new diesel engine—already proven from Europe, where four of every ten Cruze models sold are diesel. The 2.0-liter direct-injected and turbocharged (as they all are) diesel engine makes 148 horsepower. That's already 10 horsepower more than the Cruze has in gasoline form, but what should make quite a difference—and make this the quickest, perkiest model in the Cruze lineup—is the diesel's 258 pound-feet peak-torque rating (110 lb-ft more than the stronger gasoline engine offered in the Cruze). It's only offered with a six-speed automatic transmission, and this roomy compact sedan can get to 60 mph in 8.6 seconds, thanks to a turbo overboost feature that pushes engine torque up to 280 lb-feet for ten seconds at a time.
2014 Mazda Mazda6
Mazda6 Diesel
To be available beginning late this year in the mid-size 2014 Mazda6 sedan, the SkyActiv-D diesel will be the premium engine in the lineup, taking the place of either a turbocharged four-cylinder engine or a V-6. While its output of around 170 horsepower isn't all that spectacular, preliminary estimates from Mazda have this 2.2-liter turbo-diesel engine making an awesome 310 pound-feet of torque—more than big V-6 engines—so the Mazda6 with this engine should truly be able to get up and go. Despite its step up in power, the Mazda6 Diesel will also return highway fuel economy numbers above 40 mpg. And what makes this model especially noteworthy is that it will require no exhaust after-treatment to clean up its emissions; this is a completely new, from scratch clean-diesel engine design, with an unusually low (for a diesel) 14-to-1 compression ratio.
2014 Jeep Grand Cherokee
Jeep Grand Cherokee EcoDiesel
The Jeep Grand Cherokee has become an American icon, with its family-friendly layout and tough off-road ability. And for such a vehicle—designed for vacations, road trips, and hauling heavy loads—a diesel engine seems like a natural choice. It's here for 2014, in the Grand Cherokee EcoDiesel. The powerful 3.0-liter V-6 makes 240 hp, and a significant 420 lb-ft of torque—more than many V-8s, which makes it a good call for towing—while returning 21 mpg city, 28 highway. And considering the host of other major improvements to the 2014 Grand Cherokee, like a new eight-speed automatic transmission, upgraded cabin materials, and new entertainment systems, the Grand Cherokee EcoDiesel feels like a no-compromises family luxury vehicle.