Chrysler is recalling more than 200,000 vehicles in the U.S. to address a variety of complaints. The six separate recalls involve Chrysler and Dodge cars, Dodge and Jeep SUVs, and Ram 1500 and heavy-duty trucks.
Airbag warning light recall
In the largest safety recall, some 119,000 2011 and 2012 Chrysler 300, Dodge Charger and Dodge Challenger cars are being recalled over an improper airbag warning light illumination issue. Affected vehicles were built from April 11, 2011 and December 14, 2011.
Chrysler said that after a small number of customers reported intermittent illumination of the airbag warning light, the company launched an investigation. The problem was a seat side-airbag wiring harness terminal not up to specification.
Chrysler will notify owners of affected vehicles and dealers will upgrade the connection at no charge.
2008 Dodge Nitro SXT

Enlarge Photo
Heat shield recall
Chrysler also issued a recall of approximately 61,400 older SUVs in the U.S. to fix a heat shield that can loosen and contact the driveshaft, causing wear and possible breakage over time. The safety recall affects 2008 and 2008 Dodge Nitro and Jeep Liberty 4X2 SUVs. The automaker said that 4X4 SUVs are unaffected.
Chrysler will notify owners of vehicles involved in the campaign and dealers will install a bracket to hold the shield in place. The service will be performed at no charge.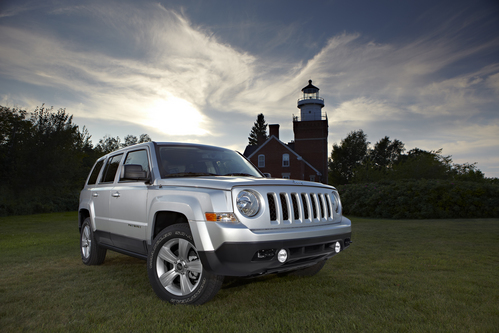 2012 Jeep Patriot

Enlarge Photo
Fuel tank transfer tube recall
About 20,500 2012 Jeep Patriot and Jeep Compass SUVs built between October 18, 2011 and May 7, 2012 are being recalled "to improve fuel flow when the vehicles are subject to certain driving conditions," said a notice on Chrysler's website.
The automaker said the problem stemmed from a worldwide material shortage that forced a design change to the vehicles' fuel tank transfer tube. An investigation by the company discovered that tubes made with the new material and new process did not readily maintain the required shape. The result is that fuel flow may be restricted, creating the possibility of engine stall during operation in high altitudes, at high temperatures, and use of fuel with high vapor pressure.
Chrysler said it is aware of one accident but no related injuries to this condition. Chrysler will notify owners of affected vehicles and dealers will fit them with new fuel tank transfer tubes at no charge.
2013 Ram 1500

Enlarge Photo
Parking brake recall
Some 6,600 2013 Ram 1500 pickups built at the Warren, Michigan Truck Assembly plant from December 17, 2012 through January 22, 2013 are being recalled to fix potentially faulty parking brakes. Chrysler said that more than half of the Ram 1500 trucks are still in dealer hands. The problem, discovered during a routine audit, was that a small number of vehicles had parking brakes out of compliance with mandated performance standards. The automaker said there have been six field reports alleging insufficient parking brake function, but no related accidents or injuries.
Chrysler will notify owners of affected vehicles and dealers will inspect and repair them, as necessary, at no charge.
2013 Ram 3500

Enlarge Photo
Engine cover recall
Only about 500 2103 Ram 2500 and 3500 pickups in customers' hands are affected by a recall to replace engine covers. An additional 50 vehicles are in Canada, while the rest of the total recall population of 7,000 trucks remains in dealer hands.
Discovered during routine post-production testing, the problem is that the cover for the 6.2-liter diesel engine has less heat resistance than intended. The automaker said that no accidents, injuries or customer complaints related to the condition have been reported. Chrysler will replace the engine cover with an alternate design, at no charge to owners.
2013 Dodge Dart

Enlarge Photo
Rear brake caliper recall
Only about 46 2013 Dodge Dart compact cars in the U.S. are affected by a recall to address an issue that may compromise parking brake function. Vehicles affected by the recall were built during a 24-hour period in November 2012 with brake calipers that do not meet specification.
Chrysler will replace the rear brake calipers of affected vehicles at no charge to owners.