Are you or someone you know planning to purchase a used vehicle this weekend? Even if it's that random co-worker that no one really wants to invite to the barbecue, The Car Connection is here to help make car shopping easier.
And easier it is, with over 3 million used car listings and thousands of new vehicle reviews, The Car Connection is literally your one-stop-shop for researching and finding a vehicle. We even has easy-to-use tools to narrow your search by vehicle color, transmission, mileage, and price.
This week we spent some time sifting through thousands of used car listings to bring you these winners. From a people hauler, convertible and compact sedan, to a pickup truck, we have you covered.
2009 Mazda Mazda5 used car
75,152 miles; $8,999
Weaverville, North Carolina
If you are looking for a people mover that isn't too large, or your family is growing, a Mazda5 might be just what you need. It's not as large as some other minivans, and it offers a fun-to-drive factor that most people movers just can't match. This one has a fuel-efficient four-cylinder engine and automatic transmission. The charcoal cloth interior will hide dirt and stains well, and it has three rows of seats. [See more used Mazda Mazda5s]
2004 Honda Civic used car
89,123 miles; $9,500
Littleton, Colorado
Honda Civics are known to be reliable, fuel efficient, and safe. This Civic is an EX model, which means it is a mid-trim level featuring alloy wheels and power locks, windows, and mirrors. With a four-cylinder engine and automatic transmission, you won't cringe at how often you end up at the gas station, and we like the radiant ruby pearl paint color. This Civic's been on the market for 29 days, so you might have some wiggle room with the price. [See more used Honda Civics]
2005 Ford F-150 used car
124,233 miles; $9,599
Irving, Texas
If you live in Texas you know it's all about trucks. This red Ford F-150 is calling to us with less than 125,000 miles on its Triton V-8 engine and automatic transmission. The F-150 has been the best-selling pickup truck in America for years, and it's known to be reliable. The description for this truck is lacking, so we suggest you ask some detailed questions. But it clearly has alloy wheels, a lockable tool box in the bed, and it's a Super Cab. It's only been on the market for four days, so you probably won't be able to negotiate the price much. [See more used Ford F-150s]
2004 Ford Mustang used car
90,812 miles; $8,991
Winder, Georgia
Spring is in the air and this convertible has us ready to hit the road. While it may promise fun-in-the-sun style, it won't break the bank at the gas station as this pony has an automatic transmission and V-6 engine. We like the shiny black paint and alloy wheels, and the tan leather interior appears to be in good shape. It's been on the market for over 20 days, so you might have some wiggle room when it comes time to talk pricing. [See more used Ford Mustangs]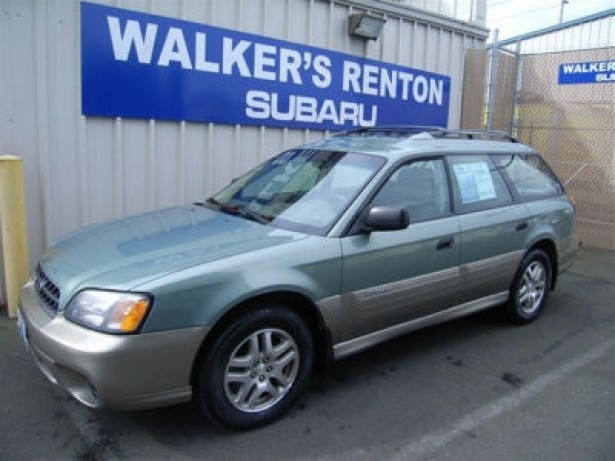 2004 Subaru Outback used car
135,659 miles; $9,950
Renton, Washington
If you are planning to head to the slopes, you'll want all-wheel drive and space for all your gear. A used Subaru Outback would fit the bill nicely, and this particular one is finished in a nice green paint color. It has a four-cylinder boxer engine under the hood and an automatic transmission doing the shifting. It's been on the market for 22 days and has had a price drop of $2,000. [See more used Subaru Outbacks]
As always, we highly recommend you have a trusted mechanic perform a pre-purchase inspection on any used vehicle before you write a check. It's also a good idea to ask the dealership for the Carfax report.
Have a question or need help finding a used vehicle? Make sure to send us a tweet on Twitter or post on our Facebook wall.