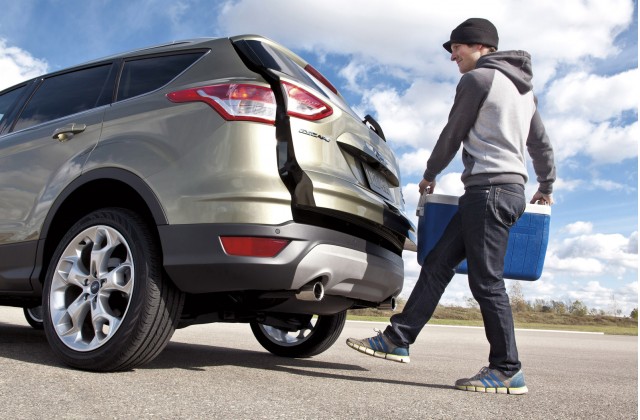 2013 Ford Escape
It's become a rite of passage for car ownership: At some time, you're likely to get a notification letter in the mail, calling you back to the dealership for a fix on a safety-related issue, seemingly large or small.
While that part should come as no surprise, it might be counterintuitive to learn that your chances this past year of getting one of those letters were much higher with two of the mass-market brands with the most pristine reputation for dependability—Honda and Toyota.
Beyond their standing as evergreen reliability champs in Consumer Reports metrics, Toyota and Honda are at the top of the latest 2013 J.D. Power Vehicle Dependability Study, released this past week. And Harris Interactive recently found Toyota, Ford, and Honda to be this year's top-rated auto companies in terms of reputation.
Yet those happen to be among the automakers with some of this past year's largest, highest-profile safety-recall efforts—especially those affecting used cars. Toyota and Honda topped the industry in number of vehicles recalled during 2012, with Toyota issuing recalls for 5,330,643 vehicles and Honda at 3,363,343 vehicles. GM was third in terms of vehicles recalled (1,476,319), and most visible, perhaps, because of its multiple recalls on the Chevrolet Cruze. Ford made waves with by far the highest number of individual recalls (24)—including several on its all-new 2013 Escape, which hit the market last spring—but it recalled a total of 1,398,837 vehicles in 2012.
But chew on this for a moment: Even industry-wide there were more vehicles recalled in 2012 than new vehicles sold. From 586 new recalls issued, that's about 16.2 million vehicles recalled—slightly more than the 15.5 million of 2011, but less than 2009 and 2010, when total recall numbers were affected by the massive Toyota and Lexus recalls. And it's a far cry from 2004's total of 30.8 million.
During this period (ranging back three years) when recalls have remained high, that latest J.D Power dependability study showed problems per 100 vehicles declining—to a record low. And curiously, some of the newest models are the least trouble-free.
Link between recalls and reliability? Not in most cases.
To the point, recalls really have nothing to do with vehicle reliability, durability, or even how trouble-free that family car or crossover might be in the long run; and there's no need to leave a model that's been recalled off the list when used-car shopping. And in some cases, recalls are a good sign, the result of a manufacturer being proactive, and fixing an important issue that could prove safety related but may never affect the owner or vehicle.
That's the case for Honda, which announced several major product recalls in 2012 that weren't related to late-model vehicles but those reaching back ten years or more—like a recall of 1,375,217 older Honda Civic and Honda Pilot models for an issue that might affect their headlights.
Some of Honda's recalls this year—the headlight recall, for instance—affect vehicles produced at a time when production was expanding rapidly, explained spokesman Chris Martin. "Our knowledge and experience have helped us to better understand how to avoid many of those concerns in the future."
Martin also points out that a higher percentage of Honda and Acura vehicles remain in use for a longer time, than for nearly all competing brands. And that over the long run will involve a higher number of recalled vehicles than some other brands.
"First of all with a recall, we're concerned that it's fixed and fixed right," said NADA chairman, Bill Underriner, the owner of a Honda dealership, among multiple franchises, in Billings Montana. "Most are an insignificant deal, with a small part, and take very little time," yet could make a difference for safety, he said.
They could build loyalty, though...
The collection of recalls on the Cruze and the Escape are a couple of the higher-profile recall blunders of the year; but there's little or no evidence that shoppers are going to steer clear of Chevy or Ford because of it.
An owner might actually feel more loyal to a brand if it's handled its recalls particularly well.
Toyota's massive recall efforts of the past several years are evidence of that. In 2010, the industry-intelligence firm R.L. Polk observed a momentary drop in customer loyalty at the peak of the recall effort (from November 2009 to February 2010), but it noted that this downward trend was short-lived.
And then Polk found something even more interesting: That loyalty to the brand was on the rebound, loyalty among owners of recalled vehicles increased more than for those owning other Toyota vehicles.
Especially at the dealership, this highlights a belief that a recall isn't always a bad thing. For dealerships, it can be positive cashflow, as automakers do pay for the repair. And it brings customers with aging vehicles—those who might not yet be shopping for a vehicle but might be soon—back into the showroom, perhaps increasing the chances that they might consider the brand.
"At the least, it's an opportunity to talk to the customer," notes Underriner. "And depending on the make and model, there could be an opportunity to sell the customer on a new car."
That said, Underriner sees no evidence that recalls boost sales or negatively affect them, ultimately, on a brand or model basis.
By most assessments afterward, Toyota's 2009-2010 recall effort didn't much affect its sales trajectory in the long run. Polk, among analysts, agreed that Toyota had built up more of a "bank" of goodwill than most automakers.
Toyota Prius Recall letter

Even the Prius called back for fixes
Like Honda, Toyota issued a lot of recalls for older vehicles in 2012—including one affecting the steering in nearly all 2004 through 2009 Toyota Prius models. "In 2010, Toyota committed to be more responsive to its customers and regulators," stated Toyota safety spokesman Brian Lyons, when asked about the company's recall trends. "The recent pace of our recalls is a demonstration of that commitment."
To single out some vehicles most affected by recalls in 2012, we first limited our list to recalls announced in 2012, then looked first for the models (including model year) potentially affected by the highest number of separate recalls. We first included the models affected by more than two separate recalls announced in 2012, then added several of the vehicles affected in highest volume by two different recalls.
For more information on any of these, consult the federal traffic-safety hotline at 888-327-4236, the National Highway Traffic Safety Administration search tool, or the individual manufacturers. And if your car is affected, get it fixed but don't think less of it.
Click through to see our vehicles most affected by recalls in 2012.
2013 Ford Escape
2013 Ford Escape

Why it's on this list: Four recalls announced in 2012
Covering:
Overheat may cause fluid leaks resulting in fire (12V551000, 80,057 Escapes)
Cup (freeze) plug dislodging (12V431000, 6,146 Escapes)
Engine compartment fuel line (12V336000, 9,320 Escapes)
Pedal package clearance variation (12V319000, 8,266 Escapes)
Manufacturer's hotline: 888-327-4236
The 2013 Ford Escape, which hit the market last spring, is an especially important product for Ford—as the previous Escape had been a longtime best-seller among compact crossovers. Yet the new Escape got an uneasy start out the gate, with an embarrassing total of four different recalls by year end covering safety-related issues—three of them potentially leading to fire, and/or rather catastrophic engine failure. It's true, however, that considering the high volumes this vehicle is produced in, these recalls covered a relatively small portion of Escapes made; and they're better caught early than when a significant number of these show up on the used-car market.
2011 Chevrolet Cruze (Courtesy: GM)
2011-2012 Chevrolet Cruze

Why it's on this list: Three recalls announced in 2012 (two of them adding onto model-year 2011 recalls)
Covering:
Driver side frontal airbag may not deploy (13V22000, 2,949 total vehicles)
Fuel tank weld spots/fuel leak/possible fire (12V289000, 53,239 Cruzes)
Oil spilling or dripping/engine compartment fire (12V288000, 413,148 Cruzes)
Manufacturer's hotline: 866-694-6546
The Chevrolet Cruze is worlds better than the Cobalt that preceded it; and here at The Car Connection it's one of our favorite (and top-rated) compact sedans. Yet the Cruze had something of a rough first year on the market, with a total of five recalls announced in 2011 affecting the 2011 Chevrolet Cruze. We thought 2012 could only get better, but the 2012 Chevy Cruze was affected by three recalls during 2012 (and a fourth by now)—and to make matters worse, two of those largest-scale recalls (over fire concerns from leaking fuel and oil) extended back to the 2011 models. Give credit to GM for getting it these fixes out; and we hope the road gets less bumpy in 2013.
2011 Toyota RAV4
2006-2011 Toyota RAV4

Why it's on the list: Two major recall announcements cover hundreds of thousands of vehicles.
Covering:
Rear suspension arm corrosion (12V373000, 2006-2011 778,000 RAV4 and Lexus HS250h models)
Power window switch may fail (12V49100, 2,519,424 2007-2009 vehicles, mainly Toyota and Scion)
Curtain shield airbag may not deploy (12V029000, 279 MY-2011 RAV4s)
Manufacturer's hotline: 800-331-4331
Two major recall announcements made by Toyota last year cross paths in the 2006 through 2011 Toyota RAV4—and in the 2007-2009 RAV4 especially. The power-window recall covers a total of nearly 2.52 million Toyota, Scion, and even Pontiac (Vibe) vehicles, but with the RAV4's suspension recall considered too, this is Toyota's U.S. vehicle that's most affected by recalls announced this past year. It's been among the longstanding top-rated vehicles in its class in reliability and other measures, but even it's not perfect.
2004 Honda Pilot EX
2003-2004 Honda Pilot

Why it's on the list: Because two separate recalls cover a lot of vehicles, going back many model years
Covering:
Ignition interlock may deform allowing rollaway (12V573000, 807,161 vehicles—2003-2006 Acura MDX, 2003-2004 Honda Odyssey, 2003-2004 Honda Pilot)
Low beam headlight issue (1,375,217 vehicles—2004-2005 Honda Pilot, 2002-2003 Honda Civic)
Manufacturer's hotline: 800-999-1009
The Honda Pilot has a great reputation for reliability and durability, although the two wide-ranging recalls announced for this boxy family crossover during calendar-year 2012 cover minor points that could relate to safety. With the first recall, a worn ignition interlock system may allow the key to be removed without the shifter in Park—potentially leaving the vehicle to roll away. The headlight issue is part of an issue that extends also to Civics, in which bad wiring could cause the switch to fail.
2003 Ford Escape XLT Popular
2001-2003 Ford Escape

Why it's on the list: Several significant mechanical recalls affecting a large number of vehicles
Covering:
Speed control cable connector interference (12V353000, 423,634 2001-2004 Ford Escape models with the 3.0-liter V-6)
Anti-lock brake system electrical connectors (12V00500, 244,530 2001-2002 Ford Escapes)
Manufacturer's hotline: 888-327-4236
Not all unintended-acceleration claims are limited to modern 'drive-by-wire' electronic throttle systems. Ford issued a large-scale recall this past summer, covering vehicles with an original manufacture date going back to 1999—the first Ford Escapes—through model year 2004. In vehicles equipped with the V-6, a tight clearance with the engine cover could lead to a throttle stuck in an open or partially open situation. The consequences of ignoring the other major recall (leaking brake fluid, or shorting ABS wiring harness) could also be dire, so if you own one of the affected vehicles, get it fixed right now.
2009 Toyota Prius
2004-2009 Toyota Prius

Why it's on the list: Because every Prius from 2004 through 2009 is affected by at least one of these recalls
Covering:
Steering intermediate extension shaft may fail (12V537000, 669,705 2004-2009 Toyota Prius)
Water pump may fail causing a vehicle stall (350,563 2004-2009 Toyota Prius)
Manufacturer's hotline: 800-331-4331
The Toyota Prius, and its hybrid components, have been remarkably trouble-free over more than a dozen years on the market, even as those earlier cars age. Yet this past year, Toyota introduced two significant safety-related recalls of concern to Prius owners for model years 2004 through 2009. One of them could lead to steering failure, and the other a sudden stall—so if you have an older Prius it's best that you check soon whether your vehicle is affected.