General Motors is recalling an additional 3,896 vehicles to an airbag recall that began last October and included 2012 Buick Verano, Chevrolet Cruze and Chevrolet Sonic passenger cars. The expanded recall adds more Verano, Cruze and Sonic cars to the population as well as including certain 2012 Chevrolet Camaro sporty cars.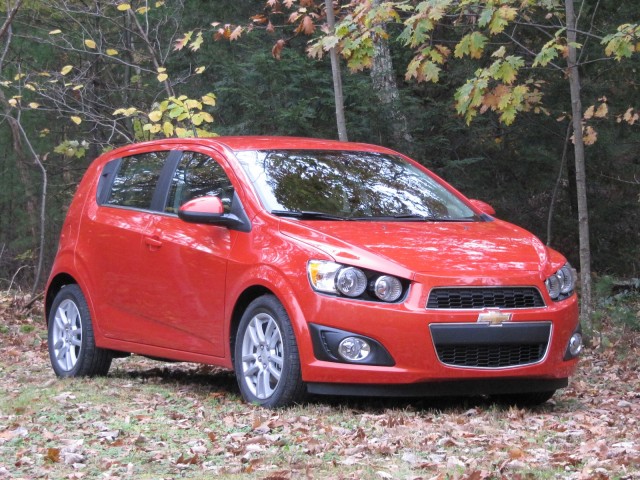 2012 Chevrolet Sonic hatchback, road test, Catskill Mountains, Oct 2011
Enlarge Photo
A notice on the National Highway Traffic Safety Administration (NHTSA) website describes the issue this way: "the driver side frontal airbag has a shorting bar that may intermittently contact the airbag terminals."
The potential consequence of the faulty part is that the driver's frontal airbag may fail to deploy at the time of a crash, thus increasing risk of injury.
2012 Buick Verano
Enlarge Photo
Documentation from General Motors (PDF) to the NHTSA said that the initial recall involved 2,949 vehicles built between April and June 2012 but that further investigation and review of warranty reports and other claims found the same condition on vehicles built between December 16, 2011 and February 2, 2012.
The breakdown of vehicles affected by the expanded recall includes:
2012 Buick Verano – 409 vehicles built from December 20, 2011 through January 24, 2012
2012 Chevrolet Cruze – 1,981 vehicles built from December 19, 2011 through January 25, 2012
2012 Chevrolet Sonic – 1,077 vehicles built from December 16, 2011 through January 30, 2012
2012 Chevrolet Camaro – 429 vehicles built from December 19, 2011 through February 1, 2012.
What GM will do
General Motors will notify owners of vehicles affected by the recall and dealers will replace the steering wheel airbag coil at no charge. The expanded GM safety recall, identified as 12261, is expected to begin on February 13, 2012.
In the meantime, owners of affected vehicles with any questions or concerns may contact General Motors at 1-800-521-7300.
Alternatively, owners of vehicles involved in the campaign may contact NHTSA's Vehicle Safety Hotline at 1-888-327-4236 or go to https://www.safercar.gov.  Reference the NHTSA campaign ID No. 13V023000.