Once again we are heading into the weekend and you might be preparing to purchase a used vehicle. Lucky for you, we are here to help out.
We feature thousands of new vehicle reviews, along with over 3 million used car listings. The Car Connection has what you need when it's time to look for your next vehicle. With the ability to filter by year, make, model, and much more, we put our easy-to-use controls to work for you.
This week we have a German Edition of used car finds--because one of our Twitter followers asked us to. So we shuffled through thousands of German used car listings searching for some real winners.
Some warnings about used German cars, especially at this price point: First and foremost, they aren't typically quite as reliable as something like a used Toyota Camry. When they do break, parts and service usually are more expensive. German cars have a reputation for being over-engineered, and frankly, this can lead to some expensive issues.
Before we get into this week's picks, we wanted to let you know that we'd be happy to help you find the perfect vehicle. We'll even dole out free advice. Drop us a tweet on Twitter, or post on our Facebook wall. Tell us what kind of used cars you'd like to see in one of our posts.
Here are this week's top used car finds: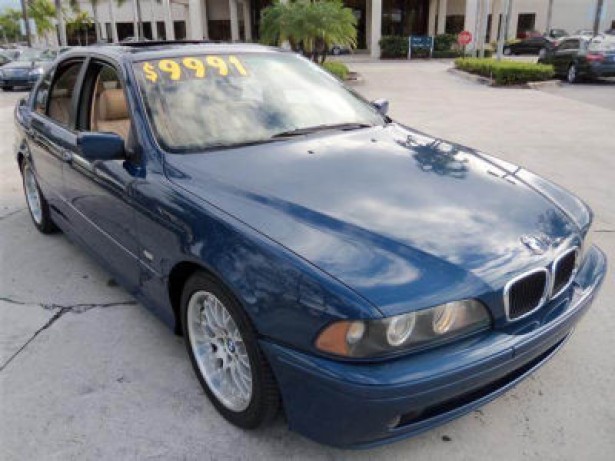 2001 BMW 530i used car
Enlarge Photo
85,254 miles; $9,991
Pompano Beach, Florida
This 5-Series is located in Pompano Beach, Florida, which means the previous owner might have been a retired person who didn't beat on it. It's only been on the market for 9 days, but it is priced reasonably, and doesn't have high mileage. It has an automatic transmission and all the electronics you would expect, from power seats to a 10-speaker audio system. The inline-six engine is known to be reliable, and some consider it to be one of the best engines BMW's made. Many BMW fanatics consider this generation to be the last truly great 5-Series. We are smitten with the color combination, and the wheels are a nice design. We wouldn't be ashamed to drive this down the highway, and neither should you. [See more used BMW 5-Series]
2002 Audi S6 used car
Enlarge Photo
130,044 miles; $9,950
Loveland, Colorado
If you need to haul your family through some bad weather quickly, a used Audi S6 might be the way to go. And this generation of Audi S6 only came to the U.S. market in wagon form, which gives you some real usability. The 4.2-liter V-8 engine in this car is known to be reliable. With that said, it requires some expensive maintenance every 80,000-100,000 miles, which includes a timing belt replacement, control arms, and other items known to wear out. The transmission's also a weak point, and it costs up to $5,000 to rebuild. If you can stomach the chance of a transmission rebuild, this could be a very good all-weather family vehicle for many years to come. The price is also fair, and having being on the market for 127 days, this particular S6 has seen three price drops. So there could be some wiggle room when it comes time to talk price. [See more used Audi S6s]
2004 Mercedes-Benz E Class used car
Enlarge Photo
86,300 miles; $10,999
Andover, New Jersey
Another family hauler featured this week is this good-looking silver Mercedes-Benz E Class wagon. A two-owner car, the dealership claims it has a clean CarFax and has no issues. With only 86,300 miles, we feel this family hauler has a lot more life left in it. All the luxury amenities you'd expect in a Mercedes-Benz are here, from leather seats and power locks, mirrors, windows, and seats, to a sunroof. It's been on the market for 142 days and has already seen a $1,500 price drop. Negotiations may swing in your favor if you play your cards right. [See more used Mercedes-Benz E Classes]